Page 2 of 2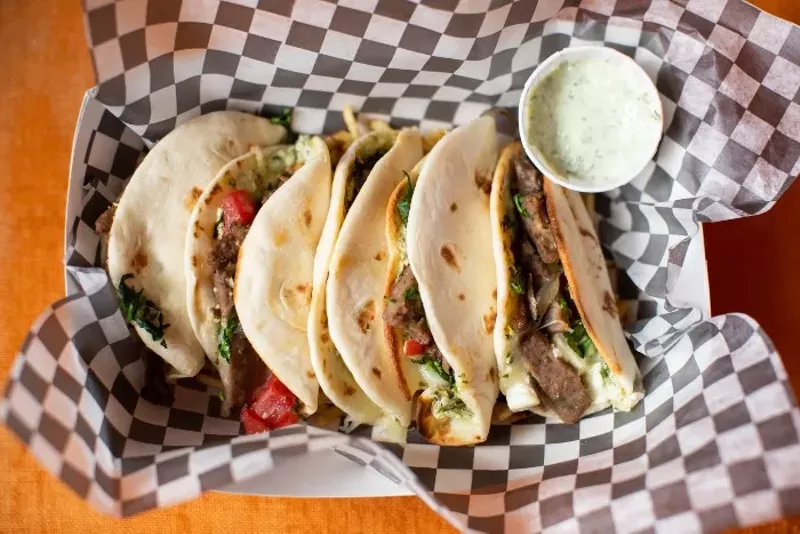 MABEL SUEN
Gyro tacos, with mini flour tortillas stuffed with gyro meat, red onion, spinach, tomato and feta, served on a bed of potato sticks with a side of tzatziki.
Gyro tacos also impress. Hunks of seasoned lamb are tucked into small, fluffy shells that taste like a marriage of a flour tortilla and a pita. Tzatziki, tomatoes, lettuce and cucumber garnish the tacos, each providing a different layer of texture that survives the takeout experience — as does the presentation. The five-piece order is presented in such a lovely, uniform style you'd think it was prepared by a food stylist for a photo shoot.
The pizza taco, on the other hand, is a delightful mess. Inspired by Bond's mom, who could not decide one night if she wanted pizza or tacos for dinner, the dish consists of a cheese pizza, garnished with sour-cream-dressed lettuce, folded in half. It's like an overstuffed quesadilla with the unapologetic pleasure of a Jack in the Box taco.
Bond spent several years as the pastry chef at Frazier's, so it's no surprise her hand pies are magnificent. She regularly changes up the fillings — on this occasion I enjoyed the piquant smoke of banana peppers and bacon — but no matter what variety you get, the scene-stealer is the crust. Flaky and baked to a golden brown, it's a glorious canvas for whatever concoctions she's filling it with on that particular occasion.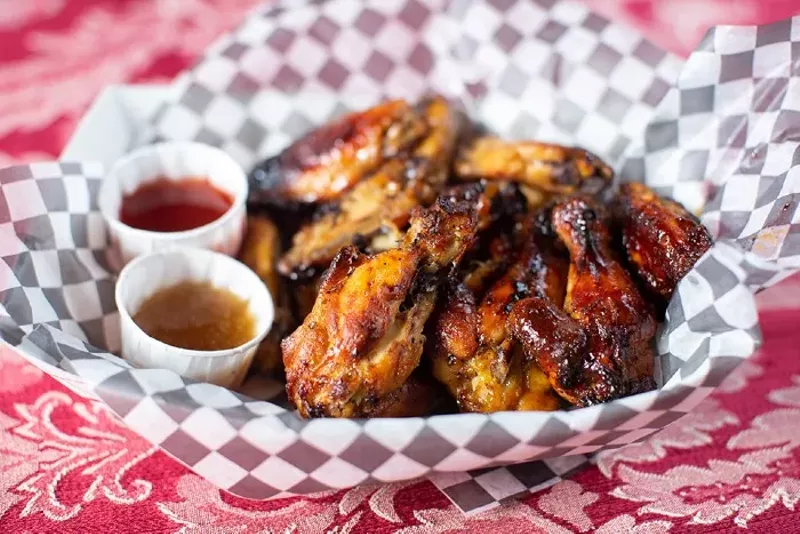 MABEL SUEN
Honey lemon pepper wings served with an assortment of housemade hot sauces such as peach habanero and cranberry red.
Even straightforward dishes have special touches that set them apart. Honey lemon pepper wings are juicy and coated in just enough char to crisp the outside skin. The accompanying chili-infused dipping sauce is sweet on the first taste, but its significant heat creeps up on you and lingers well after you finish the dish. An order of fried tofu, a Gooseberries fan favorite, comes with three different varieties; on this particular night, Lessor had made his famous "KFT," or Kentucky Fried Tofu, a version that rival's the Colonel's special recipe; a country-fried steak version; and a sesame ginger varietal. Three housemade dipping sauces — sweet and sour, teriyaki and grape mustard — accompany the dish.
Bond and Lessor say that their mission has always been to provide a joyful experience for people to eat their food. It's been an especially difficult feat this year, considering how necessarily transactional dining out has become. However, even with the online ordering and self-service kiosks, they've managed to succeed in creating a soulful experience by giving diners something that is unique and clearly representative of who they are — that their St. Paul pizza is one of the best things you'll eat this year doesn't hurt either.

Correction: The original version of this story had the name of the restaurant wrong. We regret the error.