Page 2 of 3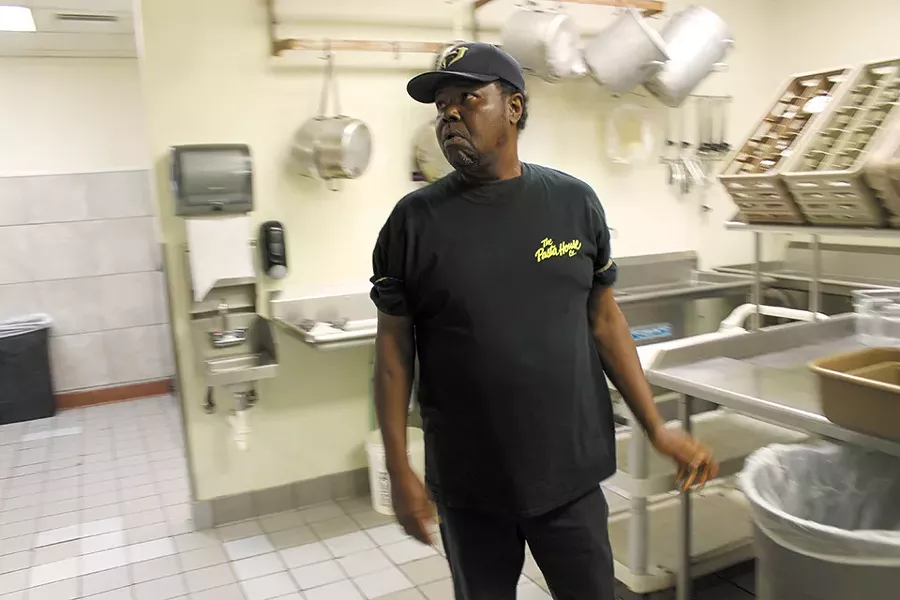 ERIC BERGER
"He's a good guy, works hard," says chef Paul Reynolds of Marzette.
Walsh is right. Fewer people do need jobs at restaurants. In August, the hospitality industry across the U.S. had 762,000 openings, according to the Bureau of Labor Statistics. That compares with fewer than 200,000 openings during the Great Recession.
The National Restaurant Association reported in October that 52 percent of restaurant operators consider recruitment and retention of employees to be their top problem. Again, that compares with less than 5 percent in 2009.
The main reasons that people say they like working in restaurants, according to the restaurant association, are that the jobs provide flexibility and are close to where they live.
"So in a tight labor market, there are some operators that have stepped up their transportation solutions," says Hudson Riehle, the association's senior vice president of research.
Boloco, a fast-casual burrito chain, started offering a transportation benefits program in 2012. Washington, D.C., and San Francisco, cities where the average restaurant worker can't afford to live near the high-end restaurants, have ordinances that require businesses with a certain number of employees to offer commuter benefits.
Sam Garanzini, senior vice president of Pasta House, says he is considering offering bus passes to employees making the commute from the city to its locations in west county.
But the company would only offer it to employees in particular scenarios, he adds.
"It's not a policy that I'm going to wave in front of everybody," says Garanzini, who has worked for the local Italian chain for 50 years. "Because the next thing you know you'll have somebody taking a bus two blocks to get to work just so they can have a bus pass in their pocket. So it's going to be a policy that's used on an individual basis, as needed."
And even if Pasta House begins offering free bus passes, that only solves part of the equation for employees. Long commutes are still a problem.
In 2019, Metro Transit, which operates buses and rail in St. Louis and parts of southern Illinois, will launch its "Metro Reimagined" plan, which aims to offer "shorter waits. Faster trips. Better connections." Metro is thinking about food-service employees traveling from the city to the county, says executive director Jessica Mefford-Miller.
"While there are routes that get someone from the city to the west county for a job, depending on the attractiveness of that job, the pay, the schedule, if it's a part-time minimum wage, individuals may be hard-pressed to spend in excess of an hour to get there," Mefford-Miller says.
For the Maplewood-Wildwood route that Marzette uses, Metro is proposing to operate every 30 minutes until 9 p.m. For the most part, that would increase the frequency by ten minutes from the current schedule.
It's also planning to pilot a "microtransit" program featuring minibuses that operate based on demand, with customers requesting rides on an app.
The microtransit "could potentially operate in west county — though that's a pretty large geographic area," says Mefford-Miller. A more dense jobs center like Hazelwood is more likely. Even if the program gets implemented, it might not make a difference for Marzette or Pasta House.
Steak 'n Shake is typically open for 24 hours a day. Except, that is, in Ellisville, where it's only open until midnight. "Even the restaurants [in west county] that are scheduled to be open for 24 hours, aren't always open," says Mike Niblett, who has been a district manager at more than six Steak 'n Shake locations and now is a franchisee for one.
A lack of easy public transportation is a primary reason for the labor shortage, he agrees. Ninety percent of his employees in Ellisville come from the city, he says. And the large majority of them take the bus.
Niblett would like to offer better benefits and pay to his employees.
"I just took over in March, and I have been fighting the battles to pay more, and I've won the battles, but it takes emails and talking to the boss ... unfortunately, I think corporate America makes it a little difficult to do the right thing," he says. "It makes it harder to hire people, so you end up with warm bodies, and that usually doesn't work out very well."
That doesn't mean he supported Proposition B, the statewide ballot measure to increase Missouri's minimum wage over time to $12 an hour. The initiative sailed to victory, with 62 percent approval. Beginning next year, the minimum wage in Missouri will see small but steady increases from its current rate of $7.85 per hour.
"In the short run, it would help fast-food workers and such; in the long run, I don't think it will help because those jobs will go away for automation, kiosks," Niblett says in the month before the vote. "There's a place for minimum-wage jobs if you are first starting off in the workforce."
The West St. Louis County Chamber of Commerce, which organized the restaurateurs' meeting, did not take a stance on the ballot measure, says Kelling, the president.