Andy Christmann has a harder time these days throwing the St. Louis Post-Dispatch so that it lands on the driveway near the garage door.
The newspaper has far fewer pages than it did when he started as a carrier three decades ago. And that means less weight. Imagine switching from a baseball to a paper airplane.
"There is no force against your arm, so you can't sling it like that," says Christmann. "Otherwise you are going to burn your elbow and your rotator cuff. We make a lot more pitches every night than any pitcher does in a year."
Despite the extra effort, Christmann still swerves at night around the darkened streets of south St. Louis County, delivering papers from a Chevy Suburban with more than 300,000 miles on it. He adds another 40,000 miles each year, most from driving his 25-mile route each night. (His trip to and from the depot to pick up the papers adds another 25 miles.)
Christmann's car swings slightly left and right when he drives. With the interior lights on, he presses lightly on the gas, looks at a binder with the addresses of subscribers and rolls and stuffs the papers in plastic bags that hang from the rearview mirror.
Curious police officers have tailed him and pulled him over. New Year's Eve is the worst night of the year for carriers. "All the amateurs drunks are out. Professional drunks are OK," he jokes.
But on other nights, Christmann enjoys having the road to himself. He keeps his stereo tuned to Christian Radio St. Louis (1320 AM).
"Once you learn the route, you can put it on cruise control, which in this business means driving with your knees, listen to the radio, and in the winter, it's just beautiful when the snow is drifting. It's just you and the deer and the rabbits running around," he says.
The job doesn't pay as well as it used to. He once had 900 subscribers. He still has to drive the same distance but there are about half as many customers along the way, he says, owing to the fact that younger generations don't subscribe to the print newspaper anymore. The paper had an average of 238,000 subscribers to the Monday through Friday print edition in 2009; in the first quarter of this year, there were 70,543, according to the Alliance for Audited Media.
Still, that's more than 70,000 people throughout the metro area interested in breakfast and coffee and stories about the St. Louis Blues or former St. Louis County Executive Steve Stenger. They like to flip through paper rather than move their thumb on a tiny machine. And they are the ones keeping newspapers like the Post-Dispatch in business. While Lee Enterprises, which owns the Post-Dispatch, has placed an increased emphasis on its digital presence, advertising in print products — which is driven by circulation numbers — still accounted for almost 70 percent of total advertising revenue in fiscal year 2018, according to financial filings.
The problem is that some people who still are willing to pay for the paper don't have reliable carriers like Christmann. They wake up in the morning to find an empty driveway, and they're not happy.
The Post-Dispatch is fighting an uphill battle on several fronts: against young people's online reading preferences, against advertisers' migration to the internet and against all the other publications offering their content for free. The difficulty of finding, and retaining, good carriers is just one pressure point in a stressed system.
But since print subscribers serve as the paper's lifeblood, ensuring reliable delivery is absolutely critical. The Post-Dispatch may not be able to survive without people like Andy Christmann.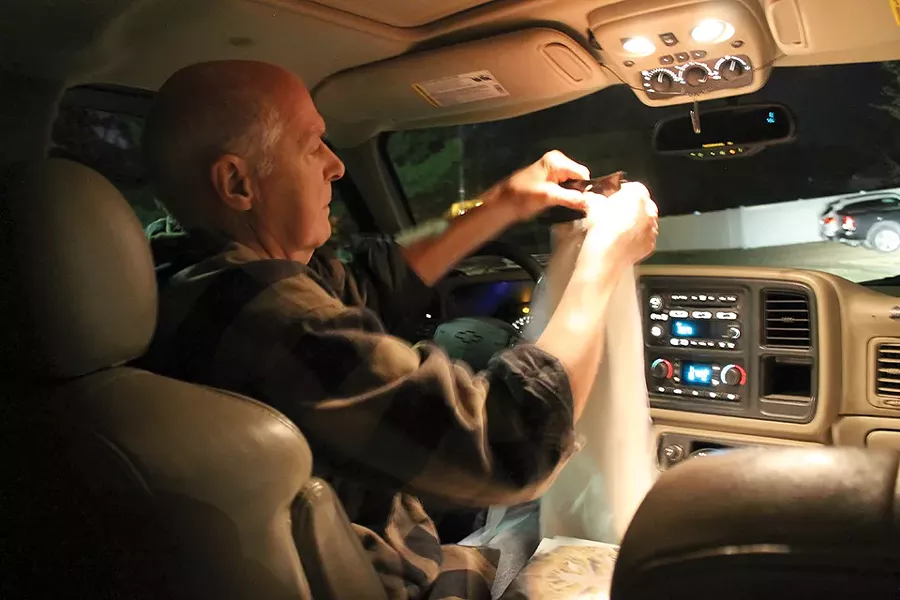 ERIC BERGER
Newspaper deliver has been good to Andy Christmann.
Christmann, 73, first got into the newspaper business after his second son was born. The baby spent the first eighteen months in a bubble in the hospital because his immune system wasn't working. To bring him home, they had to create a sterile bedroom: "plastic floor, plastic on the beds, plastic everywhere," he says.
Christmann or his wife had to stay with him at all times. Christmann had been working as a civil engineer. On his own time, he built a home addition for a newspaper carrier. As partial payment, the carrier offered Christmann half his delivery route. The night job allowed Christmann to spend the days with his son. It was a "really good business," he says.
Carriers like Christmann owned their own routes, which meant they were contractors who purchased the day's papers from the Post-Dispatch at a wholesale price and then sold them to customers. They kept the difference — minus expenses for gas, car maintenance and insurance.
But in the early aughts, the paper increased efforts to buy routes from home delivery carriers and distributors who delivered to vending machines and retail establishments for single-copy sales.
"This enables us to go with one price for home delivery as well as single-copy promotions and allows us to more aggressively market our newspaper," Matthew Kraner, then the general manager of the Post-Dispatch, told the St. Louis Business Journal after a round of acquisitions in 2003. "Secondly, it lets us expect more consistency of service to home subscribers and retail outlets."
In 2005, the Pulitzer family sold the Post-Dispatch and its other newspapers to Iowa-based Lee Enterprises for $1.46 billion. Its route purchases had helped increase the value of the company, the Business Journal reported.
Some carriers accepted the offers; others, including Christmann, did not.
"I don't know that I could have found a job with as little pressure and as easy as what I had," he says. But his profit has continuously decreased. "I'm not making as much this week as I did last week."
In 2015, a group of carriers sued the Post-Dispatch and Lee Enterprises for damages in excess of $25,000. They claimed that the newspaper had violated its contract with them by, among other things, not sharing additional revenue from a rate increase to weekend subscribers.
Some carriers, including Christmann, settled in January 2018 for an undisclosed amount. A jury trial for the remaining plaintiffs is scheduled to begin in September, according to court filings.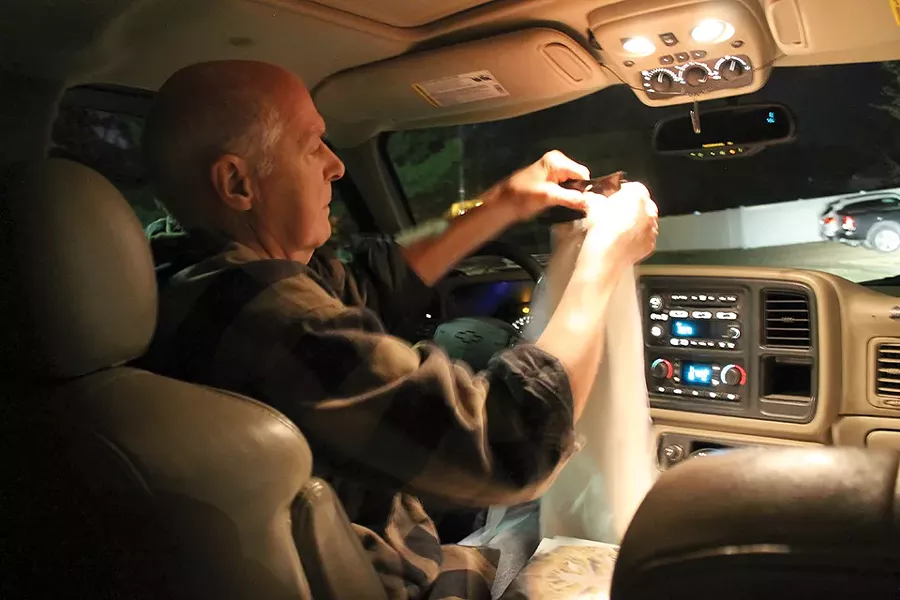 ERIC BERGER
Newspaper deliver has been good to Andy Christmann.
A decade or so after the Post-Dispatch started purchasing routes back from carriers, in 2015, its owners contracted with ACI Last Mile to manage its distribution. Instead of working for Lee, carriers who did not own their own routes now worked for ACI, based in Long Beach, California.
ACI found itself in the news in 2016, coming under fire over delivery problems at the Boston Globe. After the Globe switched from Maryland-based Publishers Circulation Fulfillment to ACI, thousands of subscribers did not get their Sunday papers. More than 100 drivers quit in the days after the switch because of "badly sequenced delivery routes, which forced drivers to crisscross neighborhoods repeatedly, making their shifts far longer than expected," the Globe reported.
The Globe and ACI quickly parted ways, with the newspaper returning to Publishers Circulation Fulfillment for its deliveries.
ACI's experience in St. Louis, at least initially, was much less fraught. In fact, in coverage of the problems in Boston, ACI executives held up the company's takeover of Post-Dispatch routes the year before as an example of how it could successfully manage newspaper delivery.
Jack Klunder, president and chief operating officer of ACI, told Editor & Publisher, "Virtually every newspaper carrier who was under contract with the St. Louis Post-Dispatch came under contract with ACI, on [his or her] existing route because we had the cooperation of the newspaper to facilitate that. That's the ideal transition format to go through. So you have full cooperation and full access to the carrier infrastructure, the routing and the current management team."
Since then, however, subscribers have begun complaining publicly about its services in St. Louis.
A survey of social media finds complaints among Post-Dispatch subscribers that mirror those in Boston.
"I have a Sunday-only P-D subscription. I have contacted them no fewer than ten times since September for missed deliveries. I am planning to go digital access only," one person wrote on the Tower Grove South Facebook page in February.
"I subscribed at the end of November and after a month had yet to see a single paper. Ended up cancelling," another person replied.
In January, Post-Dispatch photographer David Carson tweeted a Washington Post column urging readers to stick with local newspapers despite the fact that their new hedge-fund owners are "drastically cutting newsroom staffs and squeezing profit from these operations with no apparent regard for journalism or their future viability." Still, the columnist argued, quality journalists continue to work at those papers.
In response, Carson heard complaints from readers who still liked the paper but couldn't get it delivered.
"I tried, 30-plus year subscriber," one replied. "Delivery guy changed, went from 6-6:30 to 8:30 being the earliest, most times well past 9. I contacted several times, nobody cared. Eventually cancelled. I miss starting my day that way, miss the feel in my hands. Read online but not the same."
The delivery issues don't surprise Klunder. The "labor force that typically is available to handle newspaper deliveries in the early morning hours," ACI's president tells the RFT, started to "shrink dramatically" in January 2018.
"People were leaving for better-paying jobs in the daytime hours," he says.
In 2018, the Post-Dispatch typically had between ten and fifteen routes that were "down," meaning they had no driver assigned to them, in its Fairgrove district, which covers much of St. Louis city and county, according to Klunder. Another five to ten routes were down in its St. Peters district. That meant existing carriers had to expand their routes or other staff had to fill in.
In an online job posting, ACI advertises that drivers can earn $600 per week and a $250 signing bonus after 30 days for routes that typically "take three to four hours to complete." At that rate, for seven days, it would break down to between $24 and $28 an hour.
The catch, perhaps, is that those hours fall between 2 and 7 a.m. And there are no days off. The paper comes on Christmas, on New Year's. It's supposed to come rain or shine, and even when the rest of the city works from home after a big snowfall.
"There is no secret sauce to managing a distribution system. It comes down to the continuous effort to recruit drivers," says Klunder. "You have to make sure compensation is fair to the people delivering those papers. You try not to have them drive too many miles."
But those carriers must also pay for gas and wear on their cars, adjust their sleep schedule, find substitutes when they are out of town, and memorize addresses and learn how to drive routes efficiently. And sometimes the papers come off the presses late or a delivery truck breaks down or it's windy and pouring rain while you're trying to fling a bag out the window.
And then there are the inevitable hiccups. Christmann has startled himself when he misfires and hits the door jamb with a newspaper rather than fresh air.
"It's like a shotgun going off," he says.
Mary Dorn and her husband, Ed, owned a route. They "didn't take a vacation together for the first twenty years" of delivering papers, she says. "One thing I'd say about being a paper carrier is you are committed seven days a week. Our life revolved around newspaper delivery."
When Christmann started, the person who sold him the route spent a month training him on how to deliver the papers as efficiently as possible. ACI carriers largely have to learn on their own, he and others said, which means the route might take longer than ACI advertises.
"Once you learn the route, a lot of houses still don't even have numbers on them, so it takes a lot of figuring things out," says Dorn. About a year ago, she sold her route to Lee.
Klunder says that the "level of problems has been greatly reduced" in recent months. In February, he says, the company fired its Midwest market director, who had been connected to the Post-Dispatch's circulation and distribution since 2002. (He did not respond to a request for comment.)
The company is now consolidating routes to make the job more lucrative for carriers, Klunder says, claiming there have been fewer missed deliveries in the last two months.
The company, which also manages distribution for newspapers like the Orange County Register and the Atlanta Journal-Constitution, has had similar issues in other markets, he acknowledges.
"I feel bad for the readers because I know they have been dealing with this," he says. "We have been working with the Post-Dispatch management and working with our own people to get these problems corrected. It's been very frustrating."
In a statement, the Post-Dispatch says that the "newspaper distribution process is complex and labor-intensive. As the economy has improved, it has been increasingly difficult to hire and retain newspaper carriers. We've been working with our distribution partner on recruitment and retention and have seen improvements in staffing and service over the past several months."
The problems don't just affect Post-Dispatch subscribers. Newspapers like the New York Times and the Wall Street Journal, too, rely on the Post-Dispatch's carrier system (and ACI) to get their paper printed and in the hands of customers in St. Louis and other cities.
These bigger dailies have signed up new subscribers coast to coast, many of them digital, in part because they can offer the national and cultural coverage that cash-starved dailies in smaller cities no longer afford. But while they've seen their footprint increase due to their local partners' woes, their printing and delivery models have been complicated by them. After Gannett sold the Tennessean's building and recently moved printing from Nashville to Knoxville, the New York Times could no longer get its newspapers to Memphis in time in order for them to be delivered with a local newspaper's carriers. The Times then had to find its own carriers.
"If an area becomes unprofitable, my bosses will make a decision as to whether they are going to print there or not," says Jason Birket, regional production manager for the Times. For now, the Times has yet to pull out of a market.
And ACI hopes to make its routes more lucrative, and less dependent on newspapers like the Post-Dispatch. It is trying to expand into the delivery of magazines and small parcels, which would otherwise be delivered by the U.S. Postal Service. (That could mean companies like Dollar Shave Club, although Klunder declined to provide specific names.)
"If the delivery systems are going to have to make it solely on the delivery of newspapers, that entire infrastructure is going to be under tremendous cost pressure going forward as revenue continues to decline, as volume continues to decline," Klunder says.
Christmann says ACI has asked him to deliver small packages.
"We were kind of shy about taking them on because you don't want to get out of your van and walk up to someone's front porch at 2 o'clock in the morning. You're liable to get shot," he says. "I just said, 'No, thank you.'"
These days, Klunder adds, being a carrier is not a full-time job. It's just one more piece of the gig economy, and arguably a better-paid one than some competitors. The average Uber driver makes $9.21 an hour after deductions for Uber fees, vehicle expenses, payroll taxes and the cost of a "modest benefits package," according to a 2018 report from the Economic Policy Institute. But those drivers are able to pick their own hours.
While Christmann is unsure what the future holds, becoming a carrier largely worked out for him.
Despite years of medical problems and hundreds of thousands of dollars in medical bills, his son has earned a college degree in mechanical engineering and now works for a construction company.
Christmann considers himself retired but plans to continue to deliver papers for as long as possible.
"It is a dying business; we have to acknowledge that," Christmann says. "The younger generation lives off their iPhones and iPads. But for me it doesn't really matter at my age. The way I look at it is, it's easy money for a retired person." 0x006E