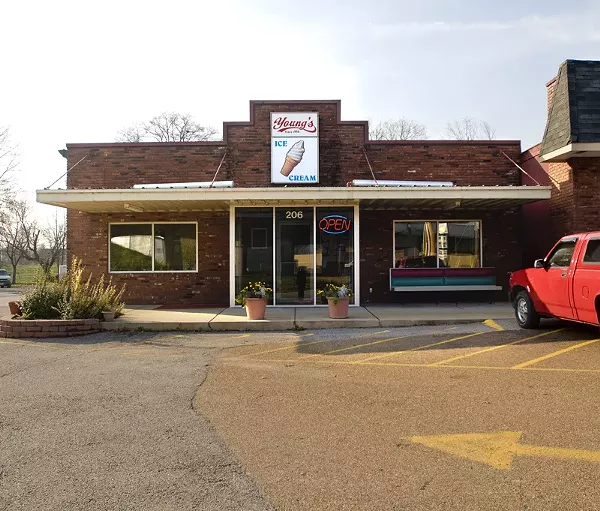 Marilyn and Bud Young first opened Young's Restaurant in 1954. Lifelong Valley Park, Missouri residents, Marilyn has semi-retired and Bud has passed on, but the business, now in their son's capable hands, carries on. Their son Grant, also the Mayor of Valley Park, runs the place with his wife Sibyl.
They've been bought out by highway expansion projects over the years and were forced to rebuild a couple of times. The changes apparently haven't slowed the deep-fryer activity.
Young's seems to have many "regulars who come in for the burgers, chicken and cod, as well as the soft-serve ice cream.
Marilyn and Bud Young handed the business over to their son (pictured above), who continues to run the family business. It is not uncommon to find Grant, or Mr. Mayor if you please, conducting city business from the back table of the restaurant.
Young's also runs a catering business in addition to the daily restaurant goings-on. Here, Bonita Barnhart is making a batch of Potatoes Lancaster for a group of workers from Maritz in the private party room the day I was there.
Potatoes Lancaster is made from freshly mashed potatoes, real butter, sour cream, cream cheese and a little cheddar cheese sprinkled on top.
In the private party room, and now functioning irreverently as the bar, is the 1904 confessional from Sacred Heart Parish in Valley Park. It is the Parish in which Grant grew up and still belongs. About nine years ago, they were doing some remodeling at the church, and that's when he obtained not only the confessional, but there are a couple of pews and old modesty screens in the main restaurant area.
They like their deep fryers at Young's, that's for sure.
Here, Grant is preparing a large (for the catered event in back) house salad.
Making burgers: essentially you start with two healthy sized balls of meat.
Make sure they're pretty thin...
then grill the buns too, so everything is nice and hot...
and, voila, a Young's burger, this one with cheese.
Fish & chips: fried cod, French fries.
Next, one that I'd never seen before, battered and fried bell peppers. Here's how they're made...
You take some beautiful, fresh bell peppers, dip them in that batter (to the right.)
Stick them in the deep fryer. They float, so you really don't need that basket...
Then you, or in this case, Mayor Young, pulls them out of the fryer.
And there you go. Brought to you by the Mayor himself.
Every diner-ish place has the requisite table settings.
Grant's mom, Marilyn serving up the soft serve. Mmmm...