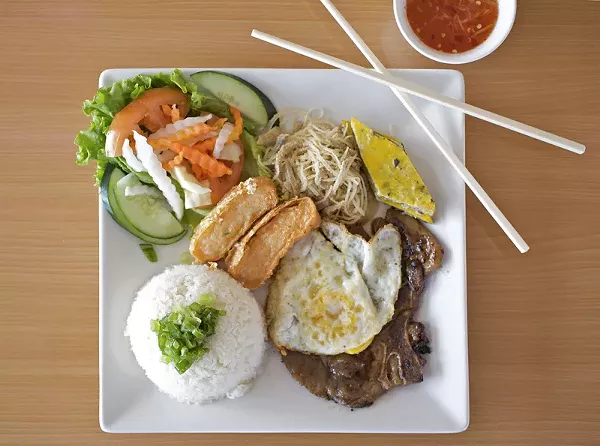 The Com Tam Dac Biet is a Mama Pho special. It is a pork chop served with a fried tofu sheet, wrapped shrimp cake, sunny-side egg, egg pork cake and fish sauce. Like all the rice plates, it's served with Jasmine broken rice.
The Banh Mi Thit Nguoi is a grilled pork sandwich on French bread. Shown here with the Ca Phe Sua Da, otherwise known as a Vietnamese iced coffee, which is espresso with sweetened condensed milk.
The Mama Pho Dac Biet is a Mama Pho specialty soup that comes with eye of round, well-done flank, beef tenderloin, beef tripe and beef meatball as well as the accompanying plate with basil, cilantro, tomato, cucumber, chili, limes, sprouts and shown here with the curls of banana flower.
The well-lit Mama Pho on South Grand was formerly a McDonald's.
Mama Pho owners, from left to right: Vincent Huynh, Loi Lam and Richard Ly. Both Vincent and Loi came to St Louis from Chicago five months ago to open Mama Pho.
Another spring roll appetizer is Bo Bia. This type is made with jicama root, Chinese sausage and peanuts. It too is served with the plum sauce with peanuts and carrots.
This dish is called Bun Dac Biet, which is a rice noodle dish with grilled slices of pork, tofu sheet shrimp and egg roll. It is the topped with green onions, fried red onions and peanuts and is served with fish sauce.
All three owners have extensive restaurant experience, although this is the first time the trio has worked together. Pho Mama has been open since November 1, 2009.
All smoothies are made fresh to order. These avocados will become part of a delicious drink!
One of the wok fried noodle items is the Mi Xao Gion. It is a pan-fried crispy egg noodle stir fry, shown here with seafood.
Goi cuon is a spring roll appetizer that's made with shrimp and pork and served with a plum sauce with carrots and peanuts
Refrigerated shelves that hold bottled drinks as well as coconut meat.
This fabulous-looking item is a banana flower, that when used at Mama Pho, is the curly, noodle shaped offering on the plate to its right. The plate of banana flower, basil, cilantro, tomato, cucumber, chili, limes and sprouts come with the some of the soups on the menu.
All the sauces ready to go for those carry-out orders.
At the counter of Pho Mama you will find information about the specials and a friendly, laid-back staff.
The three horses on the wall, just behind the counter.
Goi cuon, the spring roll appetizer, is shown here with a fresh avocado smoothie with boba added. Boba are the tapioca balls also commonly found in bubble tea.