The fake priest came to town in April 2014, presenting himself as a Benedictine abbot — black robes, clerical collar and all. He put up a small sign in front of an edifice with crimson doors, advertising morning services at the old Methodist church he now called Holy Rosary Abbey.
In the age of Google, though, no one with a long public history of cons can stay under the radar for long — and certainly not a man trying to shake things up in a tiny Missouri town, population 284. Soon there were rumors of lawsuits and bankruptcies. Web searches brought up allegations stretching back decades.
And if the man who calls himself Father Ryan thought moving to rural Missouri would free him from the controversies in his past, he made a terrible error in judgment. He should have known that it was only a matter of time. When a disciple made a desperate phone call, law enforcement pounced.
The church has since been bought and sold and bought again. Its steeple looms over the street where the neighbors' kids run and play. And the people here still talk about the robed man and his nuns. Some are convinced the church is haunted, that the evil spirits it unleashed proved to be his unraveling. There are whispers of demonic possession, of sexual scandal.
But for Armstrong, Missouri, the real question might be who corrupted who?
Did the pretend priest let loose the trouble that became the talk of the town? Or did something behind those crimson doors — some malevolent spirit, some remnant of the building's past — cause Father Ryan's downfall?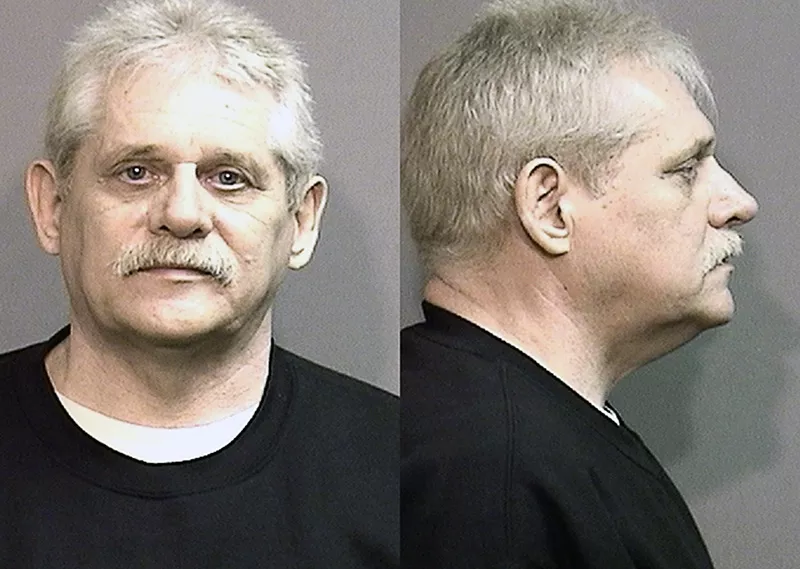 One of Father Ryan's sets of mugshots, from a 2016 arrest stemming from a parole violation.
Father Ryan has lived under many names.
He was born Randell Dean Stocks in Richland Center, Wisconsin in 1953 (although another source puts his birth year as 1950). Little is known about his early years, but he later told the Chicago Tribune that he fathered a child out of wedlock in his twenties. He married and divorced; the child was put up for adoption.
He eventually moved west, to California and then Hawaii. When he returned to Wisconsin in the late 1980s, he arrived as Ryan Patrich Scott — though he soon began introducing himself as "Damien St. Anne." He claimed to be a Franciscan brother associated with an order based in Canada.
But in a 1989 letter responding to an inquiry from a woman in Wisconsin, the director of the Franciscan order advised in the strongest terms that Damien St. Anne was a fraud: His stay in the monastery had lasted less than four months, he had never taken his vows and instead disappeared without permission with another novice. Not only that, but his abrupt exit was shadowed with additional suspicion: The order had received word from a bishop in Ontario and a priest in Wisconsin that the wayward monk was presenting himself, fraudulently, as a full-fledged brother of the order. (Through his attorney, Ryan declined to comment for this story.)
And so Father Ryan kept moving, trying to outrun his past. But he took too many risks.
In 1992, he was hired as the city finance director in Edgerton, Wisconsin. A private investigator would later find his resume riddled with degrees from institutions that had no record of his admission. His career in public service ended one year later. He was accused of helping himself to $300.97 of city money by modifying what should have been a $30.97 check. In 1994, he was convicted of felony misconduct in public office and sentenced to three years probation.
He went back to being a fake priest. This time, in California, he fell in with the Reformed Catholic Church of America, an offshoot of the traditionalist Catholic movement that does not recognize the late 1960s reforms that modernized the faith.
Even that fringe group excommunicated Father Ryan almost immediately.
In a scathing letter dated 1995, an archbishop chastised him for his "self-centered attitude and un-priestly conduct," and noted his failure to properly operate a monastery, "causing problems in the local community by allowing drugs, alcohol and other misuse."
Father Ryan returned to Wisconsin, but found no respite there. He found himself hounded.
In La Crosse, Bishop Raymond Burke (the future archbishop of St. Louis) sent letters sounding the alarm to every diocese in the country: Be wary of this "Father Ryan St. Anne Scott" and his "Holy Rosary Abbey," Burke warned. Do not attend his mass or take his sacraments.
"He is not a priest of the Roman Catholic Church," wrote Burke.
Still, Father Ryan attracted a flock that was willing to embrace him as shepherd. His followers didn't care that he'd been previously married or fathered a child.
The believers were mostly older women, widows and aspiring nuns who yearned for a traditional Catholicism. They sought the majesty of the old ways, the Latin Mass, the robed priest kneeling at the foot of an altar intoning in nomine Patris, et Filii, et Spiritus Sancti.
Over the next two decades, Father Ryan would pass through America like a holy apparition. City to city, diocese to diocese, all it took was one or two believers here, a few more there. It was enough to sustain him and his traveling abbey.
He appeared and departed with equal abruptness. He trafficked heavily in the Midwest, setting up his abbey in Wisconsin, Iowa and Illinois, but he also turned up in North Dakota, Louisiana, Alabama, Arizona and New Mexico.
But wherever he fled, both the Church and the law gave chase. Warnings were sounded in Catholic dioceses across the country, including St. Louis. A trail of legal disputes include bankruptcies in Illinois and Iowa. He was sued by a former nun over unpaid loans, resulting in a civil judgment to pay her $161,000.
In 2012, he was evicted from his abbey in Buchanan County, Iowa. He left behind thousands of dollars' worth of religious accoutrements. He also abandoned a herd of nineteen llamas. He had intended to sell the animals and their wool as part of a venture called Monastic Fleece. Like everything else Father Ryan touched, the llama-based business failed.
In 2013, he regrouped in St. Louis while looking for the next location for his abbey. It is unclear what precisely drew him to Armstrong, a small town about 40 miles north of Columbia, but he was known to trawl through online property listings that featured cheap real estate.
So it came to pass that in April 2014, with two elderly nuns in tow, Father Ryan made the 166-mile drive to his new home in Armstrong.
PHOTO BY DANNY WICENTOWSKI
Father Ryan moved into what had once been the Methodist church in Armstrong.
There are few official rules of decorum in small towns, but as a newcomer, there are certain things you just shouldn't do. For instance: When introducing yourself during a city council meeting, it is not a good idea to mock the intelligence of the townsfolk. It is also not advisable to belittle the mayor or insult his wife.
Father Ryan did all three.
Armstrong is a speck of a town that rests amid the rolling farmland of central Missouri. The modest community center appears to be one of the few recently built structures, and its parking lot contains the city's lone police car. Across the street, the post office is housed in a long white trailer. The closest city, a place with a pharmacy and a supermarket, is ten miles south in Fayette.
Central Street, aptly named, cuts through the heart of Armstrong like a smooth ribbon. Off that road, however, you'll find residential streets showing heavy erosion; some are little more than scabs of asphalt riding a layer of gravel.
Armstrong's mayor, Harley Owens, had heard that a priest was moving into the old church on Snoddy Street. Rumor was that the church would be converted into a home for retired priests. Owens had no idea what to expect when, at a city council meeting on April 10, Father Ryan stood up to address him, the four-member council and a dozen residents in the audience.
"I never did figure out what he really wanted," says Owens.
A former farmer and asphalt layer for MoDOT, Owens has called Armstrong home for more than a decade. "Maybe he didn't want to make friends," he says in a cautious country drawl. He rubs at the stubble of white whiskers on his cheeks. "I just never seen anyone come in like a pit bull. That's what happened that night."
As the fake priest paced the room, he let the audience know that the conditions of the town's infrastructure were unacceptable. The lawns were overgrown and the streets in tatters. He had spotted many properties that clearly needed upkeep.
It didn't have to be this way, said Father Ryan. Government grants and other funding could be marshaled to help clean the place up.
And then he went too far. Father Ryan declared the town "stupid" for allowing such conditions to persist.
The room erupted. Who did he think he was?
"I lost the meeting, it went absolutely berserk," recalls Owens. As the residents shouted down the priest, a woman in the audience stood up, raised her voice and told Father Ryan that if he thought things were so bad in Armstrong, what was he even doing here?
Father Ryan walked behind Owens and rested a paternal hand on the larger man's shoulder. He pointed at the woman.
Versions of this moment differ. According to several people present at the meeting, Father Ryan remarked to Owens, "You should tell her to keep quiet." One attendee remembered the comment as closer to "you should put a muzzle on your dog."
The woman raising her voice was Owens' wife.
"I never met a man I didn't like, I never had," says Owens. "Until that night."
News of Father Ryan's behavior hit the grapevine immediately, and the reaction was near-universal contempt. He'd managed to alienate virtually the entire town in one fell swoop. He never again attended a city council meeting.
Eight months later, he asked Councilman Bob Cramer, who lives two houses down from the church, to deliver a statement to the council. Father Ryan thought it best that he not be personally present.
Cramer demurred, citing his position on the council. His wife, Dee, read the statement at a December 2014 council meeting. It was addressed to "the City Council, the Mayor, and his wife, and the citizens of this community."
"I opened a wound with my words and actions," she said, reading Father Ryan's words. "It is my sincere desire, that by this corrective action, and the grace of God, I can put forth in charity an effort to close that wound, and pray, that someday, we can all get along in charity and respect for each other, for without community, we stand alone in displeasure of Our Lord."
Bob and Dee Cramer had a soft spot for the priest. Like Father Ryan, they were natives of Wisconsin. And they had a connection to the old church, too; they had helped maintain the property for its previous owner, a French musician who had used the property only once or twice in seven years or so. (The church was known to possess pristine acoustics, and the musician, Olivier de la Celle, had intended to use the octagonal sanctuary as a practice studio.)
Bob Cramer didn't agree with the way Father Ryan conducted himself at the April city council meeting, but he did agree that the town needed sprucing up. "I liked the man, because he was talking my language," he says. "The intentions were good."
The Cramers noted that Father Ryan put serious work into transforming the church into an abbey, though its purpose was still shrouded in mystery. They watched him bring in furnishings, statues, framed pictures and new pews. A double-wide trailer was purchased to house the two nuns.
After several months, the Cramers noticed something else. A patrol car from the Howard County Sheriff's Department would appear parked in front the church, as often as several times in a single week. A reserve deputy named Russ Harrison had apparently become friends with the self-proclaimed abbot.
Bob Cramer couldn't help but feel suspicious of Harrison.
"Somehow, I didn't trust the man," he recalls. "I didn't really have any reason. But something here didn't smell right."
COURTESY OF THE COURIER/DENNIS MAGEE
Father Ryan talks with his attorney on May 1, 2015, in Fayette. The month before, he had been charged with with three counts of financial abuse of an elderly person.
Before becoming a deputy, Russ Harrison had worked 43 years as a dentist in Columbia. A Mormon, Harrison is said to have considered Father Ryan a kind of kindred spirit, a fellow man of faith. Harrison donated what he could — including a new set of pews — to assist the new church in getting on its feet. (Harrison declined comment for this story.)
Harrison also befriended Patricia Baldridge, one of the nuns worshipping under Father Ryan's direction. Recently widowed, the 86-year-old owned a farm in Vinton, Iowa, which was being managed by her children.
Over time, Harrison apparently became concerned about Baldridge's financial entanglement with Father Ryan. The abbey seemed to subsist on a steady stream of money provided by Baldridge and another elderly nun, an arrangement Father Ryan seemed to take for granted.
According to a report Harrison filed with the sheriff's department, Father Ryan asked him to notarize an amendment to Baldridge's trust on March 1, 2015. As he read through the paperwork, the deputy was shocked to see that it now listed Father Ryan's abbey as a beneficiary. The amendment stated that, in the case of Baldridge's death, the abbey would receive two-ninths of the trust. The remaining parts would go to her seven children.
"Fa. Ryan would be receiving twice the amount of each of the children," Harrison noted. When he confronted Baldridge about the amendment, she told him that Father Ryan had authored the additions, but only did so according to the instructions of an attorney. Harrison didn't accept her explanation, and he refused to notarize the document.
Baldridge called him several times in the coming days, Harrison's report said. She expressed "deep concern about her decisions." He consulted the Howard County sheriff and eventually reported the situation with the Missouri Adult Abuse Hotline.
Baldridge called again on the evening of March 5. She sounded confused and disoriented. Father Ryan was being threatened with arrest, she said, and he was raving about his enemies, all those who had persecuted him for years and called him a liar. In Baldridge's telling — according to Harrison's report — Father Ryan had declared that "they will have to take me out in a pine box."
Early the next morning, on March 6, Harrison received another call from Baldridge. In his report, Harrison wrote that she'd had "a very bad experience, almost sleepless night. Father Ryan was so upset and angry; it scared her. Can I come to get her out as soon as possible?"
At 9:30 a.m., Harrison arrived at the abbey with four Missouri Highway Patrol troopers as backup. As a befuddled Father Ryan watched from the porch, Harrison and the troopers collected Baldridge and drove to the sheriff's office in Fayette.
"Baldridge recounted to me that Fa. Ryan was angry last night and the look in his eyes scared her, but she did not think he would hurt her," Harrison's report continued. "She commented that Satan had gotten into him. I concurred that that was possible. I asked how much money she had given Fa. Ryan recently. She said close to $80,000, and the money given last year to Ryan for the abbey cost her all of her cows."
On the strength of Harrison's report and testimony, Father Ryan was arrested April 1 and charged with three felony counts of financial exploitation of an elderly or disabled person. He was jailed on a $150,000 bond.
When officers returned to search the abbey, they found a .38 caliber revolver and ammunition. Since Father Ryan was a convicted felon, the county prosecutor added another felony charge for unlawful possession of a firearm.
Harrison's report, though, went far beyond the criminal charges. In descriptions that stretched over five pages, Harrison characterized Father Ryan as a con man who preyed on a mentally fragile woman who was blinded by her faith.
Baldridge had trusted Father Ryan implicitly, wrote Harrison, and there were other incidents where the so-called priest had bullied her into funding his religious operations. Harrison was convinced that Father Ryan was trying to wrest control of Baldridge's assets through "intimidation, deception, thought-control, lies, and other unsavory means."
But if Harrison thought Father Ryan would go quietly, he was sorely mistaken. He was about to find out just how unsavory things could get.
In court, Patricia Baldridge told a different story than the one Harrison recounted in his report.
At a May 2015 hearing, she claimed that she'd made "a mistake" in calling Harrison. She never needed saving from Father Ryan. She disputed that she'd given Father Ryan $80,000, instead insisting that she gave him only $1,500 every month for food, board and the upkeep of the abbey. She claimed her words were being twisted, and that she had only worried for Father Ryan's safety, not her own.
Baldridge's children, however, seemed to confirm the deputy's accusations. Joe Baldridge, who rented his mother's 157 acres of Iowa farmland, testified that she began requesting large amounts of money and ordered him to sell the farm's cattle.
In an incident reminiscent of Father Ryan's past felony conviction in Wisconsin, Joe Baldridge recalled his mother writing a $15 check to Father Ryan's abbey that had mysteriously cleared for $1,500. His mother, after expressing initial shock, later called her son to explain that she suddenly remembered writing the larger check.
"It had been changed," testified Baldridge's daughter Teresa Haifley, according to the Waterloo-Cedar Falls Courier. "It had been signed with a signature that was not hers."
After his arrest, Father Ryan languished in jail for the next nine months. But then, the case against him fell apart.
In December, the Howard County prosecutor dropped the pending criminal charges for financial exploitation. Messages left with County Prosecutor Stephen Murrell were not returned, but it seems likely that Baldridge's lack of cooperation factored into the decision.
That left the priest facing a felony charge for unlawful possession of a firearm. Father Ryan pleaded guilty, and was sentenced to five years' probation, with a suspended seven-year prison term.
This wasn't the first time Father Ryan had beaten back criminal charges relating to one of his nuns. In March 2012, he had been arrested in St. Louis and extradited to Knox County, Illinois, where he faced three felony charges for financial exploitation of an elderly person and additional felony charges for theft and deceptive practices. A year later, the charges were dropped.
But while the fake priest had escaped the most serious charges against him yet again, he was far from safe in Howard County. At a hearing in February 2016, a judge ordered him to pay more than $5,000 in fees or risk imprisonment. Father Ryan responded that he was broke, and had no way to pay.
Help came from an unusual place.
John Brown had met Father Ryan through Harrison. The deputy had been Brown's dentist, and the two men maintained a friendship after Harrison's retirement. Brown joined Harrison at the YMCA while the older man trained to become a police officer, and Brown cheered for him during a police academy graduation ceremony in 2014.
A former academic with a Ph.D in horticulture, Brown works as a private investigator on legal cases involving agriculture and plant analysis. Something about Father Ryan's case tugged at Brown's conscience. He'd tagged along with Harrison on trips to the abbey and even attended a Latin Mass there. Was Father Ryan really such a danger that he needed to be locked up?
Brown had spent plenty of time in court, and stopped by that day in February to watch the hearing. What he was watching felt like a setup, a conspiracy to trap a non-threatening man of the cloth in a jail cell — and all because of a minor gun charge, only possible because of a decades-old conviction? For Brown, it didn't add up.
Brown approached the judge. He announced that he would pay Father Ryan's fine.
As he walked toward the exit, he passed Harrison at the doorway. Harrison grabbed Brown by the arm. "What are you doing?" asked the thunderstruck deputy.
"I'm going across the street to get money to pay his fine," Brown remembers saying. "I'll be right back."
COURTESY OF THE COURIER/DENNIS MAGEE
One of Father Ryan's nuns, Patricia Baldridge, became an unwilling witness in the case against the fake priest in 2015.
John Brown is no Catholic nun, yet he soon took on the responsibilities previously handled by Father Ryan's followers. Brown paid for his new clothes and groceries, and allowed him to live in a house Brown owned in Columbia. And when Father Ryan despaired at recovering his possessions in the church — he had failed to make payments on his lease, and thus the ownership of the church reverted back to the French musician — Brown once again intervened.
"I slapped down $25,441 and bought the church," Brown says.
He's sitting in a diner in nearby Boonville. At 65, Brown's white mustache is compact and immaculately trimmed, but the pink t-shirt he wears to meet a reporter is basically a rag, its fabric shredded with holes at the neck and arms.
Brown is a man of odd contradictions. On one hand, he is dead serious about his academic bonafides and his work as an agricultural investigator. In total, he claims to have testified in settlements worth more than $3 billion.
His penchant for sleuthing, however, has led Brown to consider possibilities that most would deem, well, a bit far out. The more he studied the church, the more he suspected that the conflict between Father Ryan and Harrison goes deeper than simple financial fraud.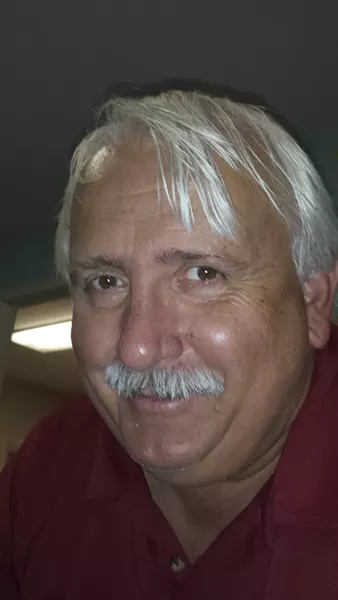 COURTESY OF JOHN BROWN
John Brown, an agricultural investigator, became convinced that Russ Harrison was persecuting Father Ryan.
"Something happened between him and the priest," Brown says over a plate of the diner's hot wings. "Here they are, best of friends. Russ is talking about this priest every time I see him, helping him all the time to remodel the church."
At some point, however, Harrison changed his tune. The deputy confided in Brown about the trail of evidence and online news stories linking Father Ryan to a lifetime of deception. Harrison was no longer interested in remodeling the church, but instead was "obsessed," says Brown, with the fact that Father Ryan was shaking down Baldridge to her last dollar.
But Brown doesn't see it simply as a case of Harrison becoming disenchanted with a man whom many have accused of fraud. He says Harrison's obsession seemed focused on the idea that Father Ryan is gay.
"He was saying just the most disgusting, dirty things. 'Queer,' 'homo' — he was going ballistic," says Brown. "Remember, I've known Russell Harrison for 25 years! He was no longer Russell Harrison. He was somebody else."
Brown turned his investigatory eye toward the church, which he hoped held evidence that could help Father Ryan in an eventual civil case. And what he found seemed of great importance — at least to Brown.
During a search of the church's interior, he says, he found bottles of lube stashed in a shelf inside the priest's kneeling bench. A different bench appeared to show a peculiar ... wet spot.
"You could see that someone was having sex right in front of the altar," Brown says definitively. "And there was this little case of bottles of lubricant and sexual supplement things for erections. So then I'm thinking, what happened here?"
Greg Arrendall, a friend of Brown's who accompanied him during the search, tells a similar tale of hidden lube and sex stains. "There's a tapestry-covered bench in front of the kneeling bench. There is a distinct wet spot in the center of that," Arrendall says. "We just drew a conclusion."
Brown kept digging. He believed Father Ryan's story of persecution and exile, and viewed the news stories about the fake priest's past as a shoddy conspiracy theory peddled by untrustworthy blogs.
He sensed that there was still a missing piece to the mystery, another factor that could explain both the personality changes he saw in Harrison and Baldridge's panicked calls to the deputy that led to Father Ryan's arrest.
Eventually, Brown says, he figured it all out. The pieces fell together, and the portrait it produced sent shivers down his spine.
The simple explanation might be that Father Ryan was a charlatan. But Brown settled on a different hypothesis: one of demonic possession.
PHOTO BY DANNY WICENTOWSKI
After John Brown sold the church earlier this month, the new owner set to work renovating the building.
Hidden by weeds in the lawn across the street from a church, a stone plaque can be found resting in the dirt. "Brick Church Built 1881" it reads. "Burned 1910; Rebuilt 1911."
Inside the church, the wall backing the altar is painted the same shade of red as the front door. Stained glass windows allow muted light to streak into the sanctuary. Wooden buttresses climb the walls to meet an eight-sided ceiling.
"From the day I first went into the church, the hair on the back of my head stood up," Brown says. "It was like I was electrified."
Brown believes that something is still living in the walls. A group of paranormal investigators advised him that the 1910 fire may have taken the lives of worshipers, leaving their spirits to lash out at visitors.
"What is an octagon church doing in Armstrong, Missouri, with about 110,000 yellow bricks, those stained glass windows and these tiny rooms?" he asks. "It makes you wonder."
Brown says he was always in good health. But in March, he began suffering pain in his arms and chest. He was diagnosed with diabetes and high cholesterol. Something was also affecting his mind and temperament: "My children couldn't understand what was happening to me."
He blamed the church.
When he put the building on the market, dozens of would-be buyers arrived from all over the country, but they all turned tail after passing through the blood-red doors. One couple spent the night huddled near a space heater. They reported smelling sulfur in the early morning — even though the building's gas had been turned off.
Then, out of the blue, a "holy man" contacted Brown. He said his name was Adam, and he was from Colorado Springs. He was already on his way, driving across the plains. He told Brown, "Your church is haunted by demons; God has sent me here."
The holy man arrived and the two men walked through the church. Adam noted that there was no religious symbolism in the stained glass windows. The two men peered at the abstract shapes.
In the diner, Brown recalls the conversation and flips through several photos of one of the decorative wooden buttresses on the church wall. What does this look like to you, Brown asks. He points at a section carved into a spiral. Could those be horns?
"This guy was very familiar with symbology," says Brown. He scrolls lower on the photo, zooming further. "If you look at it that way, it could look like a dragon's head. And this is the fire-breathing portion of the dragon's head."
Brown scrolls through several more photos. He notes how a fleur de lis on a stained-glass window is actually, according to a picture lifted from a YouTube video, a satanic or Masonic symbol. Another image is similar to the arcane geometry produced by folding a dollar bill. Don't you see it? Brown asks, again and again. Don't you see something is going on here?
As Adam talked, Brown felt the floor vibrating into his bones. Then he felt another tremor. "Back away real slow," said the holy man. "We have to get out of here."
And they did. Brown never entered the church again.
Others did. Greg Arendall — the friend of Brown's who says he found the lube in the kneeling bench — accompanied a paranormal team into the church this past July. Arendall wondered if he could provoke the spirits.
"It was not a cold night," says Arendall. "All of a sudden motion detectors started going off, and all kinds of little energy sensors the paranormal team was holding go off too. And I got so cold, I can't describe it. It was like plunging into Lake Michigan in the winter. I felt sub-zero cold."
Arendall now says he won't go in the church alone.
To Brown, the whole story suddenly made a terrible kind of sense. Harrison's strange behavior, Father Ryan's potential anger, Patricia Baldridge's fear, the church's curious architecture — what connected these things, if not demonic possession of the edifice? The evil spirits within the building could well have brought about a good man's downfall, he posits.
"This is real, there's such a thing as demons and paranormal activity," he says. "Why did my friend of 25 years all of a sudden go crazy? Because they had been in that church doing things that maybe people shouldn't have done. And he became possessed with a demon, that's why he is so obsessed, filled with hatred and resentment towards this priest. And the priest is so filled with hatred and vengeance towards the deputy."
Brown knows what he sounds like. But he's not alone. Reached by phone through her lawyer, Patricia Baldridge says she had encountered spirits in the church as well. She had heard noises inside her room, voices calling from the dark with words she could not understand. A fear overtook her. She suddenly felt that she was in danger of being thrown from the window of the trailer.
"I was so scared, I couldn't sleep," she says.
It was the next morning, March 6, 2015, that she called Deputy Harrison in a panic. She begged him to get her out of the church.
She feels guilty for what happened next to Father Ryan, the arrest, the jail time, the loss of the abbey.
"I made things even worse for Father," she says. "He did nothing, he was not guilty. I left, and that gave Russ more fuel for the fire. And boy did he run with it."
PHOTO BY JOHN BROWN
Before his arrest, Father Ryan filled the church's sanctuary with statutes and religious articles.
Brown finally sold the church earlier this month. The new owner isn't familiar with the stories of demons or the fake priest who charged into town like a pit bull. He's renovating the interior into a home. He has no interest in turning the octagonal property into a haunted attraction and no use for questions from curious reporters.
Anyway, everyone in Armstrong knows the best gossip is found at the A-City Diner.
"The county sheriff has had sex with other men in the church," says one local man. He's leaning over a table, eyes wide and sparkling with conspiracy. "And the Father, he was a homosexual with a lot of people." He drawls out his syllables for the juiciest possible emphasis. "A laaaahhhht of people."
Now, that's just a rumor from some country boy in a bare-bones diner in a small town in Missouri. But earlier this month, Father Ryan and Patricia Baldridge filed a federal lawsuit against Howard County Sheriff Mike Neal and Deputy Russ Harrison.
According to the lawsuit, Harrison attempted to make "many sexual advances, many times on Fr. Ryan." Lee Cross, the Kansas City-based attorney hired for the case, acknowledges that Father Ryan was in a relationship with a man — but says it was not Harrison.
"Enraged by personal and religious rejection," the lawsuit continues, "Defendant Harrison then began a campaign to destroy Plaintiffs' reputation, church, and lives through criminal investigation, prosecution, libel and slander."
The lawsuit zeroes in on Harrison's role in the charges brought against Father Ryan. The deputy's close relationship to him and the abbey should have sent warning bells ringing in the sheriff's department, argues Cross. He points out that the felony charges for financial exploitation — the ones that were later dropped — were almost entirely based on Harrison's police report and witness statements. (Howard County Sheriff Mike Neal says he has yet to be served with the federal lawsuit and will not comment on it. Harrison remains on the Howard County payroll.)
As for Father Ryan, he is no longer living in the house Brown owns in Columbia. The Howard County prosecutor is still trying to put him jail, this time for an alleged probation violation in August. While living in Branson, Father Ryan apparently traveled to Columbia to treat a heart problem. According to the prosecutor, Father Ryan didn't properly check in with his probation officer about the trip.
Cross maintains this was a minor misunderstanding on the part of the parole office — but the prosecutor seems to be taking it seriously. The next hearing is October 26, and if things go badly, Father Ryan could be facing the full seven-year prison sentence.
Ryan's lawsuit only raises more questions in a story that's grown incredibly murky. Was Harrison trying to stop the exploitation of an elderly woman, or was he a man corrupted by jealousy? Was the fake priest scamming Patricia Baldridge or simply ministering to her spiritual needs? What really triggered Baldridge's call to the deputy that morning on March 6?
Perhaps Father Ryan finally committed the cardinal sin of so many cult leaders and con men, pushing his mark — Baldridge — one step too far. Maybe, in one brief moment of clarity, she saw the truth about Father Ryan, even if she later returned to the comfort of belief.
Or maybe, as John Brown suggests, it was the church all along. Haunted, malevolent and ready to destroy a good man and his followers.
"It's such a sad story when you think about all the victims that have been created here," says Brown. He polished off an omelet an hour ago, but he's still talking. The Boonville diner is closing. The customers have gone home.
"It boils down to this," he says. "Either you believe or you don't. You get to make a choice."