Page 3 of 3
SCREEN GRAB
Shelton Buchanan, shown in a still from a video, told a private investigator Key never shot him.
Shelton Buchanan
For six weeks, I made every effort to talk to Shelton Buchanan, knocking on doors of addresses associated with him, leaving notes on stoops when no one answered. We've had two very brief phone calls. Both times he hung up on me. I tried to contact people I thought might be related to him. After a few days of doing this, he texted, "don't come to my house anymore. that's my only time saying it."
The private detective who took the videotaped statement said he had no trouble getting ahold of Buchanan. Buchanan actually called him. He was homeless at the time, staying at a temporary shelter the city had set up on North Tucker Boulevard. The investigator, who asked not to be identified in this story, says he picked Buchanan up, and they drove back to the investigator's home, where Buchanan gave his statement.
The initial frames of the video show Buchanan setting up the camera and turning it to face himself. "The screen's gone blank," says the investigator at one point. Buchanan waves away the concern. "It's still recording," he says and keeps talking. The investigator is asking the questions, but if the video could be said to have a director, it's clearly Buchanan.
The investigator asks Buchanan why back in the ambulance in 2009 he brought up Key's name as the shooter.
"He had just got released from jail," Buchanan replies. "I wanted to get back at Felix for something he did with me, pointing me out in a case. So I just brought his name up." Buchanan is referring to the six months he spent in jail, unable to make bond, after Key had told police that Buchanan had been one of the people who beat him unconscious.
In the video, taken in April 2019, Buchanan looks much younger, more put together and lucid, than in a booking photo taken two years prior.
Jolliff, along with Key's wife, Latasha Kates, says that over the years Buchanan has vacillated from offering help to at other times being flaky and uncommunicative. At one point, Jolliff says Buchanan asked her for a few thousand dollars to recant his testimony.
"To be honest, if I had $2,500 to get my baby out of jail, yeah, I'd probably have done it. Sure. But at the time, it wasn't doable," she says.
"You realize that would have been bribery and have changed the whole case?" says Michael Abernathy, an investigator the Key family has recently hired.
"Yeah, I thought about that. But I also thought about my flesh and blood and him doing 28 years."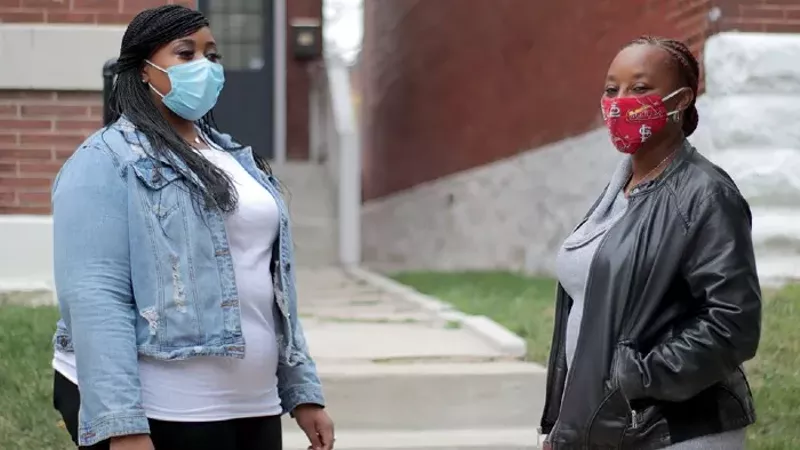 STEVEN DUONG
Felix Key's mother Marian Jolliff and wife Latasha Kates still hope the conviction will be overturned.
Earlier this year, Buchanan again texted Kates asking her for money for his cooperation. He sent her his CashApp account and then, a few hours later, a different account to send money to. "If I ain't got dat by Sat I'm done with it," Buchanan wrote. "Real talk."
Kates and Jolliff say neither of them paid Buchanan anything and he slipped out of contact again.
The investigator who filmed Buchanan's statement says Buchanan was in no way compensated for speaking with him. The only money that has ever changed hands has been from Buchanan to Key. In 2014, out of the blue, Buchanan put $40 on Key's commissary, according to inmate records.
To this day, Key's old rival remains a maddeningly elusive figure.
Private investigators and Key's family members who have spoken to Buchanan describe a man torn between a guilty conscience and a fear of going to jail for perjury. All of this is complicated by addiction issues.
A source in the St. Louis Division of Corrections tells me that Buchanan has come into city facilities multiple times for detox treatment. In July 2017, he was arrested for shoplifting liquor from the Schnucks downtown and for unlawful use of drug paraphernalia. Ten days later, he was arrested again at the same store for again attempting to steal alcohol.
Buchanan is not the sort of man in whose hands anyone would choose to trust their freedom. But the reality for Felix Key is that this erratic ex-rival from his teenage years is his best hope of being released before the end of his sentence, which, as of right now, is not set to expire until 2039.
"I'm going on twelve years of being incarcerated for this," Key told me. "I haven't got a chance to do anything with my life."
The second time Buchanan and I talked, the conversation lasted about 30 seconds over a scratchy connection. I reiterated that I was writing a story about him and Felix Key and had been talking to Key's family.
"I don't want nothing to do with that," he said. "They know what's up."
"What do they know?" I asked.
He'd already hung up.
Ryan Krull is a freelance journalist and assistant teaching professor in the department of communication and media at the University of Missouri-St. Louis.