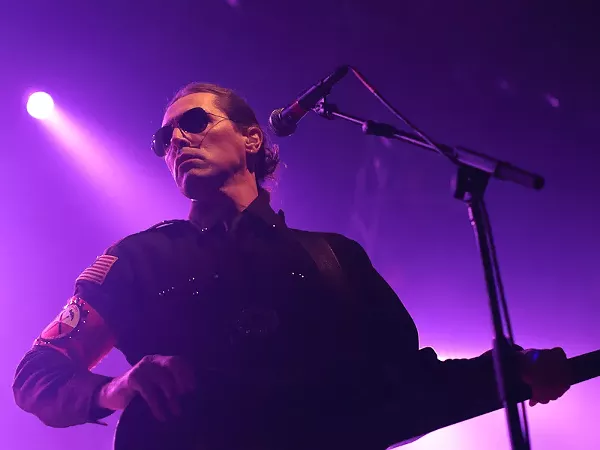 Guitarist and vocalist Mark Thomas Quinn.
El Monstero began its six-night stand at The Pageant on Friday night, playing to a sold-out crowd.
Yep - pole dancers during The Wall's "Young Lust."
Jimmy Griffin during an atmospheric passage of Dark Side of the Moon.
Mark Thomas Quinn is in complete control over the band and the crowd - he's an undeniable showman.
There's nothing quite like pyro to kick an already stunning light show into high gear.
The band plays two sets (the second including the entire Dark Side of the Moon).
KSHE-95, a major supporter of El Monstero, had jackets for sale at the merch table in Suite 100.
Mark Thomas Quinn, wailing.
El Monstero fans Jake Williams, Dustin Mueller, Erik Andrew (aka, The Man With Two First Names), Morgan Boudreau and Carly Parisi.
Bryan Greene, playing one of his many heroic leads.
It's not all about the guitars, guys - backup singers, keyboard players and percussionists all have featured parts in the rock spectacle.
El Monstero's merchandise - T-shirts and posters, all of which feature St. Louis based artwork. No CD's, for obvious reasons.
Guitarist Jimmy Griffin also sings many of David Gilmour's vocal parts during El Monstero's first set.
Chad Hanebrink, Loretta Williams and Greg McDaniels show us how many times they've been to the annual El Monstero show.
Yes, the solos during "Comfortably Numb" were indeed epic.
Christene Hellmich and T.J. Wolf are returning fans. Between the two of them, they've seen El Monstero eight times.
Saxophonist David Farver joined the rest of the band onstage, but not until he'd walked along the tabletops through the crowd.
In from Fenton: Chelsea Kline, Chelsea Ebker, John Tyler, Kevin Johnson, Zack Sager and Jerry Garsey.
The Wall's fasciest overtones are brought to life during El Monstero's first set.
El Monstero's light show is intense, and (literally) every color of the rainbow. And, of course, there are lasers.
The sold-out crowd for El Monstero.
Jimmy Griffin, playing to the audience.
Bass player Kevin Gagnepain.
Jerry Heet, Adam Borchers, Cathy Yungbluth and Deb Lantzy line up along the barricade for the coming show.
El Monstero performing "Wish You Were Here," asking for a crowd sing-along. The crowd was more than happy to oblige.
The musical onslaught wouldn't have been possible without John Pessoni's tight drumming and harmonies.
Menacing and sneering, Mark Thomas Quinn embodies Roger Water's character "Pink" perfectly.
If you're down on the floor, be prepared for confetti, dollar bills and assorted other flying objects.
Ryan Jordan dominating Wish You Were Here's "Have a Cigar."