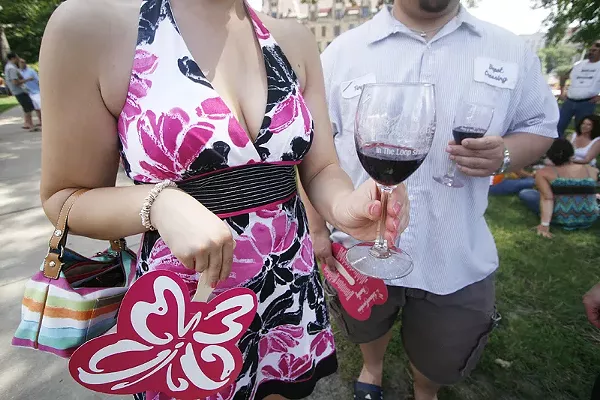 Whitney Payne shows off her glass of Apothic Red Blend wine, which has a fruity aroma with berry, pepper and spice flavors. A bottle costs around $9.
A volunteer pours a glass a red wine.
Craig and Alena Ahrens put wine tokens up to their eyes.
Patsy Paulk and Tony Carigo relax in the shade. After having their fair share of wine, Patsy said they then switched to beer.
Patty Held, president of the Hermann Wine Trail, pours a sample of wine. The Hermann Wine Trail is a collection of 7 wineries along 20 miles of the Missouri River between Hermann and New Haven.
In order to sample the wine, patrons had to buy tokens. Four tokens cost $5; two tokens gets you a two-ounce. sample and five tokens gets you a six-ounce glass of wine.
Jason Evans and Christina came to St. Louis Uncorked for their four-month anniversary. They both sampled the Red Rock Malbec, a red wine with ripe berry and floral aromas that pairs well with barbecued chicken, ravioli and cheeses. A bottle costs around $10.
A woman pours out a sample of red wine using a "one dose" wine decanter, which aerates the wine to releases more aromatic compounds.
Selina Madrid and Lauren Olsen.
Joana Hendricks, right, and her friend.
A selection of white wines. Cavit Pinot Grigio is light, crisp and pairs well with pasta, chicken and seafood. A bottle costs around $9. The Santa Rita 120 Sauvignon Blanc is balanced with herbal, grapefruit and lemon peel flavors. A bottle costs around $7.
Dan and Anna Warnecke try out a glass of Three Thieves Bandit Chardonnay, which is a smooth, light white wine with tropical and citrus flavors. A bottle costs around $7.
Lacy Wood tastes a sample of Shimmering Falls Sauvignon Blanc from Vintners Cellar of O'Fallon, as Mike Vinopal reacts. The wine is a light dry French style wine with subtle hints of lavender and spice. It also pairs well with seafood and seasoned poultry.
Kathy Bussey and Alicia Phillips
A wine vendor pours a sample cup of Brancott Sauvignon Blanc which has ripe capsicum and gooseberry aromas. A bottle costs around $11.
An associate with Noboleis Vineyard of Augusta pours Norton red wine from one decanter into another.
A wine patron holds a glass of White Steuben, a semi-sweet bluish wine, from the Robller Vineyard Winery. A bottle costs around $9.
John and Marsha Fleming sample a glass of a semi-dry white Riesling. "I think we've hit every table, so far," John said.
Wine patrons sit under the shade of the trees in Soldiers Memorial.
Wine vendors lined the block off portion of Chestnut Street between 12th and 13th streets. The event featured four Missouri wineries and made available other national and international wines.
Katherine Conway laughs from dissatisfaction after trying the Red Rock Malbec as Lee Layton looks on.