Page 4 of 4
DOYLE MURPHY
The edge of the McDonald's drive-through is one of Jaz's primary panhandling spots.
A woman motions Jaz to her car window and hands over a dollar.
"That kicked it off," Jaz says as if cutting the ribbon on a new business. "My gates are open."
There have been plenty of people in the McDonald's drive-through on this day, but they have been slow to give. Jaz has a few regulars, most of whom have not been through. Or maybe she missed them. She positions herself strategically, so she will be directly in the line of sight when drive-through customers check for traffic.
But the patience of McDonald's management is wearing thin. The guy in the spotless white shirt and dark sunglasses emerges again and walks with determination toward Jaz. She knows what's coming.
"You know I'm not finna to leave," she says before he can even speak. "I've been sitting here all morning."
"I'm just telling you what's going to happen to you," the man says.
"I'm telling you what's going to happen to you," she replies.
Another employee has come outside. If the cops have not already been summoned, they will be soon.
"McDonald doesn't want you here," the man says before going back inside.
Jaz is seething as she watches him go.
"He walks around here in all those fancy-ass clothes," she says, her voice rising. "You're a security guard."
Jaz works the drive-through customers for a while longer. She figures a sergeant she has gotten to know or maybe the officer she spoke to earlier about winter overflow at the shelters will respond. But when the police SUV pulls up, she does not recognize either of the cops.
DOYLE MURPHY
Jaz pleads her case to St. Louis police officers Ally Kubel (left) and Rosa Rojas while McDonald's employee Kendall Bush listens.
A young officer, little more than a year out of the academy, asks what's going on.
"I was sitting here ..." Jaz begins.
"On their property," the officer interjects. It was actually the sidewalk, but Jaz can see how this will go. She continues to protest: "The manager never said anything to me."
The officer cuts her off, "Could you shut up?"
The McDonald's employee in the white shirt says that if Jaz would just move across the street, everything would be fine: "As long as he sits over there, there's no problem." If Jaz hears him use the male pronoun, she is too busy pleading her case to complain.
The officers are ready to wrap it up. "Just don't sit on their property — problem solved."
Jaz sullenly wanders back across the street to another sidewalk. She is no longer in the drivers' sightline, and she can already see them pretending not to see her. She waits around a few more minutes, but she is too angry to just sit here, pleading sweetly with strangers for a dollar. She gathers her things and heads out.
A few days after the run-in at the drive-through, Jaz's spot is empty.
She has walked off somewhere into the city, but the McDonald's employee in the sunglasses is still here. He canvasses the parking lot, broom in hand. His name is Kendall Bush, and he does a little cleaning, a little security, whatever is needed. "I'm like the X Man around here," the 55-year-old says.
Bush says he has some empathy for Jaz. It is not easy on the streets, and most people are closer to landing in her position than they think. At the same time, he says she is responsible for herself.
"Unfortunately, in this culture, if you don't help yourself, no one is going to help you out," he says.
Bush has worked at McDonald's for about a year. The restaurant owner spotted him walking across the parking lot one day and asked if he wanted a job. Bush applied the same day. He was living at Biddle House at the time, working on about three years of homelessness. He says he'd partied too hard and developed a nasty substance abuse problem. It eventually landed him in prison.
"Luckily for me, before I fell off, I had a college degree," he says.
Unlike Jaz, the roughness of his life now feels like an interlude, rather than a progression begun in childhood. He has moved out of Biddle House and now lives in an apartment across the river in Belleville. He is saving up for a car.
Keeping homeless people from panhandling customers in the parking lot is just part of the job, he says. "If I don't do what I'm instructed to do. I'm out of a job, too."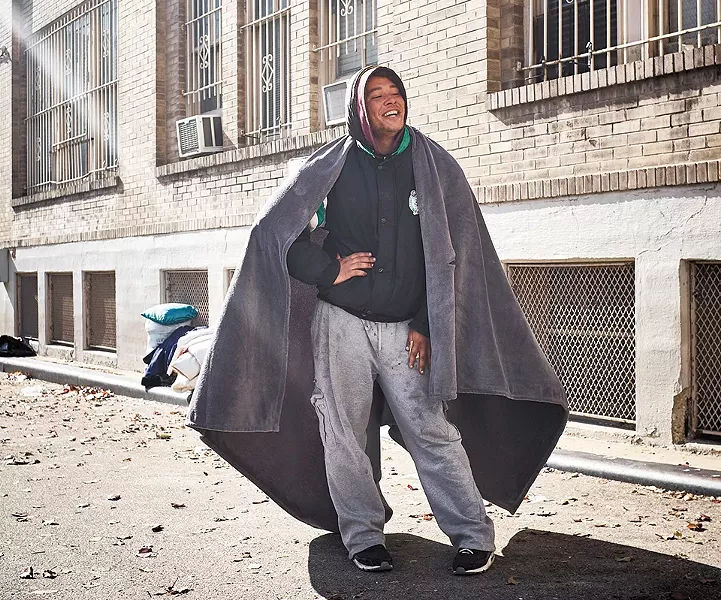 THEO WELLING
Jaz mugs for the camera outside of Christ Church Cathedral in Downtown West
Jaz prays in the mornings and most nights, if she remembers. "I pray to be safe," she says. "I pray to be warm and dry."
She is not particularly religious, but she believes there is a god somewhere.
"All the shit I've been through in my life? There's got to be for me to be alive — got to be."
At times, it is indeed as if she is being cast about on the whims of forces beyond her control. Comedies and tragedies fall into her path at unexpected moments. Each passing car, each new journey through downtown has the possibility of shifting her fortune.
Listen long enough to her beseeching the drivers and her pleading begins to sound like its own prayer. "Spare some change?" she says. "Anything's a blessing."
And every so often, it reaches someone. During one of her long hours next to the McDonald's drive-through, two women in a silver sedan pull over to drop $2 into her palm. "Here you go, boo," one of them says.
Behind them, another driver is growing impatient.
"Sorry," Jaz says, waving to the woman in the second car.
Two little dogs appear at the window and bark furiously. It cracks Jaz up. "Those dogs were mad as hell."