Page 3 of 4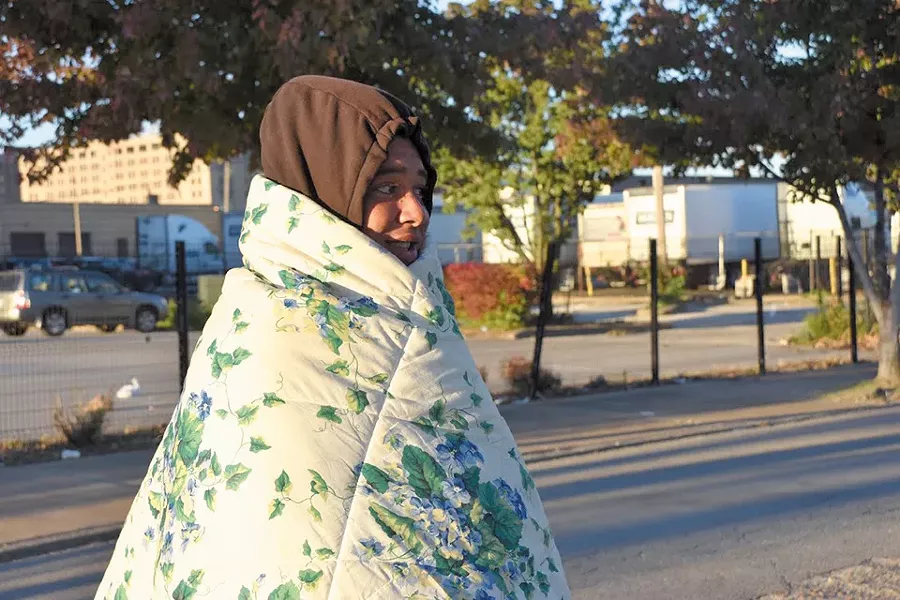 DOYLE MURPHY
Jaz keeps an eye on the McDonald's drive-through after sleeping across the street.
Jaz has an eye for cars.
As she walks along the city streets, she comments on the makes and models of vehicles rolling past.
"That's the new Impala," she says as a long, dark sedan cruises by. "That's cute."
In another world, the 22-year-old would be finishing college about now, maybe starting a career. Her dream car is a Chrysler 300 "with the SRT" or a 2008 Volkswagen Jetta — "I don't know why." But she does not see a future that includes any of this. Instead, she wonders if she will survive the winter. "The way things are going, I think I'm finna to wind up dead."
After leaving the Workhouse, she says she could not take the stress and started smoking crack. She has since weened herself off it but still spends her days cycling from panhandling to buying and smoking marijuana or, often, K2. "It's stronger and gets you high longer," she says. It also keeps her chained to downtown, where she can almost always find a dealer within walking distance of the McDonald's.
It is an exhausting existence but not totally devoid of fun. Jaz cracks jokes and talks trash with a revolving cast of characters who are searching the same sidewalks and parks.
"Where'd you get that car?" she shouts to a friend hanging out of the window of a shining hatchback.
"Crackhead Rental," he says, making it sound like a competitor to Enterprise or Hertz. This has Jaz cackling. Grinning slyly, the driver continues. "No, seriously. Crackhead wanted some crack, so he let me use his car for the day. Crackhead Rental."
Jaz is still laughing as she walks up the block. Suddenly, she goes quiet and steps back against the side of Christ Church Cathedral. Courvoisier, her occasional boyfriend, is coming up the block.
He marches past, and then whirls on her. "You said some sneaky shit!" he shouts.
"I didn't say anything to you," Jaz tells him.
Drawn by the shouting, a security guard and a friend of Jaz's step out onto a far corner. Courvoisier has noticed an RFT reporter standing nearby but continues berating Jaz.
"I don't give a fuck who you're standing with," he says.
"Courvoisier, leave me the fuck alone," Jaz pleads.
He is within a few feet of her. Slim, with his hair in short dreads, he has his shoulders squared toward her, but finally turns.
"Fuck you," he says. "I'll do whatever I want to you when I'm ready."
As soon as he has moved on, Jaz goes the opposite direction. "You see what I have to go through," she says once he is out of earshot. She lives with a baseline of stress, and the confrontation with Courvoisier sets her anxiety throbbing. For the next twenty minutes, she searches for someone to sell her K2, finally buying three joints for less than $2 a piece.
She finds a spot at the base of an American Legion monument and smokes them, one after another. She quickly calms, dropping into a state between awake and asleep. Her voice is drowsy, and when she talks, it is as if she is describing a dream. Even if life was bad in Wisconsin, there were good times with her grandma and mother, she says — times when she lived in a home and drove a car. She says she wishes she could buy some clothes or "watch a movie by myself."
"I miss being able to have my hair done, my makeup, my nails done."
For a moment, it seems as though she has fallen asleep, but then she stirs.
"It's not Missouri," she says. "It's misery."
Jaz has eaten only a thin sandwich a friend gave her earlier in the day, and she now has zero dollars. Still a little drowsy, she begins digging through trash cans. She finds a Styrofoam takeout container and picks through what was probably an order of wings.
"Nothing but a piece of celery," she says, tossing it away.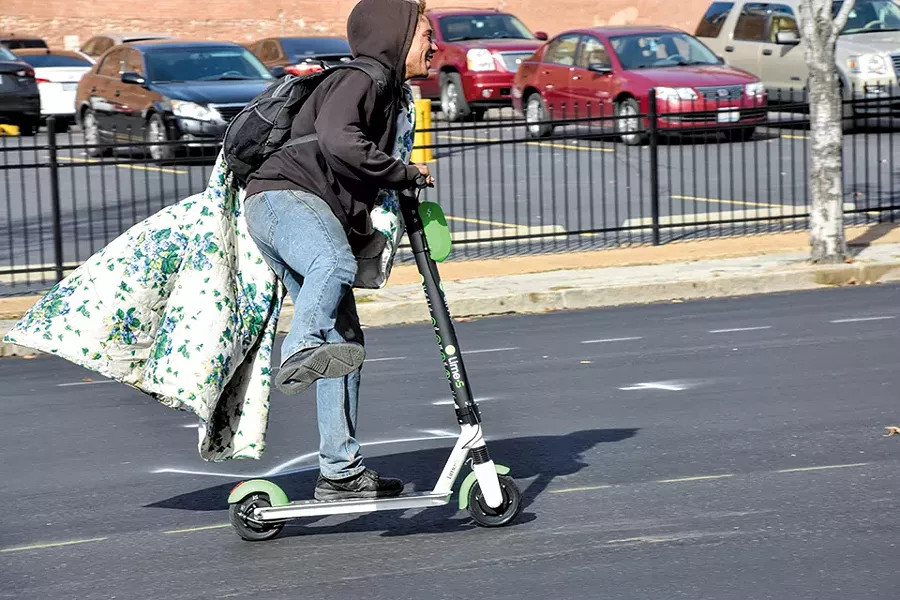 DOYLE MURPHY
An unlocked Lime scooter give Jaz a few minutes of joy.
She looks around dully for another can, but then her face lights up.
"I might have found me a scooter!" she says, yanking one of the Lime ride-share models off the pavement to see if the glowing lights mean the rental is still active. "Yup."
She hops aboard and lets out an honest-to-God squeal as she takes off into a parking lot. She rides in big, looping arcs, smiling like a little kid. Onto 14th Street she goes, whizzing around cars. Her white comforter drifts out behind her like a cape as she flies down the road. In the middle of Washington Avenue, she kicks out one leg and leans into a big curve, carving a complete circle around the intersection as drivers stuck in traffic stare.
After hours of trudging block after block on foot, Jaz delights in this rare freedom of speed. She rides the scooter all the way back to McDonald's.