Jazmin exhales a cloud of shimmering breath and looks over the new autumn world in front of her. Leaves on the trees have begun to color; the air is crisp.
"I'm trying to get a little breakfast money, but these motherfuckers ain't shit," she says.
The 22-year-old stands at the exit of the McDonald's drive-through near North Tucker Boulevard, wrapped in a stained white comforter. Her curly hair is tucked inside the hood of a brown sweatshirt. She slept the night before on a slab of sidewalk about fifteen yards from where she is now posted up, begging customers for the balance of their Sausage McMuffin bills.
"Spare some change?" she calls out to passing cars. "Anything's a blessing."
She prefers to let the men pass. They are more likely to ask about her gender and, if they learn she is a transgender woman, proposition her.
"They be on that creep shit," she says. "I'm homeless. I'm asking you for help. I'm not going to suck your dick for no money."
In the nearly two years since Jaz arrived on a bus from Wisconsin, she has learned to navigate the dangerous, petty and occasionally hilarious ecosystem of downtown St. Louis. She has been cussed out, threatened and attacked. A year ago, she spent more than two weeks in jail after a sidewalk brawl with a tech-company owner who later explained that he'd lost his temper in part because lingering homeless people are bad for business.
Jaz says, "He called me a punk-ass bitch, a cunt. That cunt word, that really pissed me off."
Outside the McDonald's, a middle-aged employee wearing a spotless white shirt, black slacks and black sunglasses hustles around the parking lot with a broom and dustbin. As he moves, he looks in Jaz's direction repeatedly.
She eyes the man coldly before jumping into a story about a fight between a couple of women the night before. One apparently threatened to "slap the piss" out of the other, but it was the response that delights Jaz.
"She said, 'Well, get to slapping, bitch, because I ain't got to pee,'" Jaz says, laughing loudly at the comeback. "Get to slapping, bitch!"
She loves the ridiculousness of it. Fierce and funny, she keeps up a running commentary on the characters and bizarre interactions that pass before her each day.
It is late October, and the wind is sharp. The weather is getting colder. Along with her comforter, Jaz has a thin pink blanket. The blankets, a couple of cheap lighters and a few toiletries crammed inside a small backpack are everything she owns. Winter is on her mind. Last year was frighteningly cold, and the city-owned shelter on the other side of McDonald's, Biddle Housing Opportunities Shelter, had to turn people away on the worst nights.
When a police officer who works with homeless people rolls out of the drive-through, Jaz questions her about rumors she's heard that shelters would not be adding extra cots for overflow this winter. The officer assures her the city is finalizing plans.
"They're still working on funding," the cop says.
Jaz nods but does not seem convinced. She returns her attention to panhandling as the officer drives on. Around 9 a.m., a sympathetic drive-through customer hands over a few singles. That brings Jaz's holdings to $8, which is enough. She slides her backpack over her shoulders, re-wraps the comforter around her and heads south into the heart of the city.
Jaz moved in late 2016 or early 2017 to St. Louis with her then-boyfriend, a 43-year-old ex-con who goes by Courvoisier.
She says she had known him since she was young. She grew up in a big, blended family in the small working-class towns north of Milwaukee. She says she knew in elementary school that she identified as a girl and did not realize others would find it strange until she was bullied by classmates. Never one to back down, in high school she posted selfies on Facebook with her makeup and hair done, mugging for the camera as she documented "transformation Wednesdays."
COURTESY OF JAZMIN
Jaz, shown in 2016, used to regularly post selfies on Facebook.
She says she spent large blocks of her teen years in and out of foster homes after quarreling with her mother and stepfather. She dropped out of high school after the eleventh grade. In her telling, she ended up homeless in the Milwaukee area after a cousin learned of her gender transition and put her out.
It was some bad advice that brought her to St. Louis.
Courvoisier had previously been shot and called a social services hotline in hopes of applying for disability benefits, Jaz says. The staffer suggested Missouri might be an easier place to get approved.
That did not turn out to be true.
"I thought as my life went on it was going to get better," Jaz says. "Hell, nah."
Two years after they arrived, she and Courvoisier are both on the streets, often split up and fighting, hustling whatever money they can. In late October, she says their on-again, off-again relationship is currently off because he is erratic and abusive.
"We talk about getting back together, but he's still doing the same stupid shit," she says. She later describes a recent run-in at one of the parks near City Hall: "He attacked me yesterday in this park with a stick. He cracked me in the back of my leg, and he tried to hit me in the back of my head." (By November, they had reconciled, she says.)
As she walks south on Tucker, she stops to chat — with a security guard minding the St. Louis Post-Dispatch's parking lot, with a young man in a torn hoodie scanning trash cans for anything useful, with a woman on her way to work.
"Girl, it is too cold out for that skirt," Jaz hollers.
"I don't give a fuck," the woman says, laughing as she slows down to give her a quick hug.
Jaz shouts across intersections to others who, like her, carry backpacks and blankets as they canvass the same sidewalks and parks every three or four hours. It can feel like everyone in the neighborhood is carrying on one long, rambling conversation, all but invisible to the attorneys and public employees hustling with diverted eyes to the nearby courthouses or government buildings.
There is comfort in the familiarity but also a sense of being penned in. When things go bad, it seems inescapable.
Thirteen months ago, Jaz got into a street fight.
It started when she stopped along North Tucker to fix her hair in the reflection of a window of the Globe Building. She says a security guard wanted to run her off but eventually agreed that she could stay five or ten minutes to finish up.
The former headquarters of the defunct newspaper has been transformed into high-tech office space for entrepreneurs attracted to its powerful internet infrastructure and unique architecture. But it has also struggled to reassure potential tenants that their employees, clients and customers will be safe downtown. The building's promotional videos emphasize security features such as an underground parking garage that lets workers go from their cars to their offices without setting foot on the street.
Longtime tenant Gerry Claunch, who runs the software company GDC Integration Inc., is one of the building's biggest boosters. In a deposition, the 67-year-old told attorneys he saw the security guard that afternoon, October 3, 2017, trying to persuade Jaz to leave. He thought the guard wasn't being forceful enough. (Claunch declined to comment to the RFT.)
That was a problem for him. Recruiters have told him that prospective employees have looked elsewhere because they felt unsafe around the building, he says. So Claunch walked past Jaz and the guard, then doubled back.
"I just wanted to reinforce and try to help [the guard] get that person to move along, because it's an image that that building just can't have," he would later explain in the deposition.
There is surveillance video of the ensuing confrontation. Claunch, stocky with white hair and glasses, is seen shouting back and forth with Jaz. As she moves to his right, he steps in front of her and continues shouting. There is no sound, but the exchange is clearly heated.
Claunch would later say he couldn't remember exactly what was said, other than that he probably used a wide range of profanities. "I have a plethora," he said. "I'm probably king of the hill when it comes to vulgarities and profanities."
Claunch keeps screaming, in fact, until Jaz clocks him on the left side of his head. She later told a detective she thought he was getting ready to spit in her face.
The video is still recording as the blow sends Claunch's glasses flying. He turns and comes at Jaz, but she shoves him away. The guard steps in the middle, and the fight seems all but over. Jaz picks up her blanket and starts to head off.
But as she tries to walk around Claunch, he grabs at her left arm. It was not a great idea. In one smooth motion, Jaz pivots to her left while simultaneously whipping her right arm around like a belt. This time, she knocks Claunch to the ground, looking over her shoulder at him as he topples to sidewalk behind her.
Even then, the aging businessman rallies for one more round. Jaz is already up the block, but the video shows her dropping her blankets and balling her fists when she spots Claunch coming. He lunges head first, arms outstretched. Jaz scrambles backward and pops him on the top of the head.
By now, others have come out of the building and they move in to separate the two. A burly maintenance man bear hugs Claunch from behind and walks him back down the block while Jaz heads off into the distance.
All she wanted, she says, was five minutes to fix her hair.
Nine days after the fight, police found Jaz in a park and arrested her for fourth-degree assault.
A detective told her she might be out of jail that night or maybe the next day, but she spent more than two weeks in the city's Medium Security Facility, better known as the Workhouse, because she had no hope of paying the $1,500 bail.
In the workhouse, she was jailed with men. She is used to being hassled by men, but at least when she is downtown she can usually get away. In jail, there was nowhere to go. "I'd have to put myself in a corner to keep them from grabbing me," she says.
The first two or three nights, she didn't sleep, she says. Fortunately for her, she already had an attorney, Andrew Cook of ArchCity Defenders, who had previously defended her against city citations. He picked up the new case.
Cook was eventually able to get her released on her promise to show up for court. The assault charge was a misdemeanor, making it the kind of low-priority case that can languish for months in the court system. Cook says if he hadn't been actively looking for Jaz, she might still be in the Workhouse.
The circuit attorney's case turned out to be pretty weak. Cook wonders why anyone pressed it at all, except for the opportunity to push out a person whom downtown cops and business owners considered a nuisance.
DOYLE MURPHY
She expected life to get better in St. Louis, but Jaz says it has been worse.
"Nobody seemed that interested in what happened," Cook says. "It seemed like a coordinated effort to get rid of someone."
Police reports showed the investigation began not with the department, but a security firm, Asymmetric Solutions. The firm works for Downtown STL Inc., an influential nonprofit that uses a property tax to boost business, attract tourists and deter crime. In Asymmetric, it basically has a shadow police force at its disposal. The security firm employs off-duty cops to patrol and conduct investigations. Although they're working for a paying client, they enjoy the full authority provided to cops.
In a statement, the St. Louis police described Asymmetric as an "approved secondary employer" with the ability to hire city cops to use their training and power as police officers: "As such, there is an overlap as an officer will still conduct his/her duties in accordance to the policies and procedures of the St. Louis Metropolitan Police Department while working police-related secondary."
Often, it is hard to tell where one role ends and the other begins. Such was the case with Jaz's situation.
A sergeant working a shift for Asymmetric identified her from still frames of the surveillance video provided by Downtown STL, according to police reports. When the sergeant learned the police department had not assigned a detective, he asked one who was also working a shift for Asymmetric, Detective Joseph Morrell, to take it over. Morrell tracked down Jaz, interrogated her at the police station and applied for the charge.
Even after she was released from the Workhouse, the charge remained. Jaz says she lived in constant fear she could be arrested again at any time as the case dragged for months.
One reason for the delay: Cook tried to get prosecutors to turn over the surveillance tape. In the end, they provided only a clip, one that omits the first part of the interaction where Claunch walked up the block and returned to get in Jaz's face. No one ever explained who had given it to Downtown STL to pass on to Asymmetric.
Downtown STL's security director declined to comment. Asymmetric, the Circuit Attorney's Office and management for the Globe Building all failed to respond to requests for comment.
The case finally went to trial in September. Cook argued Jaz had acted in self-defense against a man who tried to intimidate, threaten and harass her into going away. Jurors agreed, finding her not guilty after just 84 minutes.
Before Jaz left the courthouse, an alternate juror stopped her. The woman had a gift — a makeup compact so Jaz wouldn't have to do her hair in an office building's windows.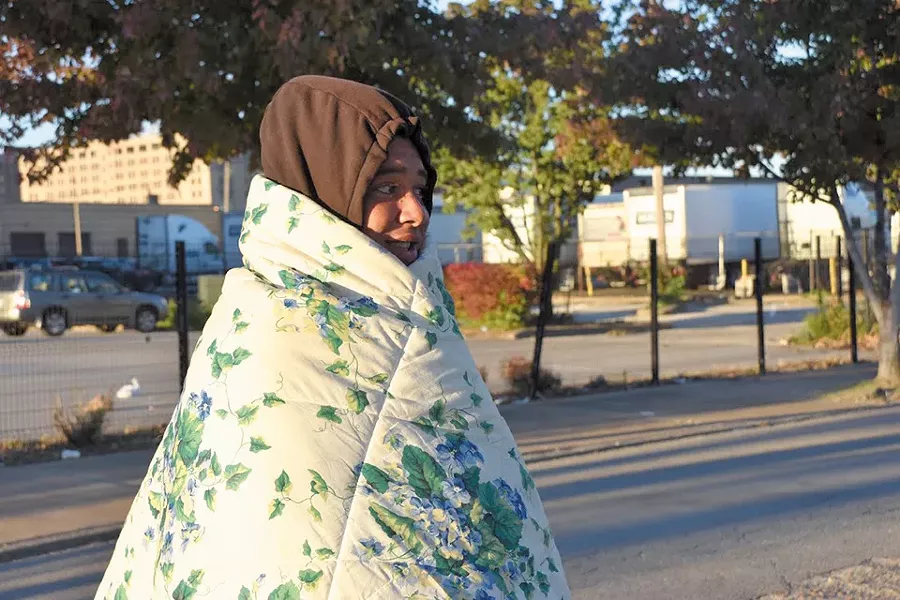 DOYLE MURPHY
Jaz keeps an eye on the McDonald's drive-through after sleeping across the street.
Jaz has an eye for cars.
As she walks along the city streets, she comments on the makes and models of vehicles rolling past.
"That's the new Impala," she says as a long, dark sedan cruises by. "That's cute."
In another world, the 22-year-old would be finishing college about now, maybe starting a career. Her dream car is a Chrysler 300 "with the SRT" or a 2008 Volkswagen Jetta — "I don't know why." But she does not see a future that includes any of this. Instead, she wonders if she will survive the winter. "The way things are going, I think I'm finna to wind up dead."
After leaving the Workhouse, she says she could not take the stress and started smoking crack. She has since weened herself off it but still spends her days cycling from panhandling to buying and smoking marijuana or, often, K2. "It's stronger and gets you high longer," she says. It also keeps her chained to downtown, where she can almost always find a dealer within walking distance of the McDonald's.
It is an exhausting existence but not totally devoid of fun. Jaz cracks jokes and talks trash with a revolving cast of characters who are searching the same sidewalks and parks.
"Where'd you get that car?" she shouts to a friend hanging out of the window of a shining hatchback.
"Crackhead Rental," he says, making it sound like a competitor to Enterprise or Hertz. This has Jaz cackling. Grinning slyly, the driver continues. "No, seriously. Crackhead wanted some crack, so he let me use his car for the day. Crackhead Rental."
Jaz is still laughing as she walks up the block. Suddenly, she goes quiet and steps back against the side of Christ Church Cathedral. Courvoisier, her occasional boyfriend, is coming up the block.
He marches past, and then whirls on her. "You said some sneaky shit!" he shouts.
"I didn't say anything to you," Jaz tells him.
Drawn by the shouting, a security guard and a friend of Jaz's step out onto a far corner. Courvoisier has noticed an RFT reporter standing nearby but continues berating Jaz.
"I don't give a fuck who you're standing with," he says.
"Courvoisier, leave me the fuck alone," Jaz pleads.
He is within a few feet of her. Slim, with his hair in short dreads, he has his shoulders squared toward her, but finally turns.
"Fuck you," he says. "I'll do whatever I want to you when I'm ready."
As soon as he has moved on, Jaz goes the opposite direction. "You see what I have to go through," she says once he is out of earshot. She lives with a baseline of stress, and the confrontation with Courvoisier sets her anxiety throbbing. For the next twenty minutes, she searches for someone to sell her K2, finally buying three joints for less than $2 a piece.
She finds a spot at the base of an American Legion monument and smokes them, one after another. She quickly calms, dropping into a state between awake and asleep. Her voice is drowsy, and when she talks, it is as if she is describing a dream. Even if life was bad in Wisconsin, there were good times with her grandma and mother, she says — times when she lived in a home and drove a car. She says she wishes she could buy some clothes or "watch a movie by myself."
"I miss being able to have my hair done, my makeup, my nails done."
For a moment, it seems as though she has fallen asleep, but then she stirs.
"It's not Missouri," she says. "It's misery."
Jaz has eaten only a thin sandwich a friend gave her earlier in the day, and she now has zero dollars. Still a little drowsy, she begins digging through trash cans. She finds a Styrofoam takeout container and picks through what was probably an order of wings.
"Nothing but a piece of celery," she says, tossing it away.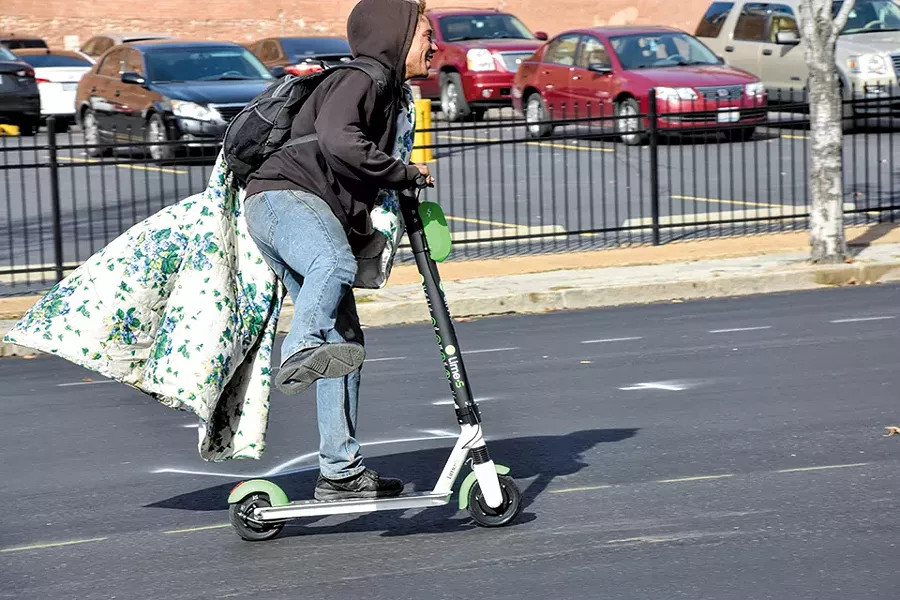 DOYLE MURPHY
An unlocked Lime scooter give Jaz a few minutes of joy.
She looks around dully for another can, but then her face lights up.
"I might have found me a scooter!" she says, yanking one of the Lime ride-share models off the pavement to see if the glowing lights mean the rental is still active. "Yup."
She hops aboard and lets out an honest-to-God squeal as she takes off into a parking lot. She rides in big, looping arcs, smiling like a little kid. Onto 14th Street she goes, whizzing around cars. Her white comforter drifts out behind her like a cape as she flies down the road. In the middle of Washington Avenue, she kicks out one leg and leans into a big curve, carving a complete circle around the intersection as drivers stuck in traffic stare.
After hours of trudging block after block on foot, Jaz delights in this rare freedom of speed. She rides the scooter all the way back to McDonald's.
DOYLE MURPHY
The edge of the McDonald's drive-through is one of Jaz's primary panhandling spots.
A woman motions Jaz to her car window and hands over a dollar.
"That kicked it off," Jaz says as if cutting the ribbon on a new business. "My gates are open."
There have been plenty of people in the McDonald's drive-through on this day, but they have been slow to give. Jaz has a few regulars, most of whom have not been through. Or maybe she missed them. She positions herself strategically, so she will be directly in the line of sight when drive-through customers check for traffic.
But the patience of McDonald's management is wearing thin. The guy in the spotless white shirt and dark sunglasses emerges again and walks with determination toward Jaz. She knows what's coming.
"You know I'm not finna to leave," she says before he can even speak. "I've been sitting here all morning."
"I'm just telling you what's going to happen to you," the man says.
"I'm telling you what's going to happen to you," she replies.
Another employee has come outside. If the cops have not already been summoned, they will be soon.
"McDonald doesn't want you here," the man says before going back inside.
Jaz is seething as she watches him go.
"He walks around here in all those fancy-ass clothes," she says, her voice rising. "You're a security guard."
Jaz works the drive-through customers for a while longer. She figures a sergeant she has gotten to know or maybe the officer she spoke to earlier about winter overflow at the shelters will respond. But when the police SUV pulls up, she does not recognize either of the cops.
DOYLE MURPHY
Jaz pleads her case to St. Louis police officers Ally Kubel (left) and Rosa Rojas while McDonald's employee Kendall Bush listens.
A young officer, little more than a year out of the academy, asks what's going on.
"I was sitting here ..." Jaz begins.
"On their property," the officer interjects. It was actually the sidewalk, but Jaz can see how this will go. She continues to protest: "The manager never said anything to me."
The officer cuts her off, "Could you shut up?"
The McDonald's employee in the white shirt says that if Jaz would just move across the street, everything would be fine: "As long as he sits over there, there's no problem." If Jaz hears him use the male pronoun, she is too busy pleading her case to complain.
The officers are ready to wrap it up. "Just don't sit on their property — problem solved."
Jaz sullenly wanders back across the street to another sidewalk. She is no longer in the drivers' sightline, and she can already see them pretending not to see her. She waits around a few more minutes, but she is too angry to just sit here, pleading sweetly with strangers for a dollar. She gathers her things and heads out.
A few days after the run-in at the drive-through, Jaz's spot is empty.
She has walked off somewhere into the city, but the McDonald's employee in the sunglasses is still here. He canvasses the parking lot, broom in hand. His name is Kendall Bush, and he does a little cleaning, a little security, whatever is needed. "I'm like the X Man around here," the 55-year-old says.
Bush says he has some empathy for Jaz. It is not easy on the streets, and most people are closer to landing in her position than they think. At the same time, he says she is responsible for herself.
"Unfortunately, in this culture, if you don't help yourself, no one is going to help you out," he says.
Bush has worked at McDonald's for about a year. The restaurant owner spotted him walking across the parking lot one day and asked if he wanted a job. Bush applied the same day. He was living at Biddle House at the time, working on about three years of homelessness. He says he'd partied too hard and developed a nasty substance abuse problem. It eventually landed him in prison.
"Luckily for me, before I fell off, I had a college degree," he says.
Unlike Jaz, the roughness of his life now feels like an interlude, rather than a progression begun in childhood. He has moved out of Biddle House and now lives in an apartment across the river in Belleville. He is saving up for a car.
Keeping homeless people from panhandling customers in the parking lot is just part of the job, he says. "If I don't do what I'm instructed to do. I'm out of a job, too."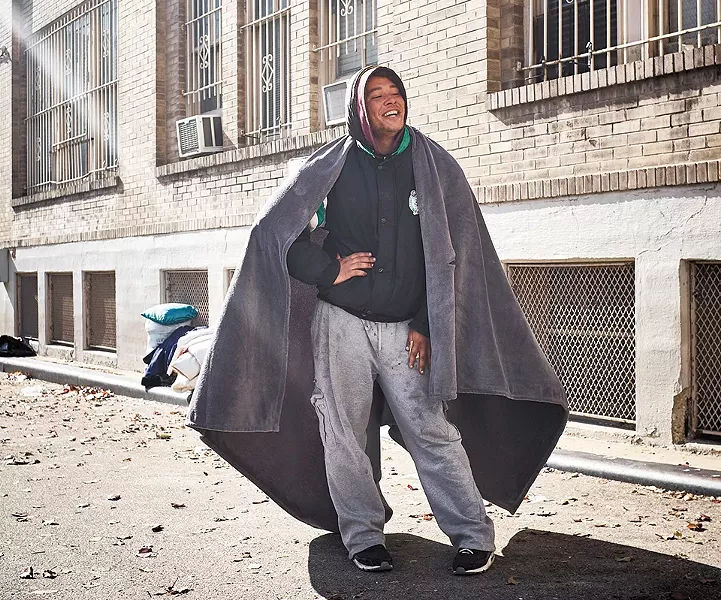 THEO WELLING
Jaz mugs for the camera outside of Christ Church Cathedral in Downtown West
Jaz prays in the mornings and most nights, if she remembers. "I pray to be safe," she says. "I pray to be warm and dry."
She is not particularly religious, but she believes there is a god somewhere.
"All the shit I've been through in my life? There's got to be for me to be alive — got to be."
At times, it is indeed as if she is being cast about on the whims of forces beyond her control. Comedies and tragedies fall into her path at unexpected moments. Each passing car, each new journey through downtown has the possibility of shifting her fortune.
Listen long enough to her beseeching the drivers and her pleading begins to sound like its own prayer. "Spare some change?" she says. "Anything's a blessing."
And every so often, it reaches someone. During one of her long hours next to the McDonald's drive-through, two women in a silver sedan pull over to drop $2 into her palm. "Here you go, boo," one of them says.
Behind them, another driver is growing impatient.
"Sorry," Jaz says, waving to the woman in the second car.
Two little dogs appear at the window and bark furiously. It cracks Jaz up. "Those dogs were mad as hell."