Page 5 of 6
For Justin and his family, the deportation order forced a reckoning. They created a Facebook page, "FREE DOW BOYER" — and although Justin had never felt comfortable with the exposure of social media, he started posting updates and information about his wife's case. He was way out of his comfort zone — and, looking back on it now, he admits to having doubts about whether a rural and overwhelmingly white part of Missouri would recognize the injustice, or cheer it on.
Would they see Dow as he saw her, or just some kind of stereotype?
"To put it quite bluntly," he says, "we live down here in a racist country. We did not know how it would go; we didn't know if people would care, or if they would help. We never thought it would come out the way it did."
The Facebook page began growing, but the burgeoning movement was already more than virtual. Cicis owner Debbie Peterson — the very same employer from whom Dow had stolen thousands, and whose police report indirectly sparked the process that ended with the visit from ICE agents — had been horrified to learn of the pending deportation. (While the RFT was not able to interview Peterson directly for this story, Justin and others credit her for key actions "behind the scenes" in efforts to keep Dow in Missouri.)
Around the same time, a news tip landed on the desk of Park Hills Daily Journal rookie reporter Renee Bronaugh. It led to an interview she would never forget.
"He was probably the most devastated-looking man that I had ever seen," she says, recalling the first time she met Justin. "He was hugging a portrait of her to his chest, and he told me the whole story of what had happened. He was at a complete loss. He didn't know how he was going to raise his daughter without her, or even just make it through everyday life because they had such a bond together and worked as a team."
Bronaugh took the story, but no one knew how much time Dow had left; all they knew was the immigration authorities were preparing travel documents for the return trip to Thailand, leaving the mother of three to languish in a holding facility where she could do little more than visit the commissary and wait for calls from Justin.
Three days after the judge's deportation order, Bronaugh pulled into the parking lot of the Lincoln County jail. She had already interviewed Dow over a collect call, but this time she was working at a distance and equipped with a camera.
Inside a visiting room, Justin, Dow's two sons and the couple's now-five-year-old daughter were gathered for what they worried was the last time. Justin had alerted Bronaugh about the visit, and so, that Saturday, the reporter had made the two-hour journey to the jail.
It was May 9, 2014. Mother's Day. Bronaugh would spend most of it behind the wheel of her van, sitting in the jail parking lot with an eye on the facility entrance and her camera at the ready.
"As a mother myself, I could understand what she was going through, the not knowing — the fact that she was scared for her young daughter," Bronaugh says. "I probably waited there for three or four hours."
When Justin and the family emerged from the jail, Bronaugh quietly slipped out of her van and focused her camera on the scene that unfolded: There was Dow's oldest son lifting a sobbing girl to her father, a just-taken jail portrait of the family clasped in her small hand. There was Justin, his face ashen, sitting on a curb with his daughter in his lap and her head cradled to his shoulder, both in tears.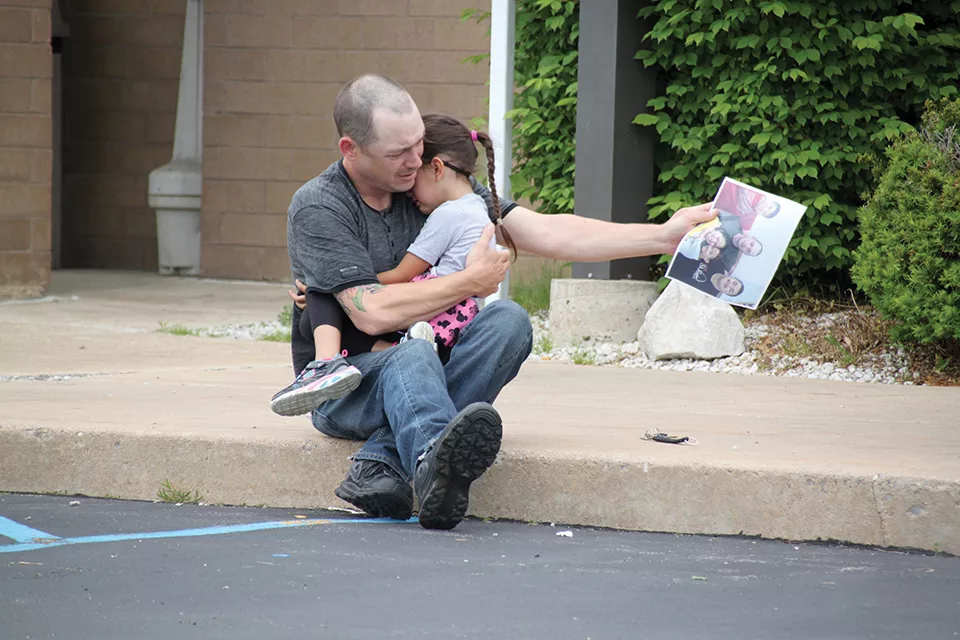 RENEE BRONAUGH/PARK HILLS DAILY JOURNAL
Days after an immigration judge ordered Dow's deportation in 2014, Justin Boyer comforts the couple's young daughter outside a Troy, Missouri jail.
"I had told Justin that I'll be there, but that he wouldn't see me," Bronaugh recalls. "I captured those photos from between vehicles; I didn't want to interrupt in any way."
Less than a week later, the photo of the family's tearful Mother's Day jail visit ran with Bronough's May 15 story, under the headline, "One woman's mistake; lives torn apart." It was the first report detailing the twisting events in which "a productive member of society" with two children in the military and a young daughter could still be swept up in a deportation.
Crucially, the story featured comments from Debbie Peterson herself, advocating for her former worker despite the theft and calling Dow "a great employee" who had admitted to the theft "immediately after it was discovered."
"I didn't know she wasn't a citizen," Peterson said, as quoted in the story. "She is a good mother and we don't want her away from her children. They are just taking her over there in an airplane and dropping her off with no money and no place to live or anything."
Suddenly, online and in real life, people were getting behind the movement to free Dow Boyer.
"Newspapers were calling me," Justin recalls. "I just couldn't believe it. We were just some country folk, and all of a sudden there's 2,000 people on the Facebook group, then 3,000, and then 9,000. I had petitions going to the Missouri capitol, petitions going to the White House. It was overwhelming."
Justin credits Bronaugh's reporting for bursting the story into national coverage. Beyond the morally complicated tale of an injured husband, theft charges and old immigration questions, the report confronted readers with the details that told the simple story of sheer human misery. A mother being torn from family. A father breaking down while trying to comfort a child who can't possibly understand. There was nothing abstract about it.
"It was so bad that day," Justin says now, recalling the Mother's Day visit. "When we were leaving the jail, my daughter asked, 'Why can't mama leave with us?'"
The question had almost knocked him off his feet.
"She'd never asked that before," he says. "Those pictures are of me sitting down and explaining to her why."