After Ferguson police Officer Darren Wilson killed Michael Brown in 2014, the U.S. Department of Justice focused its searchlight on the city's police force.
This was separate from an investigation into the actual shooting of the black teen. Over the course of six months, attorneys from the DOJ's Civil Rights Division and law enforcement experts examined more than 35,000 pages of police records, tagged along on patrols and analyzed data on car stops and searches. They spent time witnessing the happenings at the city court and interviewed dozens of people accused of violating city codes.
In March 2015, they delivered a report that found the city's police officers routinely abused people's constitutional rights.
"Our investigation showed that Ferguson police officers routinely violate the Fourth Amendment in stopping people without reasonable suspicion, arresting them without probable cause, and using unreasonable force against them," then-U.S. Attorney Eric Holder said at the time.
It wasn't anything protesters had not already shouted about in city streets after Brown's death, and in fact it was their world-changing demonstrations — and local law enforcement's smashmouth response — that drew the Justice Department's attention in the first place.
Unsurprisingly, George Floyd protests across the country in memory of the 46-year-old black man killed by Minneapolis police have drawn comparisons to what happened in Ferguson. But even as more details point to widespread problems in the Minneapolis Police Department, it would be naive to expect a similar response from the current Justice Department.
Under the Trump administration, the nation's chief law enforcement entity has largely abandoned its most powerful tools for oversight and reform of police departments. Shortly before he was pushed out by Trump in November 2018, then-Attorney General Jeff Sessions signed a memo that shifted the feds away from court-enforcemed agreements with police departments like Ferguson's — consent decrees that forced them to make sweeping changes to policies and day-to-day operations. Sessions' move also effectively stopped the DOJ from a gentler alternative: collaborative reform initiatives. Those involved working with police departments, including St. Louis County's, to assess their operations and come up with solutions.
"This is a Justice Department that is simply uninterested or unwilling to engage with local police departments," says Richard Rosenfeld, a criminologist at the University of Missouri-St. Louis and past president of the American Society of Criminology.
Rosenfeld says the Minneapolis Police Department, like Ferguson before it, seems like a natural fit for a consent decree. And even though people from across the political spectrum, ranging from U.S. Sen. Roy Blunt (R-Missouri) to the Rev. Al Sharpton, have publicly said the feds should open a "pattern or practice" investigation into that department, it's unlikely to happen.
In October 2018, a month before he signed the memo, Sessions spoke to the Chicago Crime Commission as that city was facing a potential consent decree spurred by the police killing of Laquan McDonald and subsequent cover-up. Sessions blasted the idea that police departments needed anything but support from the federal government.
"Chicago police are not the problem," Sessions said. "Chicago police are the solution."
Trump forced Sessions out a month later over bickering during the Russian collusion investigation, but the disdain for reining in problem police departments lives on. If anything, Trump's "law and order" bent has only grown stronger as he rages against the protests filling city streets day after day, night after night.
THEO WELLING
Protesters fill the street and sidewalks on June 7, 2020, outside the St. Louis Justice Center.
Like the killing of Michael Brown, the death of George Floyd was a signal flare that summoned the eyes of a nation to an ugly history of abusive policing.
Workers in a Minneapolis corner store called police after they say the 46-year-old paid for cigarettes with a counterfeit $20 bill. The smallness of the initial incident made for a familiar starting point of minor incidents that escalate beyond all reason. Floyd was quickly handcuffed, and police officers recognized he was in some sort of medical distress, calling for an ambulance shortly after. When Floyd didn't want to go into the back of a police SUV, officers shoved him inside, only to drag him across the seats and out of the other side. Officer Derek Chauvin, a nineteen-year veteran with a history of complaints against him, pulled him out of the SUV's door and onto the street, where he pinned him facedown on the ground.
For nearly nine minutes, a stomach-churning cellphone video would show, Chauvin kneeled on the back of Floyd's neck, ignoring pleas from bystanders to ease up. Floyd himself begged for just enough mercy to inhale and exhale.
"I can't breathe," he groaned.
Chauvin wouldn't move. As witnesses begged him to stop, pointing out that Floyd had lost consciousness, the longtime cop stared placidly from his perch. Two other officers helped hold their prisoner down while a fourth moved to stand in front of Chauvin, serving as a human barrier should anyone get any ideas about intervening. By the time an ambulance arrived, Floyd had been out for nearly three minutes. The officers helped medical workers roll his limp body onto a stretcher. He would never recover.
The boldness of the episode was searing. At times, Chauvin looked directly into the cellphone camera of a seventeen-year-old girl filming him. He appeared almost bored, maybe a little annoyed by the witnesses but apparently unconcerned about any consequences for his particularly merciless brutality. Out of seventeen complaints against him in his career, his only punishment had been a letter of reprimand, police records would show. We would learn that Chauvin, who now faces charges of second-degree murder and manslaughter, was a training officer for the younger officers at the scene, two of whom had yet to complete a full week of patrols. He was in charge of showing them how to be a cop.
COURTESY MINNESOTA DEPARTMENT OF CORRECTIONS
Former Minneapolis police Officer Derek Chauvin.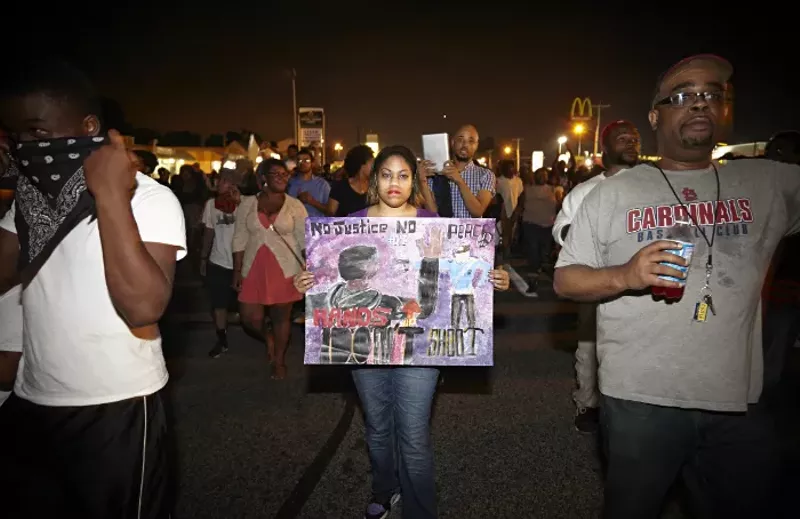 STEVE TRUESDELL
Protesters in 2014 in Ferguson.
In Ferguson six years ago, protesters birthed an uprising echoed in today's George Floyd protests. Crowds built and built until they were impossible to ignore, and pioneers of the Black Lives Matter movement demanded officials address the government-sponsored inequalities that churned up those who spent their entire lives at their mercy.
The national attention helped unearth a long history of predatory policing and a municipal court system that trapped people, particularly poor African Americans, in inescapable cycles of fines and violations for not paying fines.
The Justice Department investigators' report found that the city had twisted its priorities away from providing services to treating its residents as a primary revenue source, taxing them through an insane amount of traffic stops and code violations that had little to do with safety or providing services. In an email memorialized in the report, the city's finance director wrote to the police chief that "unless ticket writing ramps up significantly before the end of the year, it will be hard to significantly raise collections next year. ... Given that we are looking at a substantial sales tax shortfall, it's not an insignificant issue."
The Justice Department pushed the city to sign a consent decree designed to overhaul the police department. When the city resisted, citing the burden and expense of the multi-year pact, the feds sued Ferguson, eventually cajoling municipal leaders into an agreement.
The flexing of that kind of federal muscle is considered government overreach by the Trump administration. The president has made a platform of supporting the most ruthless impulses of policing in America, openly lusting for more aggressive tactics. When a protester wearing a "KKK Endorses Trump" shirt at one of his campaign rallies in 2016 was ejected from the crowd, Trump complained from the stage about the supposedly gentler norms of the present.
"In the good old days, law enforcement acted a lot quicker than this. A lot quicker," Trump told an approving audience. "In the good old days, they'd rip him out of that seat so fast, but today everyone's politically correct."
During a 2017 speech to Long Island cops, Trump suggested they skip the practice of protecting suspects' heads as officers load them into squad cars. "Please don't be too nice," the president said. "Like when you guys put somebody in the car and you're protecting their head, you know, the way you put their hand over, like, don't hit their head and they've just killed somebody, don't hit their head? I said, 'You can take the hand away, OK?'"
As protests have spread across the country, the president has threatened a violent crackdown.
"When the looting starts, the shooting starts," he tweeted on May 30, a phrase lifted from the racist rhetoric of a former Miami sheriff during civil rights era uprisings in 1967.
When protesters massed outside the White House in recent days, Trump tweeted that if they had broken past the line of Secret Service agents "they would have been greeted by the most vicious dogs, and most ominous weapons, I have ever seen. That's when people would have been really badly hurt, at least. Many Secret Service agents just waiting for action."

TWITTER SCREEN SHOTS
From left: Buffalo police step past 75-year-old, Philly police Officer Joe Bologna clubs a protester and Indianapolis police use batons on a woman.
So far, Trump hasn't gotten to see vicious dogs tear protesters apart on the White House lawn, but he has seen his wish for a more violent police response play out during demonstrations throughout the nation.
In video after video, police officers from New York City to Los Angeles have unloaded tear gas and rubber bullets on protesters, nightsticking their way through nonviolent crowds, using bicycles as battering rams and knocking people to the pavement in head-smacking falls.
When Ferguson turned into the center of unrest, people from around the country, and even the world, flooded into the small middle-class city. But now the protests have sprawled into cities across the country. Instead of traveling, thousands fill their own streets in Denver, Portland, Atlanta, Memphis and Indianapolis. Small towns as disparate as Pinedale, Wyoming, and Alton, Illinois, have hosted demonstrations. Once more of a concept, the saying "Ferguson is everywhere" is playing out in real time.
In Minneapolis, officers were filmed firing paint balls at people standing on their own porch. "Light them up," one of them is heard saying in the footage.
Austin, Texas, police fractured a college student's skull with a bean bag round, and then fired more of the less-lethal rounds at protesters who were trying to carry him to medical help.
In Kansas City, video showed police swarm a man who was heckling them from at least ten feet away, blasting him and others with pepper spray as officers took him into custody.
New York City cops are on film in one clip after another brutalizing protesters. In one scene, a muscle-bound cop shoves a slightly built young woman, who goes flying backward, hitting her head as the officer barely breaks stride marching past. In Indianapolis, an officer grabs a woman's breast while wrestling with her, and when she shakes him off, others move to wale on her legs with batons until she collapses to the ground.
To keep up with the carnage, people have begun assembling sprawling Twitter threads, filled with nothing but police abusing protesters. One of the most widely shared is more than 400 clips long, with new additions every day. Watched in succession, they paint a terrifying picture of a criminal justice system filled with furious officers from dozens of departments in every corner of the United States. A deep anger comes through. The clips tend toward retaliation and punishment.
Just about an hour ago, police officers shove man in Niagara Square to the ground (WARNING: Graphic). Video from: @MikeDesmondWBFO pic.twitter.com/JBKQLvzfET

— WBFO (@WBFO) June 5, 2020
The police union in Buffalo, New York, was incensed when two officers were suspended for knocking down a frail 75-year-old. In a video recorded by a radio reporter, the man is shoved by an officer and topples backward. He smacks his head and lies motionless, blood pooling as several more officers step past him. The entire 57-member Emergency Response Team resigned from the special unit when two of the officers were suspended. The two were later charged with felony assault, and more than 100 Buffalo cops, firefighters and other supporters cheered them outside the courthouse, the New York Times reported.
The idea that police could be wrong in responding with force to demonstrators has been slow to take hold at departments across the country. Following the lead of a president and attorney general who tear-gassed, bludgeoned and shot people with rubber bullets to clear a path in front of the White House for a photo op, many reject it outright.
"We kept asking them to leave," Huntsville, Alabama, police Chief Mark McMurray told the Alabama Political Reporter, explaining his decision to use tear gas and rubber bullets on people who overstayed their permit for a protest in the city square. "They brought this — this group brought this on themselves."
There is a growing number of people who don't subscribe to the president's idea that police need more force and less oversight — and some of the additions to that list are surprising.
Last week, Sen. Roy Blunt (D-Missouri) sent Attorney General William Barr a letter, asking him to bring back the "pattern or practice" investigations and consent decrees employed in Ferguson.
"In the wake of the recent tragic deaths of George Floyd, Breonna Taylor, and Ahmaud Arbery, Americans are rightfully demanding justice and accountability," Blunt, who has been a Trump ally, writes. "To that end, I write to urge you to use your authority as the nation's top law enforcement officer to root out misconduct in local police departments and to help restore trust between these departments and the communities they serve."
He notes the past history of using those oversight tools to address systemic problems in troubled police departments, including three in greater St. Louis.
"I have seen firsthand how the federal government can play an important role in addressing failures in the local justice system, rebuilding trust in police departments, and restoring confidence in government institutions," the senator adds.
The letter puts Blunt in the rare position of siding on an issue of law and order with Democratic Congressman Lacy Clay, who issued a joint statement with Congressman Emanuel Cleaver in support of Blunt's request.
A day later, the Rev. Al Sharpton used a portion of his eulogy at George Floyd's memorial service to advocate for federal intervention.
"We got to go back to consent decrees," Sharpton told mourners inside the North Central University sanctuary in Minneapolis.
Consent decrees were introduced as part of the 1994 federal crime bill. Under the Obama administration, the Justice Department oversaw fourteen consent decrees. Richard Rosenfeld, the University of Missouri-St. Louis criminologist, says they are far from the only means of reforming police departments, but federal intervention can strengthen the efforts of activists and others hoping to hold departments accountable and make changes.
STEVE TRUESELL
St. Louis County police were a big part of the response in 2014 in Ferguson.
Rosenfeld has also studied collaborative agreements overseen by the federal Community Oriented Policing Services Office. In the past, police departments have contacted the COPS office on their own to request help. That was the case in St. Louis County where the police department voluntarily underwent a review that resulted in 109 recommendations from 50 findings. The collaborations were a less restrictive — and less expensive — alternative to a full-on consent decree.
"The departments that have engaged in collaborative agreements seem to be quite satisfied," Rosenfeld says.
But even as Jeff Sessions panned consent decrees as government overreach, he also quit the voluntary collaborations. Rosenfeld says restarting those agreements could be the "path of least resistance" for an administration facing calls from both the right and left to reclaim some oversight.
THEO WELLING
Maleeha Ahmad shouts at St. Louis police in 2017 after she was pepper sprayed while protesting the Jason Stockley verdict.
Javad Khazaeli has watched the response of police departments to the George Floyd protests with a certain amount of déjà vu.
The St. Louis-based attorney is counsel or co-counsel in about twenty federal civil rights lawsuits against the city as a result of its police crackdown on protesters following the 2017 acquittal of ex-cop Jason Stockley, who was accused of murdering Anthony Lamar Smith, a black 24-year-old suspected of dealing drugs.
Protests lasted for weeks, and police cracked down hard. On the third night, officers surrounded a group of people in a downtown intersection and swarmed in with pepper spray, batons and zip ties, indiscriminately arresting anyone trapped inside the "kettle" when officers blocked off all pathways to exit. The group included journalists, neighbors and demonstrators.
A black undercover police officer was also beaten severely that night by fellow cops who thought he was a protester. Five city cops were later indicted on federal charges, including two who have pleaded guilty. The criminal case turned up text messages among several of the officers, bragging about beating up protesters.
Khazaeli of Khazaeli Wyrsch LLC sees echoes of the Stockley protest police attacks in the video clips and reported accounts of officers across the country brutalizing people at George Floyd demonstrations.
"These acts are inspired by what St. Louis police officers did almost three years ago, which was captured on video," Khazaeli says. And while St. Louis cops have mostly avoided landing on the highlight reels of police abuse during George Floyd protests here, Khazaeli wonders what, if anything, they've learned. To date, the city hasn't conceded police were wrong during the Stockley protests, he says. Khazaeli pointed out that St. Louis police Chief John Hayden recently noted the same police commander who oversaw the kettle, Lt. Gerald Leyshock, was leading the department's response to current protests.
"Nobody in St. Louis government has had the courage to do anything about it," Khazaeli says of sorting out the Stockley abuses. "In fact, the chief of police [last week] told the public that we should be encouraged by the fact that the same man that was the architect of these illegal arrests and the kettling is once again in charge of the police's response to the George Floyd protests."
In the vacuum left by the feds, the courts are one of the few options to force reforms, he says.
"We see that the Trump Department of Justice has abdicated their role in keeping police departments accountable, and local governments, like St. Louis city, refuse to do the same, [so] the only avenue is civil lawsuits," Khazaeli says. "Unfortunately, that means taxpayers are left with the burden of paying for the damage these officers inflict on the community."
Even if the Justice Department has a change of heart and returns to the business of overseeing and reforming police departments, not everyone is convinced consent decrees are making the kind of change needed.
Nearly six years after Michael Brown's death, Ferguson's consent decree is still in progress. John Chasnoff, a program director for the ACLU of Eastern Missouri, says there have been some reforms made, but the city has been slow in implementing the full list of required changes. Sessions' memo limited the ability to expand the agreements, and activists such as Chasnoff wonder about the city's commitment.
"We have often felt that they are running out the clock," he says. "They haven't done everything they could."
No one from the monitoring team or police department responded to the Riverfront Times' requests for comment.
Left with the option of trying to force existing police departments to be better through incremental changes, the concept of "defunding" police departments has begun to gain popularity. The idea is that instead of continuously sinking money into rewritten policies and training that has done little to change a criminal justice system that continues to incarcerate minorities at extreme rates, we would be better off shifting tax dollars to health care, education, jobs programs and other options that attack social ills.
It's more than talk: A majority of Minneapolis' city council members have announced they plan to disband the city's troubled police department and replace it with a new public safety model.
In St. Louis, ArchCity Defenders, a public-interest law firm that represents some of the metro's most vulnerable, has advocated a platform that includes defunding police.
"That does not mean no accountability," Executive Director Blake Strode writes in a column for the St. Louis American. "It does not mean we go without response to or repair of harm. And it certainly does not mean we abandon any commitment to justice. But policing does not provide us with those things. It never has, and it never will. Believing that policing is what preserves accountability and justice is as fantastical as believing that Second Amendment gun rights are what protect ordinary people from tyranny. It is a familiar and deeply rooted claim, but it is a lie."
Riverfront Times reporting intern Judy Lucas contributed to this story.
We welcome tips and feedback. Email the author at doyle.murphy@riverfronttimes.com or follow on Twitter at @DoyleMurphy.