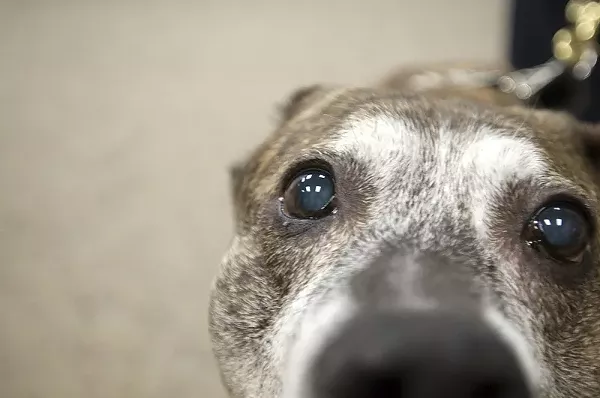 Junior was found with an open tumor on the side of his face. The Humane Society had it taken out ten days ago. So while Junior was a little mellower than the puppies in the room, he is very sweet.
Carlos really loves looking at himself in the mirror, say his handlers. He will then proceed to "play" with the other dog.
The very affectionate Junior with Broken Hearts, Mended Souls Rescue founder Tiffany McBee.
Sophie and Brutus, doing what they do best, being cute puppies.
Jakob is a one-year-old American Pit Bull Terrier. He, along with Fay, was today released to Mutts-n-Stuff, a St. Louis based bully breed rescue group. Jakob will next be taken to a rescue group in San Francisco organization, Our Pack. The plan is for Jakob to become a therapy dog. Our Pack is the same organization that rescued Leo from the Michael Vick case.
Kali obviously finds all this looking cute business very exhausting.
Meet Junior. He's an eleven-year-old American Pit Bull Terrier who was also handed over to Broken Hearts, Mended Souls Rescue.
While Fay looks like she is snarling, she is not. It is the lack of lips, exposing her teeth that make her look that way. She is an incredibly friendly dog.
Meet Carlos. He's an eight-month old male American Pit Bull Terrier who was received by Broken Hearts, Mended Souls Rescue, a Missouri organization.
Carlos was one of six dogs at the Humane Society of Missouri this week at a press conference regarding a July 8 dog-fighting raid, which resulted in the rescue of over 500 dogs. Federal agents made 26 arrests and dogs were rescued in 8 states.
Carlos, now ready for adoption, currently has ringworm in his right eye, but is in otherwise good health.
PUPPIES!!!! 21 of the dogs rescued were pregnant. Since the July 8 raid, there are approximately 100 new puppies. This is Sophie, on the left, with one of her brothers, Brutus.
Clockwise from the front, all from the same litter, are Brutus, Sid, Sophie and Brennon. They will be ready for adoption in a few weeks; all are American Pit Bull Terriers.
Brutus, feeling a little tired, needs a break from all the playing. It's rough being a puppy.
Fay, an incredibly and almost surprisingly sweet dog, was probably the saddest story of the day. She's an American Pit Bull Terrier, approximately five years old. She has terrible physical damage to her face that is not unheard of with dogs associated with dog fighting. She is missing both her upper and lower lips and a small part of her nose.
Fay is going to have plastic surgery to give her new lips. It is very important for a dog to have lips. Without them, they are unable to keep saliva in their mouths and there fore have trouble washing away bacteria from the mouth and keeping their teeth moist. Without the surgery, Fays teeth would eventually deteriorate and fall out.
Fay at the press conference, for obvious reasons, garnered much attention.
Kali is a 5-month-old tri-color American Pit Bull Terrier who was released to Broken Hearts, Mended Souls Rescue. Here, she is shown with Broken Hearts, Mended Souls Rescue volunteer, Teal Erickson.
Eli is a seven-month-old American Pit Bull Terrier. Today he was released to Mutts-n-stuff on behalf of a South Carolina rescue group called New Hope Pit Bull Rescue.
Eli, seen here "smiling" for the camera was very sweet, and has great puppy energy.