"Conspiracy" at the Crack Fox
The bi-monthly fetish party at the Crack Fox on Olive celebrated its first birthday on March 20, 2010, with rubber, leather and whips.
Crystal Rolfe
brings these photos.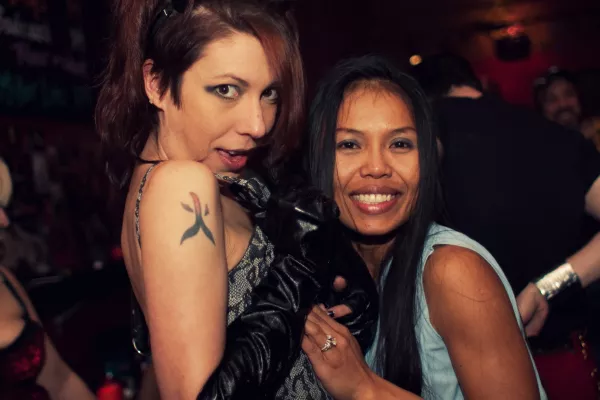 Eva Lucian, left, and a friend.
Mike Leahy of the 7 Shot Screamers and the guy known as simply, "PBR Dave."
Carrie Harris, the face behind the Conspiracy.
Roxy Red Rockets spinning her ribbons.
Crack Fox bartender Jamie making a Cosmo.
Eva Lucian and her pyro act.
Warren ties up Jade....the happy couple.
Angel Saint-Marie gets a whippin'.
Dan Strickland - about to be taken away.
Eva Lucian takes a bite outta Trouble.
Hostesses Tricia Bergeman and Stephanie McFarland.
Trouble and Tony Sensabaugh.
DJ Salem gets the party started.
Molly Andrews and Ali Hegel on the dance floor.
Christy Strickland and her prisoner Dan Strickland.
Seth Keil and Haley Anderson.
Michelle Threadgill and Gina Simon take their mug shot.
"Tie me up, tie me down." Warren, Carrie and Angel Saint-Marie.