Page 4 of 4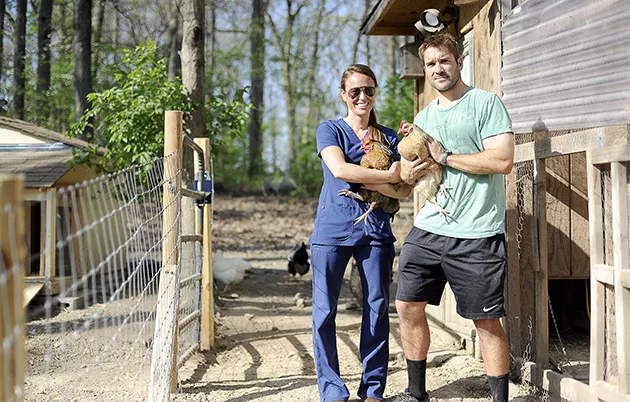 PHOTO BY KELLY GLUECK
Ralph and Molly Richards have created a chicken's dream come true at their home in west county.
As it turns out, the Richards have built an amazing sanctuary on their land, with woods, hillsides and, yes, enough space to create living spaces for three pens: one for ducks, one for pygmy goats and another for chickens, of which they have about 30, including chicks, pullets and mature laying hens.
In late March, though, they disassembled the chicken coop they started out with, which had been created from a scrap box left at the St. Louis Soccer Park, and really got serious. The goal? To create twice as much room, and, in the process, a new home for our Icies.
Their original coop was the equivalent of a really nice, late-model Honda. What they built to replace it is akin to a high-performance Mercedes, complete with separate spaces for roosting, laying and sleeping. The coop was topped by a rain-resistant roof and even came with a gutter and downspout. The neighboring goat pen had a new house under construction, including a shaded porch. And the ducks were even getting a house of their own, an upcycled dog crate alongside their aerated swimming pool. Unreal, this whole setup. The Icies, truly, had hit the lottery.
Blending flocks can mean some fighting, and on the day we dropped off the four newcomers, Molly Richards was as stressed as any of the birds, shooing away a "bossy bird" named Ponchie, who boasted a prominent scissor beak and a bit of attitude. Ponchie was the most interested of the resident hens as my four, flighty Icies wandered, ever so slowly, into their new quarters.
Within a half-hour, though, all four were comfortably adopted, with little evidence of the expected pecking order battles.
PHOTO BY KELLY GLUECK
The writer's city chicken adjust to their new digs.
"We'll let you know how they do," Ralph told me. But I didn't feel a worry in the world as the birds went to work foraging in a fenced chicken enclosure at least five times the size of their former, city home. My Icies had gone west county.
"As humans, we're the ones stressing out about things like this," Molly observed while the birds, themselves, with space and room to move, simply let instinct take over. Admittedly, these birds seemed chill AF, which Ralph attributed to the couple "only raising nice birds."
Leaving this hen's paradise, we figured that the birds' limited brain wiring was already wiping away their nine months of city living. By the time I was sitting at the nearby Wildwood Pub & Grill with my grilled chicken salad, my avian friends had probably already forgotten me.
Meanwhile, at the Fenton Feed Mill, there are probably some cheap, plain, boring, non-flying pullets ready for a move to a second-hand coop in south St. Louis. They'll fit in just fine.