Page 3 of 4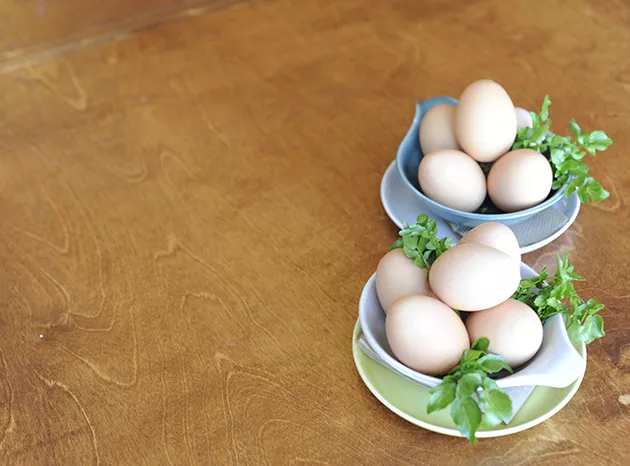 PHOTO BY KELLY GLUECK
"You should know where your food comes from," says Colleen Clawson. Her eggs come from Moonlight Farms.
Colleen Clawson's personality is uniquely matched to the restaurant that's she's co-founded on an unusual stretch of Jefferson, near I-44. Though it's got some neighbors that seem to complement its vibe — art studios, a mid-century modern furniture shop and the Nicaraguan restaurant Fritanga are all nearby — the block Milque Toast occupies still seems a bit isolated. While the broad, busy street passes the front door, a drive-by doesn't do justice to the cool, quirky, individualistic kitchen/cafe that Clawson's been able to create here. Hers is an ambitious, heavily organic menu, created without a hood, stovetop or many other amenities of a professional kitchen.
And it's little. So very, obviously little.
"I don't know if you realize this," she cracks. "But this is a very small kitchen. It's like a submarine. We're just on top of each other."
On this afternoon, she and co-worker Sean Lyon are cooking for a fascinating group, including a Green candidate for the Board of Aldermen, who enjoys a pepperoni sandwich; Clawson's not-quite-tween son, who's just crushing a bag of marshmallows; and a young family who've come for both chess night and the shop's truffled egg salad. They are disappointed, as customers often are when it comes to this trademark dish: Milque Toast has already run out.
"We have a very special place for getting eggs," Clawson says, as if sharing a secret. "One of my partners, Amanda Jerauld Geimer, owns Moonlight Farms. That's where we get our eggs. Only from there. On Fridays, we have truffled eggs and people will freak out when we don't have it. On Saturdays, there's none left. I like that people have a yen for it, but you can't always have it. Sometimes, people craving something is not a terrible thing."
PHOTO BY KELLY GLUECK
Colleen Clawson and Amanda Jerauld Geimer show off some of Geimer's eggs, fresh from Moonlight Farms.
As Clawson speaks, she cooks — and keeps cooking. In order to keep up with the massive amount of food, I call on my first chicken-keeping associate, my ex-roommate Janet Oberle, who happens to be near. We eat eggs, and then more eggs, from three distinct groups: Milque Toast's in-house Moonlight eggs, a dozen from my Icies, plus another dozen bought at nearby Ruler Foods, the discount grocery just down the street.
"Eggs from your friendly farm can be laid that day," Clawson says, examining the options. "From a factory, they could be anywhere from two weeks to a month old before they hit shelves."
I mention to her, off-handedly, that the eggs from Ruler weren't just cheap; they were a mere 79 cents for the dozen. Clawson responds with amazement, pouring out a stream-of-consciousness straight out of Michael Pollan.
"There's only one way that's happening," she insists. "In general, you can't produce food at that kind of cost, unless you're doing that through factory farming. Or maybe they have some secret that I don't know about. I don't see how else that could happen. We've all seen the movies, right? It's not a mystery how cheap food happens."
She continues, "It's hard to argue with 79-cent eggs. If I were down to my last $19, I'd totally do that, I'd totally buy them. ... But how cheap do you need to work to produce 79-cent eggs? Who's not getting paid? Someone, somewhere."
Ideally, she says, "You should know where your food comes from. The best thing you can do is buy food closest to where you live, from the best person you know. That's it."
As for Clawson, she knows that twenty red sexlinks in Arnold are producing the eggs in the truffled egg salad that makes people teary-eyed when Milque Toast is out. Those eggs give her confidence as a chef.
That she digs my own Tower Grove East eggs fills me with an outsized sense of pride. She points at the yoke size, the viscosity of the whites, the thickness of the shells, which, she notes, have speckles and imperfections. These eggs pass the test.
"What's better than fresh eggs?" she asks at one point. "Only fresh eggs in butter."
There are those who aren't as enamored of fresh eggs in butter. At least not in the phase of production.
Current rules in the City of St. Louis limit backyard flocks to only four hens. (As this rule applies to all animals, a flock of four plus a housecat would put you over the limit by one animal.)
Just over a year ago, the St. Louis Board of Aldermen considered a bill that would have relaxed restrictions under certain space conditions. Hen limits, in the plan proposed by Alderman Scott Ogilvie, would have doubled in number for any yard, from the current four to eight. After a nearly two-hour debate, the measure was defeated, six to fifteen. The St. Louis Food Policy Coalition, along with Alderwomen Christine Ingrassia and Cara Spencer, will be tackling the issue again this year, hoping for a more positive outcome.
Not a fan of an animal increase was my own alderman, the 8th Ward's Steve Conway. As the St. Louis Post-Dispatch reported in March 2016, "Alderman Steve Conway opposed the measure based on property values. Conway said he would be upset if his neighbor had chickens. 'I would be paying the guy money to take it out to the country before I sell my house,' Conway said."
Ordinances on chicken-keeping in the region vary from one municipality to another and moves to change them typically bring a passionate amount amount of debate on all sides. Conversations can range from limits on the sheer number of birds (most cities, like St. Louis, outlaw roosters) to requirements on the distance that coops can sit next to residences. There's no constant in how cities line up on the issue.
Luckily, in some parts of the region, land and lifestyle blend.
When my little Icelandic went for a Tuesday morning flight, it set off a quick sequence of events, which involved a plan to send to all four Icies off to the countryside. It wasn't an easy decision, as Amy and I had become fond of these hens, even with their quirks. But they wanted more space, both vertically and horizontally, and seemed certain to destroy our garden this spring and summer if they didn't get it. Basically, they were acting like the kind of problem birds that Steve Conway worries about.
My friend and former roommate Janet Oberle, with whom I kicked off this hobby, found an immediate solution. She'd recently gotten an email from Ralph Richards, a soccer coach with Scott Gallagher, who just happened to mention that he and his wife, Molly, a nurse, had been adding a menagerie to their 3.5-acre, wooded lot in Wildwood.