My neighbor Tabari Coleman is the kind of solid citizen you want to live next door to you for, like, forever. But when he's ringing the doorbell at six in the morning, it's generally because of an emergency. Maybe a fire. Another neighbor being wheeled out of his home by EMS workers. Or, more realistically — and more frequently — one of my chickens is running around his yard, or has wound up confused in a tree in front of his bedroom window.
For the past four years and change, I've raised chickens. Usually four at time, though you often wind up buying one or two more than that, thanks to heavy attrition (opossums, hawks, owls, even simple sicknesses). And the flock I recently bought of four Icelandic chickens meant housing for the first time a group that was genetically predisposed to, quite literally, flying the coop. Because I live right in the heart of the city, in Tower Grove East, that means it's not just me who's left dealing with the fallout.
On this morning, the fallout was noisy. When distressed, various breeds of hens can hit an internal emergency switch, their usual goofy cackling turning into a harsh rooster-like crow. Somehow, this Icie had managed to hide from me when I locked her sister hens into their coop at night, and at some point before sunset, she'd cleared both a fence and a gate to make it to Tabari's yard. By the early hours of the morning, she was frantic.
Hastily pulling on some jeans, but still barefoot, I walked over to the blossoming tree and shook it for a few seconds. At that point, the panicked Icie made a beeline for a house across the street, sticking the windowsill landing after her 80-foot flight with more than a little bit of grace.
Maybe tired, maybe stressed, the Icie just sat there for a few seconds. I raced over and scooped her up, thanked her for not moving again, profusely apologized to Tabari and walked the bird through my backyard. And that's when I noticed the next problem I'd have to deal with: at least three football-sized holes had just been dug into our raised vegetable beds.
PHOTO BY KELLY GLUECK
Icelandic chickens are a "landrace," not a breed, and prone to looking for escape hatches.
If you didn't think that backyard chickens could fly straight, far and fast, well, I didn't know that either; after all, 21 previous birds had never done so. Nor did I know chickens were capable of making such big holes in a vegetable garden. But my acquisition of Icelandic chickens last fall changed a little of everything. Those holes have been a regular occurrence; escape attempts have been more common than I like to admit, too.
I first spotted the birds thanks to an ad on Craigslist, which I shared with my partner, Amy VanDonsel. She liked the birds' wildly divergent looks, full of varied colored patterns, and I couldn't disagree. Meeting the seller at the riding paddock of the Monroe County Fairgrounds, there was no way to buy just a couple of these wacky-looking pullets, so we took all four and drove back to the city with Sigur Ros as our soundtrack.
Even before laying eyes on them, they seemed a nice, fun fit. (Turns out they're something called a "landrace," rather than a breed.) These are chickens that lay eggs for you on a daily basis, yes. But they're also able to lay in the winter, when sunlight is scarce, and are overall better equipped to tackle extreme cold. They're curious foragers, constantly looking for escape hatches and ways to supplement their diet. They've grown into different sizes and have wildly different color variations, slightly smaller and more athletic and agile than the birds you normally see in urban flocks. For good reason, backyard flocks tend to come from simpler, plainer breeds like Orpingtons, Rhode Island reds, barred rocks and sexlinks, the base hens of Amy's and my previous flocks.
This choice to take on Icelandics proved tricky. The chicken yard fence kept getting taller, a combination of chicken wire, fishing lines and random sticks. And yet these birds were constantly up to something: laying eggs in the garage, spending days (and nights) away from the coop, generally acting a bit more adventurous than the average urban chicken should. Articles, books and online chicken groups might suggest that Icies aren't the perfect birds for a city flock, but you never really, truly know that until you see one cross a city street, eight feet off the ground, wings flapping furiously, to the sound of thwok-thwok-thwok.
This bird woke my neighbor, who woke me. It was starting to feel like something had to give.
PHOTO BY KELLY GLUECK
Chickens can be something of a "gateway drug," some city dwellers find.
People in all kinds of environments now raise chickens, many of them in urban contexts. In the past decade, the trend has changed from a quirky thing to a more regular occurrence; just walk, ride or drive through alleys in my own Tower Grove East neighborhood, and you'll find a coop every few blocks. There's a nice one just a few doors down from me. On the neighborhood's Facebook discussion group, folks regularly post about either a) looking for a loose bird, or b) seeing a loose bird. Usually, through these conversations, there's a happy ending.
Of course, this isn't a neighborhood-specific thing; folks raise in all kinds of contexts throughout St. Louis, in urban and suburban environments, raising them in set-ups that range from the scrapwood, homemade units to $1,000 pre-fab kits.
Even by an unofficial count, I've got at least a dozen friends, neighbors and co-workers rocking the backyard bird lifestyle, with as many different coop solutions. One, Jen Bradford, has just built a coop for "zero dollars, and you can quote the hell out of me on that."
Bradford, who lives in Tower Grove South, explains that she's still looking for "the perfect piece of corrugated sheet metal for roofing," but she's not worried: "The universe will provide."
She explains, "The sides and roof were made from an old section of fence that was sawn in three parts. Most of the rest came from what I assume was an old built-in, the parts of which I found in an alley in Fox Park. Other assorted boards came from various bountiful south side alleys, as did the leftovers from a roll of tar paper that's currently covering the roof. The screws were left over from another project."
The reason for such efforts is multi-fold. My own initial adoption of four pullets came from a generalized sense that I should do better. As in: generally doing better. Eating better. Digging in the dirt. Raising some food, instead of grass. Connecting to nature. (One of the narrative arcs that tends to accompany conversations about chicken-keeping revolves around wartime America, when people of all backgrounds, ethnicities and social classes would keep "Victory Gardens," with chickens, ducks and geese a regular part of the equation. Admittedly, we're not in that particular kind of wartime stress today, but there's always wisdom that emerges from the worst of days.)
Opponents of marijuana accuse the drug of "gateway" qualities; take a puff, they fear, and pretty soon you'll be booking time at the rehab clinic. Chickens might have a similar quality. First, you build a decent-sized production garden. Then you add some birds. A switch is flipped. Pretty soon, you start spending time in the garden section of bookstores, you start quoting Novella Carpenter, you see scrap wood in an alley and start wondering about how easy it'd be to build a rabbit hutch. Heck, the chicken yard's big enough for a goat, if you really think about it...
Typically, folks get into the chicken game for the eggs as opposed to the meat. When you go to Craigslist, you'll see that distinction made pretty quickly; "meat birds" are just that, raised for dietary purposes, selling for roughly $10 a bird, from a blend of meat-production breeds. Layers, meanwhile, cost roughly the same, though more exotic birds (like our Icies, at $25 a pop) go for a bit more. While a few folks go the egg-to-grave route and buy fertilized eggs or chicks, you can go to a store like Fenton Feed Mill and load up a whole flock of juvenile pullets for less than $20.
The cost-per-egg, of course, is another conversation. And it's one that we'll have momentarily. But there's something unquantifiable that comes with the very first day of chicken-keeping. It's hard to put a price on entertainment.
Chickens are peculiar to watch. They fight and tussle. They confidently walk out of a gate; ten seconds later, they can't find their way back in. They perch in strange places and bathe in dirt. They do weird things, all day long. You can spend glorious chunks of time watching them.
Holly Schroeder, a south city resident, recently discontinued her small flock, referring to that experience on Facebook as "the end of Chicken TV." Asked about it later, she explains, "Chicken TV is when you sit outside and watch the hens peck about the yard."
The appeals? "It's meditative," she writes. "It's totally being in the moment. Mindfulness meditation."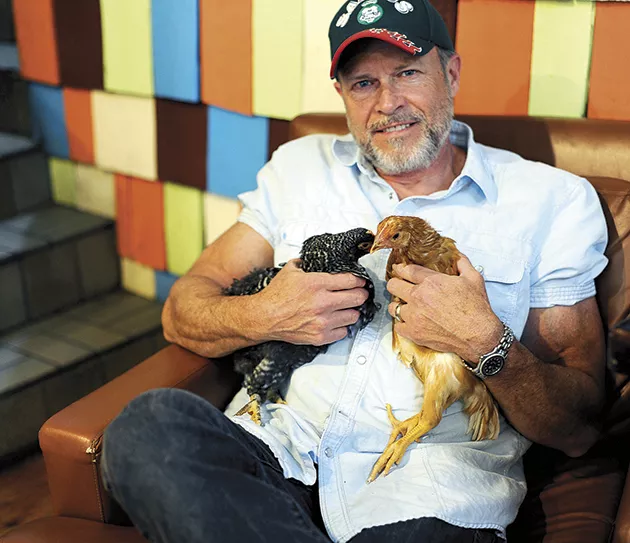 PHOTO BY KELLY GLUECK
Paul Whitsitt, proprietor of Kitchen House Coffee, holds a pair of young chickens. Both arrived at his cafe last week.
Just off the intersection of Compton and Shenandoah, not far from my house in Tower Grove East, is a quaint coffeeshop and cafe, Kitchen House Coffee. The space has seemingly reversed a trend of cafes coming and going in that location. It's still going strong in its third year in operation.
The appeal lies not just with an excellent array of coffee, friendly service and tasty, light lunches, but with the four birds who live on site. Located in what could rightly be called a downright "cute" coop and chicken yard, the Kitchen House birds are both workers (producing eggs for the shop) and curiosities. Often, they sit on the step leading down into their yard, all four of them peering into the shop's window even as customers stare back out at them.
Paul Whitsitt, the cafe's proprietor, says, "The chickens are an attraction for our customers — many parents bring their young children to the shop to see them, and even adult customers often go out back to see the hens up close or feed them. These girls have gotten used to the attention and don't seem to mind visitors. In fact, as you've noticed, they seem to find the action inside the coffee shop quite interesting and spend much of their day looking at customers through the back door."
Whitsitt has personally gotten the bug, to the point that he keeps not one, but two flocks thriving and, yes, producing food.
PHOTO BY KELLY GLUECK
A Kitchen House Coffee bird contemplates urban living.
"We have chickens at the coffee shop for a few reasons," he says. "I started our small urban farm on the double lot behind our Tower Grove East home in 2012-13. When I decided to open Kitchen House Coffee in 2014, I knew I wanted the shop to have an urban farm theme and to connect the farm and the shop. Having chickens in our small backyard space at the coffee shop is an obvious visual that helps accomplish that goal." Plus, he says, "Depending on the time of year, how many girls are consistently laying, and the volume of customer demand for our egg dishes, the farm and coffee shop hens' eggs can be a significant contribution to these menu items."
Yes, raising chickens comes with that whole back-to-the-land element, but if you're not born with hippie genes, you might not hear that call. And chickens can be an expensive hobby. Even if you build your own coop and feed your birds nothing but scraps from the neighborhood bakery, hidden little costs always emerge.
Ultimately, though, there's a pull from this word: taste. Or: flavor. Whether you're a master baker or someone who simply likes a good hard-boiled egg, the taste can be the ultimate reason for embracing backyard poultry.
Asked about the plain, simple goodness of home-hatched eggs, Whitsitt notes, "Customers often tell me how flavorful they find our egg dishes, and I believe that is at least in part because of the fresh, free-range nature of these eggs. As a child growing up with a set of farmer grandparents, our eggs were almost always free-range local when such things weren't available in the typical chain grocery store. We took the bright orange yolks and strong flavor for granted."
He continues, "On those rare occasions when my mom had to buy eggs at the store, my sisters and I were surprised by the pale yellow yolk and disappointed by the bland taste. I have to admit, however, with all the egg options now routinely available in our grocery stores (organic, cage-free, free-range, etc.), these days I find the differences in store bought and backyard-raised eggs less dramatic. Of course, I always imagine that the eggs I helped raise taste the best, but I'm not sure I'd pass a blindfold test!"
Only a few minutes' drive from Kitchen House is another cafe called Milque Toast. There, our journey into flavor got serious.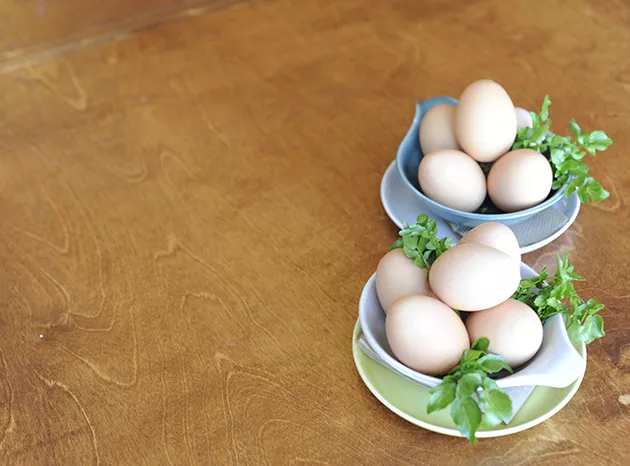 PHOTO BY KELLY GLUECK
"You should know where your food comes from," says Colleen Clawson. Her eggs come from Moonlight Farms.
Colleen Clawson's personality is uniquely matched to the restaurant that's she's co-founded on an unusual stretch of Jefferson, near I-44. Though it's got some neighbors that seem to complement its vibe — art studios, a mid-century modern furniture shop and the Nicaraguan restaurant Fritanga are all nearby — the block Milque Toast occupies still seems a bit isolated. While the broad, busy street passes the front door, a drive-by doesn't do justice to the cool, quirky, individualistic kitchen/cafe that Clawson's been able to create here. Hers is an ambitious, heavily organic menu, created without a hood, stovetop or many other amenities of a professional kitchen.
And it's little. So very, obviously little.
"I don't know if you realize this," she cracks. "But this is a very small kitchen. It's like a submarine. We're just on top of each other."
On this afternoon, she and co-worker Sean Lyon are cooking for a fascinating group, including a Green candidate for the Board of Aldermen, who enjoys a pepperoni sandwich; Clawson's not-quite-tween son, who's just crushing a bag of marshmallows; and a young family who've come for both chess night and the shop's truffled egg salad. They are disappointed, as customers often are when it comes to this trademark dish: Milque Toast has already run out.
"We have a very special place for getting eggs," Clawson says, as if sharing a secret. "One of my partners, Amanda Jerauld Geimer, owns Moonlight Farms. That's where we get our eggs. Only from there. On Fridays, we have truffled eggs and people will freak out when we don't have it. On Saturdays, there's none left. I like that people have a yen for it, but you can't always have it. Sometimes, people craving something is not a terrible thing."
PHOTO BY KELLY GLUECK
Colleen Clawson and Amanda Jerauld Geimer show off some of Geimer's eggs, fresh from Moonlight Farms.
As Clawson speaks, she cooks — and keeps cooking. In order to keep up with the massive amount of food, I call on my first chicken-keeping associate, my ex-roommate Janet Oberle, who happens to be near. We eat eggs, and then more eggs, from three distinct groups: Milque Toast's in-house Moonlight eggs, a dozen from my Icies, plus another dozen bought at nearby Ruler Foods, the discount grocery just down the street.
"Eggs from your friendly farm can be laid that day," Clawson says, examining the options. "From a factory, they could be anywhere from two weeks to a month old before they hit shelves."
I mention to her, off-handedly, that the eggs from Ruler weren't just cheap; they were a mere 79 cents for the dozen. Clawson responds with amazement, pouring out a stream-of-consciousness straight out of Michael Pollan.
"There's only one way that's happening," she insists. "In general, you can't produce food at that kind of cost, unless you're doing that through factory farming. Or maybe they have some secret that I don't know about. I don't see how else that could happen. We've all seen the movies, right? It's not a mystery how cheap food happens."
She continues, "It's hard to argue with 79-cent eggs. If I were down to my last $19, I'd totally do that, I'd totally buy them. ... But how cheap do you need to work to produce 79-cent eggs? Who's not getting paid? Someone, somewhere."
Ideally, she says, "You should know where your food comes from. The best thing you can do is buy food closest to where you live, from the best person you know. That's it."
As for Clawson, she knows that twenty red sexlinks in Arnold are producing the eggs in the truffled egg salad that makes people teary-eyed when Milque Toast is out. Those eggs give her confidence as a chef.
That she digs my own Tower Grove East eggs fills me with an outsized sense of pride. She points at the yoke size, the viscosity of the whites, the thickness of the shells, which, she notes, have speckles and imperfections. These eggs pass the test.
"What's better than fresh eggs?" she asks at one point. "Only fresh eggs in butter."
There are those who aren't as enamored of fresh eggs in butter. At least not in the phase of production.
Current rules in the City of St. Louis limit backyard flocks to only four hens. (As this rule applies to all animals, a flock of four plus a housecat would put you over the limit by one animal.)
Just over a year ago, the St. Louis Board of Aldermen considered a bill that would have relaxed restrictions under certain space conditions. Hen limits, in the plan proposed by Alderman Scott Ogilvie, would have doubled in number for any yard, from the current four to eight. After a nearly two-hour debate, the measure was defeated, six to fifteen. The St. Louis Food Policy Coalition, along with Alderwomen Christine Ingrassia and Cara Spencer, will be tackling the issue again this year, hoping for a more positive outcome.
Not a fan of an animal increase was my own alderman, the 8th Ward's Steve Conway. As the St. Louis Post-Dispatch reported in March 2016, "Alderman Steve Conway opposed the measure based on property values. Conway said he would be upset if his neighbor had chickens. 'I would be paying the guy money to take it out to the country before I sell my house,' Conway said."
Ordinances on chicken-keeping in the region vary from one municipality to another and moves to change them typically bring a passionate amount amount of debate on all sides. Conversations can range from limits on the sheer number of birds (most cities, like St. Louis, outlaw roosters) to requirements on the distance that coops can sit next to residences. There's no constant in how cities line up on the issue.
Luckily, in some parts of the region, land and lifestyle blend.
When my little Icelandic went for a Tuesday morning flight, it set off a quick sequence of events, which involved a plan to send to all four Icies off to the countryside. It wasn't an easy decision, as Amy and I had become fond of these hens, even with their quirks. But they wanted more space, both vertically and horizontally, and seemed certain to destroy our garden this spring and summer if they didn't get it. Basically, they were acting like the kind of problem birds that Steve Conway worries about.
My friend and former roommate Janet Oberle, with whom I kicked off this hobby, found an immediate solution. She'd recently gotten an email from Ralph Richards, a soccer coach with Scott Gallagher, who just happened to mention that he and his wife, Molly, a nurse, had been adding a menagerie to their 3.5-acre, wooded lot in Wildwood.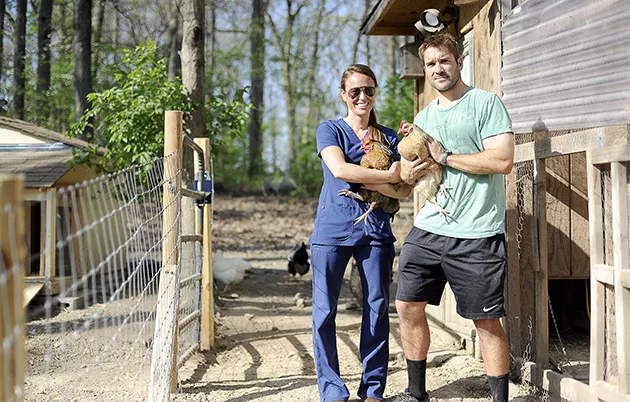 PHOTO BY KELLY GLUECK
Ralph and Molly Richards have created a chicken's dream come true at their home in west county.
As it turns out, the Richards have built an amazing sanctuary on their land, with woods, hillsides and, yes, enough space to create living spaces for three pens: one for ducks, one for pygmy goats and another for chickens, of which they have about 30, including chicks, pullets and mature laying hens.
In late March, though, they disassembled the chicken coop they started out with, which had been created from a scrap box left at the St. Louis Soccer Park, and really got serious. The goal? To create twice as much room, and, in the process, a new home for our Icies.
Their original coop was the equivalent of a really nice, late-model Honda. What they built to replace it is akin to a high-performance Mercedes, complete with separate spaces for roosting, laying and sleeping. The coop was topped by a rain-resistant roof and even came with a gutter and downspout. The neighboring goat pen had a new house under construction, including a shaded porch. And the ducks were even getting a house of their own, an upcycled dog crate alongside their aerated swimming pool. Unreal, this whole setup. The Icies, truly, had hit the lottery.
Blending flocks can mean some fighting, and on the day we dropped off the four newcomers, Molly Richards was as stressed as any of the birds, shooing away a "bossy bird" named Ponchie, who boasted a prominent scissor beak and a bit of attitude. Ponchie was the most interested of the resident hens as my four, flighty Icies wandered, ever so slowly, into their new quarters.
Within a half-hour, though, all four were comfortably adopted, with little evidence of the expected pecking order battles.
PHOTO BY KELLY GLUECK
The writer's city chicken adjust to their new digs.
"We'll let you know how they do," Ralph told me. But I didn't feel a worry in the world as the birds went to work foraging in a fenced chicken enclosure at least five times the size of their former, city home. My Icies had gone west county.
"As humans, we're the ones stressing out about things like this," Molly observed while the birds, themselves, with space and room to move, simply let instinct take over. Admittedly, these birds seemed chill AF, which Ralph attributed to the couple "only raising nice birds."
Leaving this hen's paradise, we figured that the birds' limited brain wiring was already wiping away their nine months of city living. By the time I was sitting at the nearby Wildwood Pub & Grill with my grilled chicken salad, my avian friends had probably already forgotten me.
Meanwhile, at the Fenton Feed Mill, there are probably some cheap, plain, boring, non-flying pullets ready for a move to a second-hand coop in south St. Louis. They'll fit in just fine.