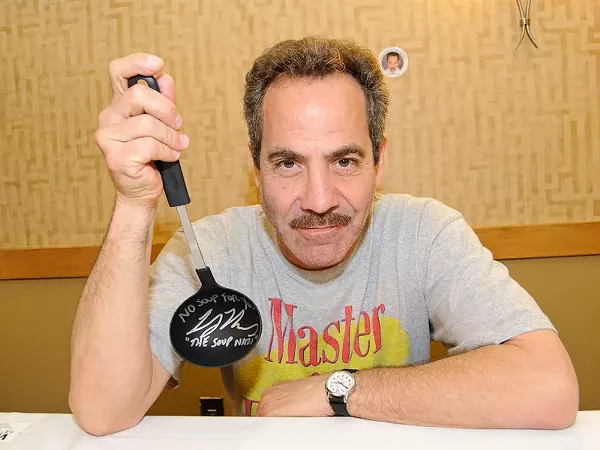 Larry Thomas, best known as Seinfeld's "Soup Nazi," talked to fans, signed ladles, and told tales of celebrity encounters of his own.
Mike Christopher wore full makeup to represent his role in Dawn of the Dead -- that of the Hare Krishna zombie.
Molly Mayhem and Ami Amore' performed as belly dancers, representing Exotic Rhythms Bellydance.
The Batmobile that started it all. Adoring fans could get their picture taken sitting inside the legendary vehicle.
Fred "The Hammer" Williamson, while also known as a professional football player, was more well-known at Con-Tamination for his roles in films like 1973's Black Caesar.
Jef Miller's "Ancient Bird-Thing" costume was arguably the most complicated, but definitely the most feathered.
Ken Norton, the WBC World Heavyweight Champ in 1978, who graced the cover of Sports Illustrated in June of that year.
See that poster for Ultra Flesh? Seka, pornographic actress, starred in that one (along with about 207 others).
The Night of the Living Dead puppet show delivered all the gore and humor you'd expect from a puppet show about zombies.
Bob Gill, a motorcycle-jumping legend who set a world record in 1971 when he jumped over 22 cars (171 feet) without the use of a landing ramp. He attempted a 200-foot jump in 1974 -- also without the use of a landing ramp -- but crashed and was left paralyzed from the waist down.
Pro wrestlers JD Maverick and April Hunter, demonstrating exactly why they went into pro wrestling.
There are few men more capable of giving an arched-eyebrow glare than actor William Forsythe, best-known for playing tough guy roles films (He played Sammy "The Bull" Gravano in Gotti, and Al Capone in The Untouchables TV series. Still, he took photos with fans and chatted about his acting career with attendees.
Chuck and his snake Trance.
The Scream Queen, Brinke Stevens. Stevens specializes in cult films like Slumber Party Massacre.
"I'm Awesome," read the note on this Cthulhu figurine. Nobody argued.
Artist Dick Starr (and his lovely wife Heidi). Starr specializes in, among other things, tattoo and horror art.
Zombie puppets. Is more of an explanation really necessary?
Johnny Bopp's art usually starts on a canvas with acrylic paint, and makes its way to other media (like skateboards) after some scanning and digital touch-up work.
Billy Tickett's zombie art was well-received. And hilarious.
Actress/model Kayla Perkins and her mother Michelle discussed her transition from horror films into geeky comedies.
Brittany, Miranda, Lavendar and Amber - Kentucky girls interested in tattoos and piercings.
Aside from art, movies, and memorabilia, clothing was for sale in generous amounts.
Michael Nicolosi, the voice of Clown in the animated Spawn cartoon, was more than happy to chat about his audition with Todd McFarlane and his work with Corey Feldman and Corey Haim in Dream A Little Dream 2.
You want collectibles? You got 'em. Even a plush Osbourne family wasn't out of the question.
Tables upon tables of rare and out-of-print DVD's awaited movie buffs.
Bethany and Adalae were particularly excited about meeting Dawn of the Dead cast members – and, presumably, nap time.
George Kosana, also known as Sheriff McClelland from George Romero's Night of the Living Dead and award-winning still photographer, offered fans stories and finger-guns.
These "Fiveman" action figures share similarities with the Mighty Morphin' Power Rangers, right down to the colors. Their name in the states? "Sky Rangers."
Movie screenings were par for the course at Con-Tamination, including showings of Romero's Night of the Living Dead and Day of the Dead with cast introductions and Q&A's. Suck it, DVD commentary.
A few dedicated attendees wore costumes – including this excellent Shaun of the Dead get-up. Simon Pegg would be proud.
Not all of the art was something you'd share with your grandma. In fact, most of it wasn't all that work-safe.
Becky and Chris felt a special need to see the Batmobile. Who can blame them?
Liz and Matt, two performers in the Night of the Living Dead puppet show, perused the show floor before their 3 p.m. performance.
Artists of the erotic, extreme and macabre were found in all corners of the convention.
The Prince of Persia movie booth hosted a sword-fight in the middle of the exhibit's walking space.
Artist Billy Tickett surrounded by his creations.
Joel Robinson's art was decidedly painterly, and he contributed to a Vincent Price book.
Hometown artist Travis Molitor sold both two and three-dimensional art.
All levels of memorabilia were available for the dedicated collector to sift through.
Con-tamination was indeed fun for the whole family. So long as the whole family had gas masks.
Billy Wirth and Brooke McCarter – best known as Dwayne and Paul from The Lost Boys – were on-hand to sign autographs, chat and look badass.
Some of the most interesting artifacts for sale were actual movie props -- like this evidence bag from Midnight Meat Train.
Interested collectors and fans had the chance to talk to the artists and actors they admired, face to face.
Vampire hunting gear was, luckily, in abundant supply.
Julie posed with "Shadowland" vampire wings. "Shadowland" partnered with the ALS Association to raise money to fight ALS, commonly known as Lou Gehrig's Disease.
St. Louis' Wicked Pixel Cinema crew, promoting their newest project "Ratline."
Savannah Collins and her red-eyed accomplice Jared Sies.
Kyra Schon played Karen Cooper, the trowel-wielding zombie from the cellar in Romero's Night of the Living Dead.
Reading tarot cards may seem like an odd act in most public places. At Con-tamination, it was the most pedestrian thing you'd see.
Darryl Becker and Marque Miller came in from Joplin to see the bands perform later in the evening.
Members of the band The Revenants, hailing from Louisville, Kentucky.
Tamma Kein and Caleb Haupt, readying themselves for an afternoon of horror, sci-fi, and pop culture oddities.