Page 3 of 4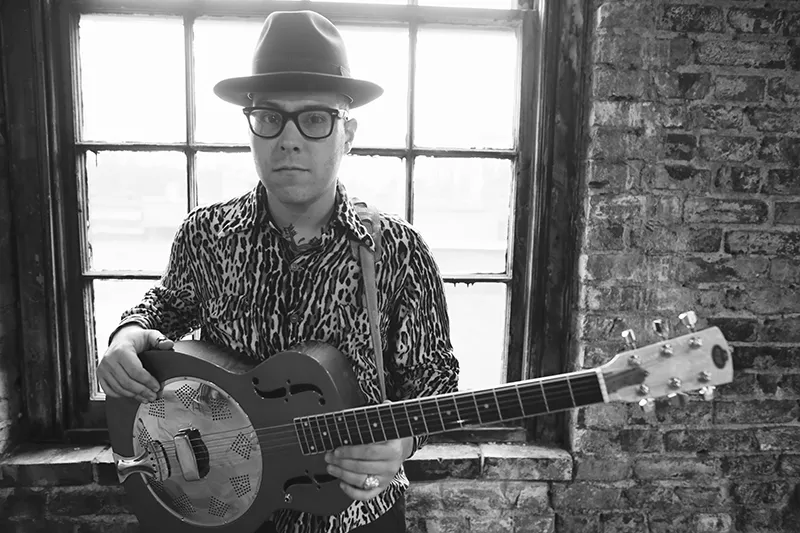 PHOTO BY NATE BURRELL
Mat Wilson.
The Lifer
Mat Wilson Debuts Devil's Elbow
"I'm involved in about seven groups, but I don't want to be boastful about it," Mat Wilson says, while not sounding the least bit boastful. There are original bands like Tortuga and Loot Rock Gang, in which he plays alongside his wife, the vocalist Little Rachel. There are some for-hire projects. And, of course, the band that he's most frequently associated with, the Rum Drum Ramblers.
Wilson's first experience playing the Big Muddy came with the Ramblers, in a gig that wasn't exactly traditional.
"The first time we played the festival, we weren't booked," Wilson recalls. "We busked on the street and, I'm telling you what, we're still hearing about that, from a good ten years ago. I've had a bunch of people say that we were a welcome surprise. We gave it a little spice, a little kick in the pants, being these kids on the corner playing pre-war blues." The suitcase full of cash they made that afternoon was an encouragement, too.
These days, Wilson, 32, is no longer a kid on the scene, needing to crash the party. This weekend, he and guitarist Elliot Sowell will be essentially debuting a new project, Devil's Elbow, featuring a revolving rhythm section and a sound that they've talked about putting together for years.
They've known each other a decade, running into each other at clubs (like Beale on Broadway) and hipped-to-the-blues sandwich shops (Blues City Deli). In some respects, getting a band together was just a matter of time.
Says Wilson, "Over time, we'd see each other and say 'let's talk, let's do this.' My mission now is to not just talk about things, but to see them through."
What it is, he says, is a "bad-ass blues band."
"We put this project together to play the blues, with no apologies," he says. "Basically, we wanna play the blues the way they should be done. Since we've both been involved in so many projects, we've basically wanted to go into the hornet's nest and handpick songs, do blues the way we feel they should be done. And that's the core concept of Devil's Elbow."
The group has played one gig already, but it's still a "very fresh band," Wilson says. He boasts that it features Willie J. Campbell on bass, who he says has played with Hollywood Fats and the Fabulous Thunderbirds, among others. "We're stoked to have him for the blues fest."
For years, Wilson has worked in music-related jobs, often a couple at a time. Before launching his own business, he worked at Vintage Vinyl on the sales floor and repaired guitar at J. Gravity Strings. But uniting with his father, an engineer, he's been able to redefine his life. Their business, Embie Concepts, creates custom guitar parts, which have been purchased by national-level performers; he's now full time in the endeavor. New products are on the horizon, even as Wilson continues to add to his band collection.
"It's just something that the universe doesn't let me stop for very long," he says of gigging with so many acts. "I say 'yes' to everything I possibly can. Creatively, it helps keep my chops."
He mostly finds new bands through his friends — and that, in turn, ups the friendship. He says, "Having a musical relationship with a good friend is taking it to a different level of friendship. And that's what I take most out of this, friendship and kinship."
One of those friends is Kristo Baricevic, who heads up Big Muddy Records, a local label unaffiliated with the festival (despite the name). He says, "Some musicians learn to play their instrument based on the rules of music set forth by math and canon. Others develop their own voice, so that you can instantly identify the player from the first few notes you hear. Mat is a combination of both of these. He has studied the players that came before him and the traditions that those players have served. But he has paid extra attention to the players who speak through their instrument and he has learned how to speak through his instrument in a voice that is distinctly his."
He adds, "Mat plays in the present moment, but with a deep understanding of those who came before him. His playing is the summation of the history of blues, primitive rock & roll, and — in the right circumstances — proto-punk and experimentation. He is nothing less than an artist and without a doubt one of the most unique players you could find anywhere today."
Wilson's desire to play is rooted here, but his for-hire gigs and the occasional outings with his multiple bands give him enough of the road life to keep him satisfied.
"I love to travel and see different cities," he says. "But right now, having started this business, I'm trying to stay rooted here, mostly doing one-off gigs out of town, then getting right back to work. In the past, touring extensively, I know what it's like to really go out and hit it hard like that and I'm always willing to take a call, but at this point in time, I'm really trying to see things through with the business. But I love being in town and playing locally."
Wilson and Devil's Elbow will play the Big Muddy on Sunday at Morgan Street Brewery from 8:45 to 10 p.m.