For the second straight year, Jeremy Segel-Moss has his "hands on the wheel" of the Big Muddy Blues Festival, booking the 50-plus-act event taking place this weekend on Laclede's Landing. Also for the second straight year, the event will feature a St. Louis-centric lineup, one that Segel-Moss says does justice to the region's role as a blues hub.
"It's all local," he says. "But just because it's all local doesn't make it not national."
This isn't a riddle. "When Trombone Shorty is playing a festival in New Orleans, he's a national act playing in New Orleans," Segel-Moss says. And in St. Louis, too, numerous "local" artists are also national draws.
He continues, "We have one of the deeper wells of blues, of all traditions and styles, and the idea is to celebrate that. We don't feel that we have to include national acts to make it a successful event. What you often see at any other festival of this type is a name act brought in, like Taj Mahal or Buddy Guy or Nikki Hill. There are lots of acts that are on that circuit and plenty of blues festivals on the Labor Day weekend. But none of them will have our show, with over 50 St. Louis acts. The idea is to celebrate what's going on here, to shine a light on it."
PHOTO BY NATE BURRELL
From left: Roland Johnson, Renee Smith, Gene Jackson and Mat Wilson.
That it's taking place on the Landing adds to the historical resonance. Begun in 1986 by the original members of the St. Louis Blues Society as the St. Louis Blues & Heritage Festival, the event was housed in clubs like Mississippi Nights and on street corner stages for a half-dozen years. In time, the Landing's business district came to own and operate the event.
Now, 22 years into its run as the Big Muddy, it remains in an entertainment district that's sometimes overlooked, or even forgotten, by a generation of concertgoers who've distanced themselves from the zone over the years — yet still has some serious charm.
"As a person who lives in St. Louis, as a musician who has watched music down there my entire life, the Landing is really beautiful. You have these very old buildings, the cobblestone streets, the views of the Arch," Segel-Moss says. "There's been some decimation with the casino and other construction, but there's still this package of about eight square blocks that are some of the most 'St. Louis places' in St. Louis. And when the music is going, it's cool. The music floats through the streets, like it'd be in New Orleans, where you can hear a band playing outside from two blocks away. We're happy to have it there. It's in our history."
Himself a player, as part of the long-running Bottoms Up Blues Gang, and chairman of the current iteration of the St. Louis Blues Society, Segel-Moss is somewhat hesitant to attack the basic question: What is the St. Louis blues sound?
"This is an ongoing question," he says, with just a hint of a laugh. "What is the St. Louis sound? Well, because St. Louis hasn't had the music industry of other cities, the large number of recordings, documentaries, books, it's hard to call out exactly what it is. In a way, the 50 bands at Big Muddy represent the sound of St. Louis, whether Delta blues, or R&B, rock & roll or jazz... we have all of those in our sound.
"In Chicago, you may have the wailing guitar and the harmonica; in New Orleans, the crazy horn sections. But what the older musicians here created leaves a lot space. It's about the complexity of simplicity; like, doing a lot with just one note."
He adds, "I don't even really know if I'm qualified to answer that answer, though I should be able to. But if you wander through the stages, you'll hear similarities in that sound."
The five acts we've chosen to highlight in this issue offer those similarities, yes, but they also offer some real differences. Gene Jackson, Roland Johnson and Renee Smith are the elders, musicians who weren't just influenced by Oliver Sain but worked with him directly. "They're playing in a soul revue, which is a very St. Louis thing," Segel-Moss notes.
Mat Wilson, meanwhile, is a student of Henry Townsend, "playing a very particular type of blues that no one else is doing here," Segel-Moss says, while Annie Linders is in her first year at the festival. She comes from the New Orleans school, what Segel-Moss calls "that style of trad jazz, which is something that St. Louis was affected by, with the music coming up north on riverboats."
Collectively, they represent the St. Louis blues — a sound influenced by many other places, but somehow still all our own. Steeped in history, it remains vibrant today.
PHOTO BY NATE BURRELL
Roland Johnson (left) and Gene Jackson take the stage at Off Broadway.
The Three Powerhouses
Vocalists Renee Smith, Gene Jackson and Roland Johnson, a.k.a. the Blue Lotus Revue
A few weekends back, an appreciative, modestly sized audience gathered inside one of south city's linchpin music clubs, Off Broadway. Over the years, the club has played host to hundreds of evenings dedicated to the blues. This night, too, was embedded in that sound, though the show, called the Blue Lotus Revue, also hinted at soul, R&B and rockabilly. The studio/label led by Paul Niehaus IV was showcasing the many hues of the blues it's releasing these days, with the evening's second set built around the talents of three vocalists.
Swapping sets, sharing leads and backup roles, engaging the audience in three very distinct manners, Renee Smith, Roland Johnson and Gene Jackson each teased new projects, even while showcasing their vocals on a variety of blues/R&B chestnuts. In a way, the night was a vivid preview of their longer sets at this weekend's Big Muddy Blues Fest, with a core backing band led by guitarist Kevin O'Connor and label head Niehaus supporting on bass.
"I thought the evening went great," Smith, 65, recalls later from her home in East St. Louis. "I enjoyed playing that band — oh, man, just true professionals who can play any and everything. I was really impressed with that band, and anything I asked them to do, they were right there with me, behind me, supporting me."
It was her first time performing with Jackson, though she's worked with Johnson before. "They're both great singers and I was just happy to be on stage with them," she says.
PHOTO BY NATE BURRELL
Renee Smith is known as "the Queen of St. Louis soul."
Smith has been given the nickname "Queen of St. Louis Soul." She got her start at age twelve, singing in Mount Zion Baptist Church, and has been performing blues, soul and jazz ever since.
Certainly, at the Blue Lotus Revue, she was an engaging presence, calling on the crowd to let her hear them within a minute or two of hitting the stage. She wasn't the only performer to shine. With a killer backing band, the night's second set allowed Smith, Johnson and Jackson — with help from guest vocalists such as Devon Cahill — to have both shared and solo moments in the sun.
O'Connor, a veteran of the punk/rockabilly scene who worked with both Johnson and Jackson on their albums, marvels at their talent. "Those guys are the real deal," he says.
He adds, "As an instrumentalist who doesn't sing, I love it when singers can play off of each other and harmonize. Roland and Gene play a lot of the same covers, so when we perform one of them and they're both on a mic, all they gotta do is look at each other and they'll just know who's taking the high or low parts. Magic stuff!"
Niehaus has also noticed the two singers' chemistry. "It's a magical dynamic they have together," he says. "While one is singing an original song from his album, the other is adding the best tambourine part you've ever heard in your life, while improvising little call-and-response vocals lines, in a really respectful way."
As the Big Muddy Blues Fest comes to life, each of the performers brings a set of both expectations and history to the event.
Jackson, like Johnson, is keen on showcasing the original material that Blue Lotus Recordings offered in his recent 1963 album.
"After doing cover material for so long," Jackson says, "I never thought I'd have a chance to be recording and playing my own material."
One of the RFT's STL 77 this spring, Jackson was described by writer Roy Kasten as one of the city's finest singers. "His voice stands up to comparisons to the greats of Motown and Chess, and with this year's album, 1963, he lays down straight-ahead soul, with lush horns and spritely rhythm," Kasten wrote. "His soul is classy and classic. It's hard to believe this is Jackson's first official release."
Jackson says he looks forward to sharing that work on the big stage of the Big Muddy, in front of an audience that's primed to hear the best talent from St. Louis. Club work is his bread-and-butter, but he's excited to tackle the big stage in a prime-time slot this weekend.
"When you're on that bigger stage, facing a bigger audience, you have more space to perform and communicate, using different angles of the stage. On a big stage, you can talk to everyone. And any time you're doing original music, you want them to get the message and to connect with them, to have them understand what that song is about. You want the message to stick in their head, what you've just sung about. How else will they remember you from anyone else they've seen?"
Jackson gives them plenty to chew on. O'Connor notes how deeply personal some of his tracks ended up being.
"Gene lost a son to heroin just year ago, and a few of his tunes deal directly with that. His other tunes are about falling in love with his wife, staying strong and keeping faith throughout their healing process," he says. "Gene's voice has a bit of a Joe Tex sweetness. His tenderness, empathy, pain and honesty are right there on stage. He proudly tells the crowd before any of his original songs what the story is behind the tune. The video he made for 'Only God Can Help Us' deals with using empathy and genuine help in confronting the homeless/drug addiction problems downtown. ... The pain hit his home and he doesn't want to preach, but rather simply call for help. It's powerful."
Jackson calls the praise for 1963 "glorious."
"I haven't had this much attention in 20 years," he says. "Have you seen the video, yet? Having all that out, it makes you feel so good, that the world and the people are listening."
And yet...
"I'm always nervous," Jackson admits. "From the smallest show to the biggest."
PHOTO BY NATE BURRELL
Roland Johnson.
As for Smith, she's used to the big stages. She's proud of having closed out last year's show and notes, "I've been on the Big Muddy stages with a lot of artists, well-known and well-liked around the world. ... It's had a lot to do with my going overseas. I've performed a lot in Asia; Singapore's like a second home to me. Big Muddy's carried me a long way."
There's always a chance that she'll wind up on a stage or two aside from her own at some point in the weekend. Guesting with Mike Aguirre is in the cards for this year and, with a few days to go, there's a chance that another artist might find her receptive. "If I can, I always like to say 'yes' to playing with other people," she says.
"Big Muddy Blues has brought me a long way. I'm grateful to them. The blues need to be continued, there are so many stories to be told. We need to keep the blues going. The blues is my life."
The Blue Lotus Revue plays the Main Stage on Saturday from 9:45 to 11 p.m.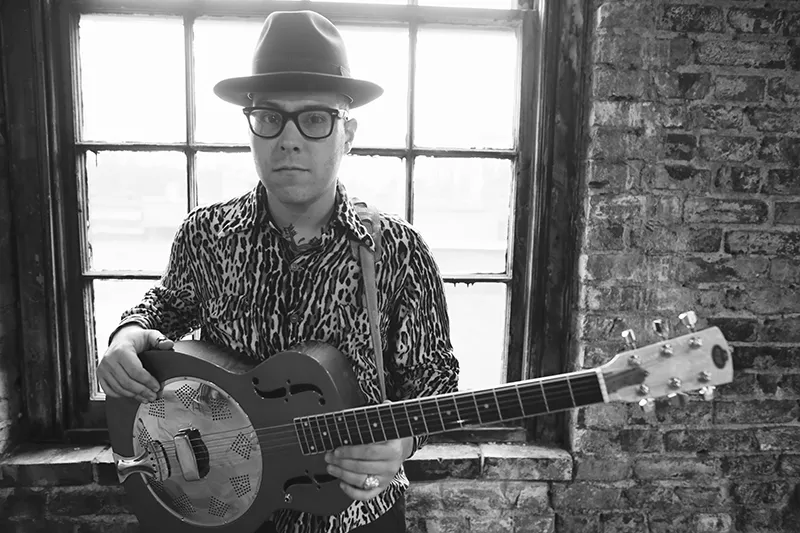 PHOTO BY NATE BURRELL
Mat Wilson.
The Lifer
Mat Wilson Debuts Devil's Elbow
"I'm involved in about seven groups, but I don't want to be boastful about it," Mat Wilson says, while not sounding the least bit boastful. There are original bands like Tortuga and Loot Rock Gang, in which he plays alongside his wife, the vocalist Little Rachel. There are some for-hire projects. And, of course, the band that he's most frequently associated with, the Rum Drum Ramblers.
Wilson's first experience playing the Big Muddy came with the Ramblers, in a gig that wasn't exactly traditional.
"The first time we played the festival, we weren't booked," Wilson recalls. "We busked on the street and, I'm telling you what, we're still hearing about that, from a good ten years ago. I've had a bunch of people say that we were a welcome surprise. We gave it a little spice, a little kick in the pants, being these kids on the corner playing pre-war blues." The suitcase full of cash they made that afternoon was an encouragement, too.
These days, Wilson, 32, is no longer a kid on the scene, needing to crash the party. This weekend, he and guitarist Elliot Sowell will be essentially debuting a new project, Devil's Elbow, featuring a revolving rhythm section and a sound that they've talked about putting together for years.
They've known each other a decade, running into each other at clubs (like Beale on Broadway) and hipped-to-the-blues sandwich shops (Blues City Deli). In some respects, getting a band together was just a matter of time.
Says Wilson, "Over time, we'd see each other and say 'let's talk, let's do this.' My mission now is to not just talk about things, but to see them through."
What it is, he says, is a "bad-ass blues band."
"We put this project together to play the blues, with no apologies," he says. "Basically, we wanna play the blues the way they should be done. Since we've both been involved in so many projects, we've basically wanted to go into the hornet's nest and handpick songs, do blues the way we feel they should be done. And that's the core concept of Devil's Elbow."
The group has played one gig already, but it's still a "very fresh band," Wilson says. He boasts that it features Willie J. Campbell on bass, who he says has played with Hollywood Fats and the Fabulous Thunderbirds, among others. "We're stoked to have him for the blues fest."
For years, Wilson has worked in music-related jobs, often a couple at a time. Before launching his own business, he worked at Vintage Vinyl on the sales floor and repaired guitar at J. Gravity Strings. But uniting with his father, an engineer, he's been able to redefine his life. Their business, Embie Concepts, creates custom guitar parts, which have been purchased by national-level performers; he's now full time in the endeavor. New products are on the horizon, even as Wilson continues to add to his band collection.
"It's just something that the universe doesn't let me stop for very long," he says of gigging with so many acts. "I say 'yes' to everything I possibly can. Creatively, it helps keep my chops."
He mostly finds new bands through his friends — and that, in turn, ups the friendship. He says, "Having a musical relationship with a good friend is taking it to a different level of friendship. And that's what I take most out of this, friendship and kinship."
One of those friends is Kristo Baricevic, who heads up Big Muddy Records, a local label unaffiliated with the festival (despite the name). He says, "Some musicians learn to play their instrument based on the rules of music set forth by math and canon. Others develop their own voice, so that you can instantly identify the player from the first few notes you hear. Mat is a combination of both of these. He has studied the players that came before him and the traditions that those players have served. But he has paid extra attention to the players who speak through their instrument and he has learned how to speak through his instrument in a voice that is distinctly his."
He adds, "Mat plays in the present moment, but with a deep understanding of those who came before him. His playing is the summation of the history of blues, primitive rock & roll, and — in the right circumstances — proto-punk and experimentation. He is nothing less than an artist and without a doubt one of the most unique players you could find anywhere today."
Wilson's desire to play is rooted here, but his for-hire gigs and the occasional outings with his multiple bands give him enough of the road life to keep him satisfied.
"I love to travel and see different cities," he says. "But right now, having started this business, I'm trying to stay rooted here, mostly doing one-off gigs out of town, then getting right back to work. In the past, touring extensively, I know what it's like to really go out and hit it hard like that and I'm always willing to take a call, but at this point in time, I'm really trying to see things through with the business. But I love being in town and playing locally."
Wilson and Devil's Elbow will play the Big Muddy on Sunday at Morgan Street Brewery from 8:45 to 10 p.m.
PHOTO BY NATE BURRELL
Annie Linders of Annie & the Fur Trappers.
The Trad Jazz Newbies
Annie & The Fur Trappers
Annie Linders, 27, is the eponymous leader behind Annie & The Fur Trappers. A trad jazz band, the Fur Trappers were born in a way that's supremely fitting.
As Linders recalls, she had some friends who were sailing down the Mississippi River. Thinking it sounded pretty fun, she invited herself along, and they agreed to pick her up along the way in St. Louis on the riverfront. "How will we find you?" they asked. She had an easy solution: She brought her trumpet.
"They literally pulled up against the shore and picked me up as I was playing my trumpet," she recalls. She ended up sailing with them for about a week, all the way down to Memphis.
The trip was inspiring, and not just for its cinematic beginnings.
"On the boat was a friend of mine, Ali Dineen," Linders recalls. "She had her accordion on board and taught me the song 'Delta Bound,' which inspired our album of a couple months ago. It was one of the first trad jazz songs I'd ever played and that made me really interested in the music."
The band has been moving fast since its inception last year, including (already!) an album release, drawing on a large pool of players and seldom featuring the same ensemble twice.
A teacher by trade, Linders has been working in urban and suburban school districts for several years and is currently teaching at Woodward Elementary School in south city. But her passion for music continues to find new outlets and take new forms.
"I was inspired one night, going to Schlafly Bottleworks and seeing a trad jazz band from New Orleans called Tuba Skinny," she says. Sitting in and playing with them, she says, made one thing clear: "Yes, I want to do this." In no time, thanks in part to her friend TJ Muller, she had a full eight-piece band.
One member of that pool of players is pianist Christopher Parrish. In addition to solo gigs, he's found gigs with two St. Louis acts. The St. Louis Ticklers is one, a group so new it formed after Big Muddy's booking concluded. The other is Annie & The Fur Trappers.
"Yeah, yeah, the Fur Trappers," Parrish says. "I don't play with them full time, but they're killing it. They have the essence of a New Orleans street band, in that there's very little preparation and it's very raw. I think that works very well in a community like Cherokee, especially. ... You know a tune, pick a key and go. That's what they're about, from what I've seen. It creates a nice sound and gives you a very freeing feel, playing in something like that. There's something for every taste."
Linders admits that her role as a vocalist is still an evolving thing, but she's embraced it.
"People are always surprised when they see us and I sing," she says. "They think, 'Where did that come from?' This is the first band in which I've made it a point to sing."
It's a comment that comes with this caveat, applicable not only to her music but the band as a whole: "People like it. And I like it. So I should do it some more."
And they'll be doing "it" this weekend at the Big Muddy. While some folks may view the band as a bit of an outlier, Linders believes her act fits in just fine.
She says, "Without the blues, the style of trad jazz would've never existed. The old-time blues and ragtime players in St. Louis and New Orleans created this music, and we do a lot of old blues numbers from the '20s, so it's not really that far off.
"We can take a song by Blind Boy Fuller, where it'd normally be one person playing guitar and maybe with a washboard, and we just add all of our instruments to it and make it our own. Our playing the festival will break things up a little bit, bring a different shade of the blues, which I think is cool.
"My dad really loved the blues," she adds. "Growing up as a kid, he'd be playing BB King or Muddy Waters records around the house. The trad jazz stuff I didn't really discover until a year, year and a half ago, seeing it around St. Louis. When I was taking music in middle and high school, we went more into the big band stuff, like Count Basie and Duke Ellington. The way I started playing the trumpet was through the blues; in middle school, the first time I improvised was on a blues number.
"I owe a lot to my teachers in who taught me the blues, allowing me to almost rediscover it later in life."
Annie & The Fur Trappers will play the Morgan Street Stage from 3:30 to 4:45 p.m. on Sunday.