Page 2 of 4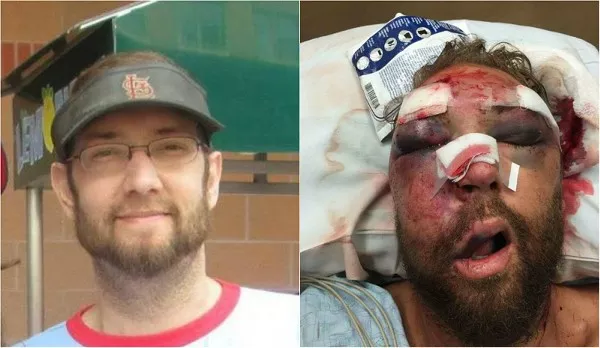 COURTESY OF ROB LUDWIG
Rob Ludwig was badly beaten after his girlfriend tried to stop harassment of a young neighbor.
According to an RFT analysis of police data, there was a six percent increase citywide in reported "person crimes" (robberies, assaults, rapes and homicides) from 2012 through 2016. But in the four neighborhoods surrounding Cherokee Street — Gravois Park, Benton Park West, Benton Park and Marine Villa — that increase was 53 percent. And so far this year, such reports are up by a quarter over last year.
The bulk of these incidents have occurred in the state streets. Last September, the Post-Dispatch reported on groups of youths roving Gravois Park attacking people, sometimes at random. On September 25, nearly a dozen people mobbed 37-year-old Rob Ludwig and his girlfriend after she attempted to intervene in the harassment of a young neighbor on Virginia. They both had to be hospitalized; Ludwig suffered a brain bleed, two black eyes and even a blackened tongue.
The violence occasionally spills onto Cherokee proper. Online police maps show that 24 violent crimes, mostly assaults, have occurred on the street itself in the last six months.
Just steps off the main drag, two incidents even made the news. In October, a 64-year-old Vietnamese shopkeeper recovering from cancer was brutally mugged in an alley behind Cherokee while taking an afternoon walk. He ended up in critical condition. Then, on March 21, a man was shot in the shoulder at Cherokee and California Avenue during an apparent robbery.
Rodriguez was at Yaquis that night. He saw the police SUVs and walked up to the scene. He noticed with irritation how a streetlight was out, and how the property just north of the intersection lay in shadow. With his cell phone, he made a video, which he uploaded to Facebook under a caption decrying "absentee landlords."
"Look at this," he says in the clip, showing the dark lot. "No lights on.... I'm sick and tired of these people who own property down here and put as at peril. They need to take care of their shit down here."
He didn't know yet who owned the property. When he found out, his anger swelled.
PHOTO BY STEVE TRUESDELL
Dan Guenther and Cara Spencer both toppled long-time pols to win their seats representing Cherokee Street on the Board of Aldermen.
The political winds have shifted abruptly on Cherokee Street: In just two years, voters have ousted three incumbent Democratic committee members, one state representative and two aldermen.
The latter change was key. If a city ward is a fiefdom, the alderman is its lord. He is the liaison to city services and can make life easy — or hard — for entrepreneurs. Cherokee Street has the misfortune of serving as a border between wards.
For more than a decade, that meant that in the central blocks, the north side of the street was represented by 9th Ward Alderman Ken Ortmann, while much of the south side fell under 20th Ward Alderman Craig Schmid. Both have been replaced by younger candidates.
The first domino to fall was Schmid. An attorney by trade, he was considered by many to be an assiduous caretaker, but also risk-averse and uneasy around Cherokee's weirder element. Challenged in the 2007 primary by artist Galen Gondolfi, Schmid and/or his allies sent voters a mailer linking Gondolfi to "communists, socialists, anarchists, vandals and graffiti 'artists.'" (In the old Cherokee, those words were slurs; today, they might describe your barista.)
Schmid and Ortmann "had the best of intentions," says Randy Vines, who with his twin brother Jeff opened the Style House apparel store on Schmid's part of Cherokee in 2010. "When they were elected, their sole goal was to preserve livability in a time of steep decline. But the hallmark of urban neighborhoods is they evolve. You cannot protect them from everybody and everything."
Schmid, for example, had long kept a moratorium on new bars. Under pressure, he lifted it in 2009, but lasted just one more term before losing in 2015 to Cara Spencer, a business analyst backed by the district's influential business association. Spencer rescued the Marquette Pool from a summer closure in her first few months, took on the payday lending industry and is even threatening a lawsuit over the city's plan to pay for $138 million of renovations at Scottrade Center. Her supporters point to her as proof that it's possible to take on the political establishment and win.
Others followed her lead: Last September, business owner (and Ferguson protester) Bruce Franks Jr., took down the neighborhood's longtime state representative, Penny Hubbard. Then in March, Dan Guenther, a pony-tailed organizer with the Benton Park Neighborhood Association, bested Ortmann in the 9th Ward.
Ortmann, whose family owns a Soulard dive bar, is a former U.S. Marine and classic south-city pol. Still smarting from his loss in May, he suggests he's been a victim of the street's very success.
"The millennials don't want to give me credit," he says. "I don't think they care how [Cherokee] got there, they weren't there through the hard times and the development that got done."