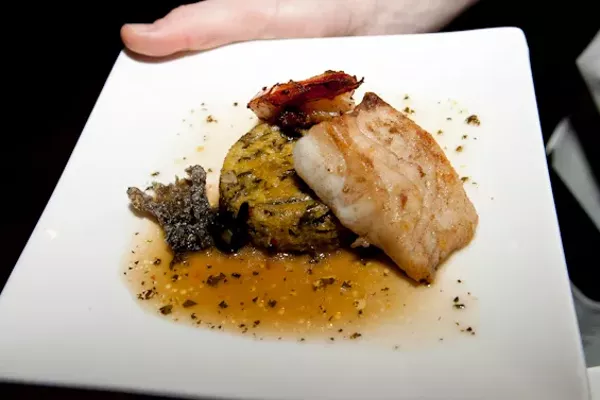 Butterfish, gulf shrimp, cornbread and collard pudding and potlikker.
Chef Gerard Craft (Niche, Taste, Brasserie, Pastaria) puts the final touches on chef Sean Brock's dish.
Chef Kelly English, of Memphis' Iris and Second Line restaurants, chats with other chefs before the dinner rush begins.
Scarpinocc, Hanna farms masa, smoked guanciale, chicken liver, and sorghum.
Chef Sean Brock of McCrady's and Husk restaurants grills in the alley behind Sidney Street Cafe.
Scallops cured in herbs, butter, mustard and elderflower.
Grains, brassicas, sesame, tofu and hoisin.
Chef Randy Lewis of San Francisco works on the second course.
Bay, pasture and earth oysters.
Cauliflower, fleur de la vallee, lamb jus, lemon brown butter, creme fraiche and egg.
Kevin Willmann of Farmhaus restaurant chats with Sean Brock (of McCrady's, Husk and restaurants) between courses.
Chef Patrick Sheerin of Chicago.
Farmhaus chef Kevin Willmann puts the final touches on a dish.
Swabian hog with heirloom pumpkin, slowly cooked in its juices, black truffle and crunchy farro.
Shiitake, satsuma, pistachio and truffle.