Page 2 of 3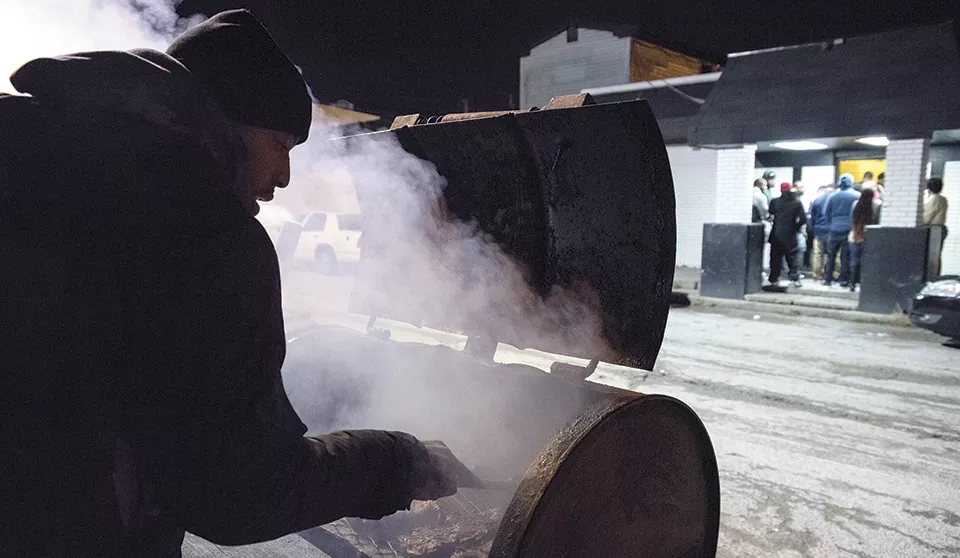 NICK SCHNELLE
The chef works three nights a week: the Pink Slip's Tuesdays are popular enough to require his services.
The shift begins even before it begins. Back home in Granite City, he preps the meat, his jerk chicken marinating for eight hours, and then packs up his Chevy Impala, taking up every bit of space with buns, condiments and flesh. He gets his products from Cionko's Market in Granite City. "I buy half a cow and they cut it up for me, the sirloin tips, the burgers, the custom brats. I'm a regular, so they keep the meat there for me and I pick it up when I need it."
The car also serves as a sound system for the three-man grill crew: Zo, who may speak all of 100 words on his shift, sticks close to the grill for security, while Davian, Nell's nephew, is in constant motion as a food runner and packs a lot of personality into a slender frame. Nell keeps the music bumping until after 3 a.m. or so, with an upbeat, hip-hop soundtrack that reflects the music played inside.
There's no doubt Nell's the boss, no matter who is working with him on a given day. His goal, he says, is to hire young people from the immediate community, but also ex-convicts, folks working their way back into the economy. With short instructions, he offers cooking tips or sends a runner to solicit a car that's lingering on the periphery. He chats with cops, as their rounds take them by the stand every fifteen minutes or so, and with customers, lot workers and his own small staff, sometimes seeming to know everybody in sight, at ease with all kinds of humans.
Even though the location of his business may seem unlikely, it makes a lot of sense. This is classic street food, simply presented at the people's price point. It's the kind of spot that you could imagine exciting the senses of an Anthony Bourdain, with a degree of authenticity (and effort) that's hard to comprehend without spending a few hours here. It all looks deceptively simple. But, as Nell says, "you gotta always think about the seasonings, you gotta think about the smoke, you gotta think about the flavor."
If there's an end game, Nell suggests it may come in the form of Munchies Truck, which he describes as a truck that would be outfitted with cooking gear and driven to communities in need of, well, munchies. If this sounds suspiciously like a food truck, you'd be right. A restaurant, too? Maybe, Nell says, down the road. As the night turns to morning, different ideas come up, get explored, get pinned as more customers pop into or out of the Pink Slip.
When that happens, conversation with a reporter ("that's my white guy, right there!") becomes secondary to the job at hand. "Baah-are-be-cuuue! Hot and ready!"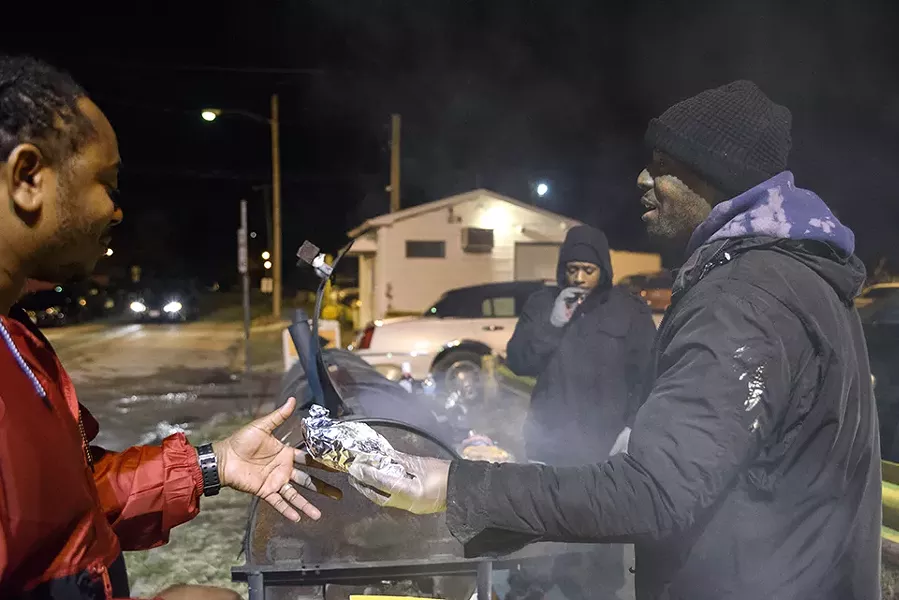 NICK SCHNELLE
Polish or rib tips, hot dogs or jerk chicken, Chef Nell has the hookup.
We pause to discuss that line — "my white guy." Earlier in the night, Davian is blunt, saying, "You don't see a lot of you, standing here and writing things down." It's a fair point, reinforced by Nell, who notes the presence of a reporter and photographer to some Brooklyn cops who've dropped by: "You might see some white guys walking around. They're cool."
If St. Louis' racial dynamics are frequently complicated, in some moments they can seem remarkably simple. In Brooklyn, the strip clubs have become primarily African American concerns, including their ownership. The Pink Slip's audience is 95 percent black (and, interestingly/unofficially, roughly 40 percent female, if eyes are to be believed this Saturday morning). Bottoms Up, its neighbor, has a similar demographic feel; Brooklyn's overall strip club culture skews African American — or in modern marketing terms, "urban."
It wasn't always this way. Brooklyn's scene used to be not only livelier, but also more racially diverse. P.T.'s Brooklyn, also known as P.T.'s Classic, rebranded as Black Magic just one year ago, only to later close its doors. Its primarily white sister club, Roxy's, is still hanging in there, though at reduced hours, with a multi-hued clientele and worker base. Meanwhile, the S&L Rub, an erstwhile massage house, is now an empty lot, the same fate that befell Brooklyn Books after a fire. The 'round-the-clock Mustang Sally's, up the road a piece, became a clearance house for, of all things, outdated hotel furniture; it's now empty, the same status as the nearby club last known as C-Ro's. Many a dollar has been made — and lost — along this short, winding, weedy stretch of highway.
The Pink Slip survives. Built in 1975, it made its turn to adult programming in 1993. Bottoms Up was built in the 2000s, while the newest concern, a metal shack known as Pleasure Palace, features a large theater and DVD shop as well as a bar. In between and around all are more-or-less vacant parking lots, giving the place a scattered and inconsisent feel.
To the east, however, is a town, a place where people live and surely sleep for at least part of the night, despite the traffic, the music, the general sense of activity. The feel is summed up by Red, who works at the Pink Slip as a DJ, host and security man. Popping out of the club to greet Nell, he says, "I was born and raised right here in Brooklyn. It's a small village, a small town, a loving community. That's how we do it here."
In fact, there are nine houses of worship in Brooklyn, several of which are within sight of the Slip's front door. (The club, which normally opens at noon, stays closed 'til 3 p.m. on Sundays. "Guess you gotta balance the holy with the sin," Nell notes.)
The themes of community are stressed by a pair of longtime adult-industry observers and participants, who freely chat with a reporter by Nell's stand as long as they won't be quoted by name. Striking an interesting tone of civic pride, one boasts that the clubs "are feeding a lot of people." He says, "The Pink Slip itself is a community stalwart. The number of people it employs, the money it puts back in the community ... tonight, it has between 25 and 30 dancers alone."
There are jobs, of course, and then there are jobs-jobs, and while we don't get into the specifics of, say, offering dental insurance for the independent contractor dancers, our onlooker is quick to pitch a variety of places where the cash-fueled operation helps out. He sees the money flowing to the "hair care industry, the clothing industry, the daycare industry, the hotel industry. You might say that these clubs are the economic engines of the area."
Explains Nell, "We keep the money moving in a circle. It's like family here." His part of the circle involves food. He adds, "If you don't have money, we'll still get you something to eat."
At one point, he spots someone who appears to be an employee of the Pink Slip. "Hey, Mike Mike! You straight? I see you got the sad face, come over here."
Mike Mike ambles over, and Nell hands him a foil pack from the grill, no need for payment. It's a scene that repeats itself, in different forms, all the way through close.
After 5:20 a.m., with rain beginning to fall, Nell all but abandons the grill to Zo. He's walking dancers to cars as he offers them foil-wrapped burgers, handing all-beef sausages through police car windows, generally dispensing of the last of the night's stock without cash exchanged.
With everything distributed, he pops the hood on the first lid and finds exactly nine more pieces of meat. The treasure comes with a heartfelt "ah, shit." The process begins again, more protein-in-foil handed out until a reporter winds up with the very last burger.
He says, "Somebody smiling, when they eat my food, is the single greatest thing in the world to me."