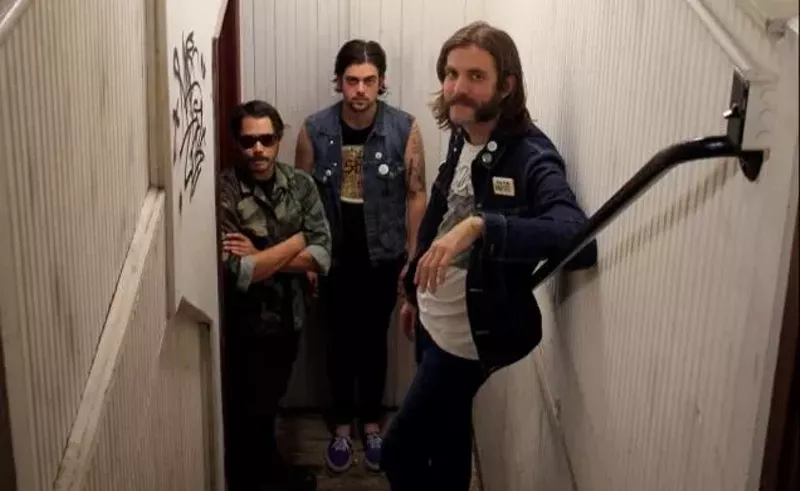 Photo via Brother Lee's Facebook
Brother Lee & the Leather Jackals
The first time St. Louis audiences got a good look at Josh Eaker, he was playing bass with the winsome pop group Palace, a band that deployed boy/girl harmonies and emotionally loaded songs with hooky know-how. So after that band's dissolution, Eaker's subsequent emergence as a frontman with a nomme du rock (Brother Lee) and a garage rock-leaning backing band (the Leather Jackals) was more than a modest shift in expectations. It was a full-on rock & roll reinvention.

But like all good rock & roll origin stories, the mundane outstrips the myth. The band was born out of Eaker's boredom with the bass — "It's hard to play bass and write songs," Eaker says. His friendship with drummer Danny Blaies provided a rhythmic ballast against which to try out new material and a new approach.
"It started with just Danny and I at his basement at home," says Eaker. "I was just learning to play guitar and never really sang or anything. We just decided to start a band. It kind of all took off from there."
Blaies sought to accompany Eaker, but the band's slightly scuzzy approach came more from volume than intent.
"I've always been into power-playing drums," says Blaies. "Josh was doing more of a singer-songwriter type of thing. We ended up turning everything up — it had that guitar/drum sound."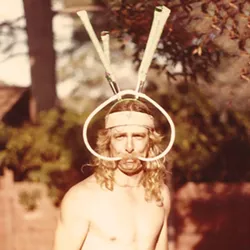 That modest start set the course for Brother Lee & the Leather Jackals. The band would expand to a five-piece for its earliest shows and recordings, complete with two guitars and a piano, though lineup shifts would lead to a core trio (with Sean Kimble on bass) for the recording of Boredom Leads to the Bottle, the band's second EP. Much of the group's quick-and-dirty style is traceable to garage rock (or some permutation of it), but across the six songs the band is able to flip among a few workable styles — country-punk, Cali stoner pop, Tex-Mex psych — while keeping focus on Eaker's pinched, passionate vocals.
The EP's title track recalls some of JEFF the Brotherhood's devil-may-care hedonism, though here the Jackals favor a loping country rumble and twangy guitar. It's a solid opening shot of cow punk by the numbers, but Eaker sells the song in a way that makes it much less a cautionary tale of day-drinking gone wrong than an invitation to the party. "Jesse James" follows suit, both in sound and content, as Eaker sings of being adopted into the outlaw's gang and taking to thieving and killing. It follows the arc of a country-flecked story song, though the deep reverb and guitar flanging give it a psychedelic twist.
As with 2014's South City Blues EP, Brother Lee & the Jackals sought "to record the record live, to translate what we sound like live," according to Eaker. To do this, the band worked with Zagk Gibbons, who has played drums with Old Capitol Square Dance Club and CaveofswordS, but who has also more recently become a go-to recording engineer.
"He was highly encouraging in what we wanted to do and how we wanted to sound," Eaker says of Gibbons. "He just kind of has a hand in a lot of stuff that's been coming out. We know Zagk from our Belleville days; we knew he would care."
The EP's longest track is also its most adventurous. "Waltz Upon a Time in Mexico" takes a dark, heady trip south of the border, with Eaker's guitar being fed through a series of Leslie-like effects to give it an unnerving doppler feel. Given the nervy but ultimately lightweight nature of the rest of the songs, which work off of bash-'em-out efficiency, "Waltz" shows unexpected heaviness.
"The writing process was a really long time in the making," says Eaker. "I had come up with several parts four or five years ago. I was living in Texas and went down to the Gulf of Mexico, and was playing songs on the beach like a bum. We kind of just tinkered with it and jammed on it for a long time. It was a warm-up jam for us, and then it evolved to what it was. There's that whole beginning part where it's all noise; Zagk encouraged us to play with our pedals and make noise."
Gibbons' influence comes up a few times in conversation, and the band has designs on working with him again soon. "We're already scheming about our next EP, which we'll hopefully start demoing out in the next few months," says Eaker.
When asked why the band favors five- and six-song EPs instead of full-length albums, drummer Blaies says that the move is reflective of the band's writing process.
"We also tend to write songs in groups; Josh does the songwriting and hooks, but we'll write a bunch of material fast, and to me they all have a feel to it," says Blaies. "I think it's a mistake to sit on your material too long. I don't like getting bored of material, so I like to write. I don't like the idea of fans or friends seeing the same show."