If you were a boxing fan in the 1970s, the sport turned into a kind of ritual, especially after Muhammad Ali's definitive 1974 triumph over George Foreman in Zaire. Every few months, you'd turn on the television, listen to the grating voice of Howard Cosell as he belittled every aspect of the scheduled events, and then sit back to watch Ali effortlessly and gracefully dismiss the latest Great White Hope. It was predictable, but often — usually — beautiful.
In the midst of this appeared a film that tried to reverse boxing's Ali-centric wave. Rocky wasn't much of a movie; people tend to forget its cartoonish, borderline-racist depiction of Ali-surrogate Apollo Creed, the quasi-autism of girlfriend Adrian, or the fact that Rocky works as an enforcer for local mobsters. What they remember is that he was an underdog who stayed in the ring despite being destined to lose, that his whole life, as the ads proclaimed, was "a million-to-one shot."
In some ways, the new film Chuck is the black-sheep twin of Rocky's Odets-style fairytale. It's the story of a real-life underdog, a barely famous boxer who (after an undisclosed settlement with Sylvester Stallone) still calls himself "The Real Rocky."
Chuck Wepner had been boxing for a decade when Ali picked him for a match (reportedly because he was the only white boxer among the top contenders). A New Jersey liquor salesman who fought on the side, Wepner's boxing style consisted of being able to take a punch to the face and remain standing. His unofficial nickname was "The Bayonne Bleeder."
Directed by Philippe Falardeau, Chuck turns Wepner's life into a likable blend of '70s nostalgia and self-deprecating confession, with the fighter, played by the underrated Liev Schreiber, retelling his story as if he can hardly believe any of it himself. It's surprisingly entertaining. Wepner coasts through it as a good-natured schlub who becomes a minor celebrity almost by accident (and for only one-fifteenth of what Ali was paid for their fight), loses family and reputation in typical '70s fashion (infidelity, cocaine), spends some time in jail and still acts like he's the luckiest man in the world.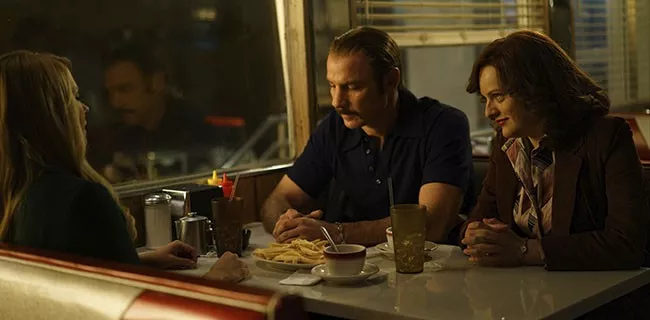 S​ARAH SHATZ. C​OURTESY OF IFC FILMS
Elisabeth Moss is excellent as Wepner's long-suffering wife.
Schreiber struts through the film with a curious charm, like a clumsy Rocky trying to be the life of the party. He's helped by a great supporting cast, topped by Elisabeth Moss as Wepner's long-suffering wife, Ron Perlman as his trainer, comedian Jim Gaffigan as the kind of eternally loyal hanger-on you'd expect Wepner to have, and, briefly but memorably, Naomi Watts as a cocky barmaid.
Although the script obviously passed through several hands, the uneven, scrapbook quality gives the film an effective weaving and galloping pace. The filmmakers make the surprising choice of putting their biggest event — the 1975 fight with Ali — in the first 30 minutes, leaving the remainder of Wepner's story, the second act whose existence F. Scott Fitzgerald so famously denied, to come as a surprise. In Wepner's case, that act is a strange parody of the first as he becomes obsessed with the Academy Award-winning film that he sees as his vindication.
The movie's best moment, the recreation of the 1975 fight, is an exercise in simplicity. Falardeau emphasizes the punch-drunk violence at the core of Wepner's sport. As Wepner narrates it, his sole skill is his ability to take a hit, and the film puts us not quite in his place but close beside it as he relishes the bonehead brutality that made his name.