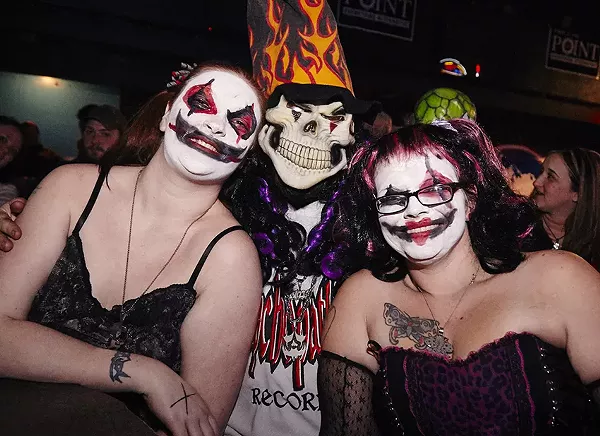 Vinnie Smith, Tammy Cunningham and Jenny Bell in their 'pre-party' make up.
NuttinXnycE rapping out the anger.
One half of the local duo Freakz "R" Us.
NuttinXnycE asking the lights to put their hands up.
An employee of F.T.I. - Fuck The Industry records.
Brad, a red-faced juggalo.
Grim was there hanging with his peeps.
Pimp on Wheels dancing through his act.
The mosh pit where the "nice" boys dance.
Juggalette Kaitlin Mason.
Kaitlin's tattoo honoring Insane Clown Posse.
Jonathon showing off his nail polish.
Krispy says "whoop whoop".
Triple Six, dancer, party host and professional badass. It says so on her card.
Patrick Cuddy is a clown with the dark carnival.
Trilogy spreading the wisdom.
Holly Nix and Mindi Morgan in their best Juggalo attire.
Juggalo MILFs (their words) Jamie and Dawn.
David Hutto from Georgia is Boondox.
Boondox croons to the audience.
Ready for a concert or a protest.
Chris Rouleau a.k.a. Blaze Ya Dead Homie.
Blaze Ya Dead Homie sidekick and backing vocals.
The crowd at Blaze Ya Dead Homie.
Blaze Ya Dead Homie in his glory.