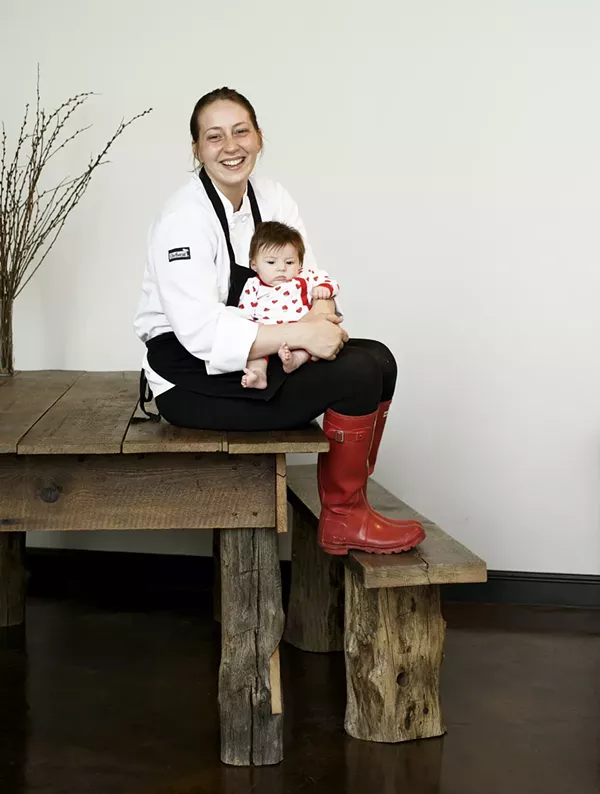 Owner of Bittersweet Bakery, Leanna Russo with her three-month-old daughter, Valentine.
Vanilla Bean Buttermilk mini-cake.
Quiche! Asparagus, white cheddar and pancetta quiche, sautéed wild mushroom and gruyere quiche and an oven roasted tomato, basil and cherve quiche. Delightful!
The Bittersweet chocolate cake is steamed chocolate moussee with dark chocolate ganache and chocolate truffles (center). From there, going clockwise, is the Banana Butter Rum Cream Pie which is made with banana cream with butter rum and caramelized banana in a salty graham cracker crust. Then, the Vanilla Bean Buttermilk mini cake and hazelnut truffles.
Leanna Russo, in the kitchen, applies the finishing touches to the Vanilla Bean Buttermilk Cake, which is moist vanilla bean cake with layers of vanilla pastry cream and is finished with a vanilla Italian buttercream.
Mini key lime cheesecakes with key lime curd.
Bittersweet owner Leanna Russo applies icing to a Vanilla Bean Buttermilk cake in the kitchen at Bittersweet.
Quiche crusts straight from the oven.
The daily lunch special on Friday (May 7, 2010) was a pasta Florentine with chicken sausage. It was served with a side salad and house-made bread.
Sweet chandeliers line the bar-height seating along the wall of windows at the front of the bakery.
Another savory breakfast option is the house-made rye bagel with smoked salmon, herbed cream cheese, onions, capers and fresh berries.
House-made lace cups, ice cream and mint!
Granola bars made fresh at Bittersweet.
As seen from above, Bittersweet is a bright spot on Gravois Avenue in South St. Louis.
The brownie and peanut butter bars. The brownie is a rich chocolate brownie with chocolate icing and chocolate curls, topped with gold dusting powder. The peanut butter bar is a crunchy shortbread crust with a rich peanut butter filling and is topped with chocolate.
Biscuits and gravy: fresh buttermilk biscuits are smothered in hot, peppery sausage gravy, made in-house and served between 6 a.m. and 11 a.m.
The counter at Bittersweet is full of display pastries and other assorted delights accompanied by labels in small potted plant placeholders she found in her grandmother's attic in Ohio.
The delightful tower of mini cakes -- Mmm, buttercream.
As seen from above, a half-wall divides the Sweet Boutique from the large kitchen behind it.
Leanna Russo, Bittersweet's owner, found these lovely little pots/holders in her grandmother's attic in back in Ohio, Russo's home state.
Bittersweet Bakery has a rustic charm. Farm tables and fresh flowers add to the comfortable and casual environment.
Granola and toffee available at the counter at Bittersweet Bakery.
The fresh flowers that adorned the tables that day.
At the counter fresh, house made treats for your pups are also available!