Behind the Scenes at the Veep Debate, St. Louis, 10/2/08
Funny guys from the Daily Show, Chris Matthews' Hardball disciples, creative campaign signs, amped up college students, protesters and of course, blood shot-eyed candidates speaking breathlessly. For 90 minutes. Also: Crusty old politicians like Joe Lieberman and Rudy Giuliani! By Nick Lucchesi.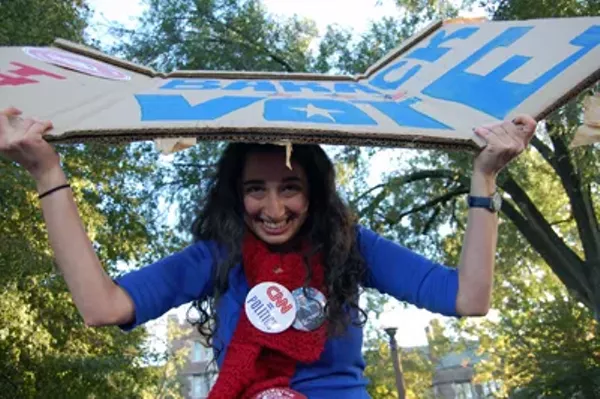 Hamming it up for "Hardball" on the Washington University campus.
Chris Matthews of "Hardball" says "wasssssssssup" to his bros on the lawn.
John Oliver of "The Daily Show" interviews someone. Hilarity ensues! No really, Oliver had a crowd following him around.
Some would say this is true. Others, not so much.
The atmosphere inside the media filing room Palined comparison the debate watch parties going on around the city of St. Louis.
Film crews were all over campus in the early evening hours.
John McCain supporters were tough to spot on the campus Thursday.
Demopublican Senator from Connecticut, Joe Lieberman: "Ehhhhhhhhhhhhhh."
Bill Ramsey of the Instead of War Coalition gets about 100 protectors ready to march up Big Bend Boulevard. Compared to the RNC and DNC this summer -- or even to the debate at Kerry vs. Bush debate at Washington University four years ago, this assembly was downright tame.
Washington University senior Electa Hare shows off her signs. From Oklahoma, she's a proud member of the Pawnee Nation.
Mayor of America Rudy Giuliani promises to work "gosh darn" into this post-debate interview answers to show solidarity with Governor Palin.
TV guys get ready for the live spot. It was a bit chilly out.
Missouri Senator Claire McCaskill.
A couple hundred Washington University students filled the Danforth Student Center.
Rock 'Em Sock 'Em Robots. This project took two Washington University students two years to complete. A fine use of their almost-Ivy League education!
Republican South Carolina Senator Lyndsey Graham had 'em laughin'.
The public was not allowed on the campus during the debate.
An anxious crowd waits for Papa Bear Matthews to make 'em laugh.