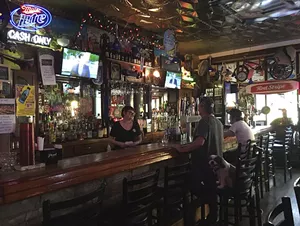 Have you ever tried to buy a PBR at happy hour in Oakland? If so you'll know a so-called "good deal" on cheap beer is a ridiculous $4. Lagunitas, brewed just a short drive to the north, goes for $7 on special.
And that's not just California inflation. In Chicago, a PBR on special is $3.75 in the diviest of dives. How do people afford their drinking habits in such a place?
Suffice it to say, we don't have these problems in St. Louis, home of the never-ending drink special. Here we don't limit affordable prices to random hours in the early afternoon or late at night. And our discounts are good enough to undercut the best bargains being offered in just about any other city.
Consider the options on just one small part of one south city street. You could bounce around a few blocks of Morgan Ford Road near Tower Grove Park and get your buzz on for less than an Andrew Jackson.
Start at Colorado Bob's Ship of Fools (3457 Morgan Ford Road, 314-772-7564) from 4-6 p.m. for a $10 bucket of domestic bottles. Mosey on down to Stella Blues (3269 Morgan Ford Road, 314-762-0144) for dollar rails and $2 domestics 'til 7 p.m. Pick up some delicious Korean pork kabobs to refuel while you're there.
End your night wobbling down to Tower Pub (3234 Morgan Ford Road, 314-771-7979). There you can drink until close. Every night Monday through Thursday has a different special to fit your boozy needs, and these deals run all night long. Monday: $2 pints. Tuesday: Flip a coin, guess it right and your drink is on the house. Wednesday: Bring your gal pals for $2 ladies night. Thursday: Practice your trivia skills and chug some $1 PBRs.
Play your cards right and you just scored ten beers for $15. Where else can you do that in the whole damn country?