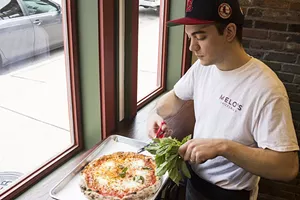 Ask any random group of diners to name the best restaurant in St. Louis and, chances are, you'll get the same three or four places. It's equally likely that every one of this select group is a fine-dining establishment. This is understandable. Not only do fine dining restaurants provide the backdrops for our most precious moments — a birthday, a graduation, a proposal — they also represent the pinnacle of the restaurant business. They are where the top chefs push us out of our comfort zones, the up-and-comers earn their chops, the food is impeccable and the service goes far beyond merely taking an order. Fine dining is about more than just food; it's about creating experiences. In that sense, the credit is not just deserved, it's earned.
But what about those other experiences? Maybe it's the joy that comes from being at a diner at 3 a.m. and biting into a greasy grilled cheese on butter-soaked Texas toast, flecked with old bacon drippings from the flat-top. Pair it with a cup of sludgy black coffee and conversation with friends, and it's as beautiful a match as foie gras and Sauternes. A dish like this, from one of the city's venerable all-night institutions, wouldn't likely make it on anyone's top ten list, yet it can bring as much joy as a five-star meal.
And it's not just the usual crop of diners or old-time doughnut shops that are spreading this edible mirth. Over the last few years, the opportunities to have a memorable culinary experience outside of white tablecloth settings have expanded in St. Louis, making us rethink what is meant by "great food." There's the thrill of discovery that comes from wandering into the quickie mart on a Saturday and finding Sabor Si (1133 Bellevue Avenue, Richmond Heights; 314-647-2696), a secret pop-up taco shack. Or the surprise that comes from discovering that the catfish and Philly cheesesteak signs outside North County Worldwide International Market (7238 N. Lindbergh Boulevard, Hazelwood; 314-731-3500) are actually a front for some of the city's best falafel. And who can say that Mrs. Kahn's lamb vindaloo at the unassuming Spice N Grill (6800 Olive Boulevard, University City; 314-721-2421) doesn't belong in the conversation about St. Louis' best dishes?
Fine dining isn't dead — it never will be. It's just no longer the end of the conversation and the only measure by which food should be judged. And more importantly, fine dining no longer has the monopoly on quality. Consider the delicious Neapolitan pies Joey Valenza is making at Melo's Pizzeria (2438 McNair Avenue Rear, 314-833-4489). You won't get a salad here, much less a sommelier, but sitting at a picnic table outside the garage where he bakes his pizzas, beer and slice in hand, you won't miss them.
Or check out what Ted Wilson and company are doing at Union Loafers (1629 Tower Grove Avenue, 314-833-6111), the fast-casual bakery and café in Botanical Heights. Wilson's naturally leavened sourdough is not just bread; it's art — good enough on its own and just as good as a canvass for former Niche chef Brian Lagerstrom's cooking. Ask any chef, and they'll speak of his baking prowess with the reverence reserved for those at the pinnacle of their craft. And to think, this edible bliss costs a few dollars and can be torn into on a park bench.
Even the city's top chefs are getting in on the casual action. Gerard Craft's Porano Pasta (634 Washington Avenue, 314-833-6414) is an exercise in seeing how gourmet a fast-casual spot can be, with its housemade products and commitment to sustainability. Kevin Nashan's Peacemaker Lobster & Crab (1831 Sidney Street, 314-772-8858) is the lively yin to Sidney Street Cafe's elegant yang, a place to enjoy some of the city's freshest seafood with as much reverence as you'd muster at a beer-fueled beach party. And some of the most exciting, innovative food being served in St. Louis right now comes from Brian Hardesty and Joel Crespo's Guerrilla Street Food (3559 Arsenal Street, 314-529-1328) brick-and-mortar, a gig Hardesty came to after years in white tablecloth ventures.
But what's equally exciting is that you don't need these chefs' pedigree to knock it out of the park. Outstanding food these days often comes courtesy of unknown cooks at unexpected, low-key places —and as they democratize our vibrant restaurant landscape, they show us that there is more than one way to define "fine" dining.