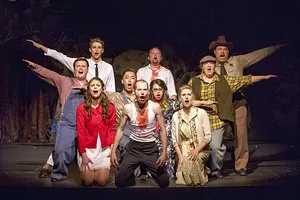 Officially, St. Louis has two seasons: baseball and no-baseball. But there is a third season that remains somewhat hidden because it suffuses those other two. St. Louis is blessed with a superabundance of theater, and the season for it wraps around the calendar, never-ending and always beginning.
You're likely reading this at the end of September. If you hurried, you could buy tickets for the West End Players Guild's 106th season-opener, Tom Stoppard's Arcadia, on September 30. Next week you could be watching St. Louis Shakespeare perform Macbeth, or the world premiere of Maya Arad Yasur's Suspended at Upstream Theater's first show of its twelfth season. (Or you could see both. Definitely see both.) Stray Dog Theatre opens its new season a week or two later with The Rocky Horror Show, just in time for Halloween.
"Sure," you think. "It's fall and a lot of companies start their seasons then." But you can pick any month at random and find a show to see. Let's take February — there's nothing going on February, right?
Boom: To Kill a Mockingbird at the Repertory Theatre St. Louis. A Doll's House, Stray Dog again. Mustard Seed Theatre has a production of Yasmina's Necklace that starts in late January and carries over through the middle of February — that's a two-fer. That's how easy it is to find a show in this town.
I see more than 40 plays a year, and I never leave St. Louis. Mostly I never leave because there's always a play to see, so trust me on this: You can find something amazing and affordable on a stage in St. Louis almost every weekend of the year. Even at Christmas — The Rep runs its production of A Christmas Carol through 2 p.m. on December 24.
There's always going to be the odd weekend that has no shows (New Year's Eve for one), but there are no major gaps. When the companies that start now wind down in April or May, here come the boys of summer: Stages and the Muny both take the stage in June, St. Louis Actors' Studio breaks out the LaBute New Theater Festival in July and New Line Theatre ends its 26th year in August with the musical revue Out on Broadway: the Third Coming. That's eleven months and roughly 50 shows in my future — and it could be your future, too. Think about it. – Paul Friswold