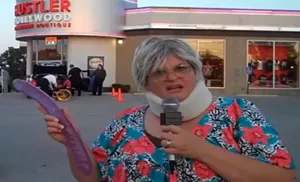 Carla was pissed. Some gal working the counter at the McDonald's on Dorsett Road was giving her lip. Carla didn't want lip, she wanted a McRib sandwich, along with a second McRib for the promotional price of one dollar.
And now this "Charlene" was saying she looked like a person who didn't need the extra McRib?
"McScuse me, bitch?" Carla raged, recounting the interaction as she filmed herself from the McDonald's parking lot. A large woman in a purple Minnie Mouse T-shirt, Carla's hairstyle was an ill-advised combination of mullet and bouffant that appeared to have been blow-dried by a jet engine. She spoke with a clipped Missouri drawl. She held her phone in one hand and a lit cigarette in the other.
The video, "Woman Rages Over Extra McRib," went viral almost immediately, though many didn't immediately realize that "Carla" was in fact a character dreamed up by Maryland Heights comedian Libbie Higgins. Millions watched and shared the clip, gleefully quoting her indignant demands that viewers find Charlene and "tell her Carla sent ya, and then you throat-punch her or punch her in the cooter!"
Higgins' character work has made her one of the most sought-after comics in the region. Since "Carla" visited McDonald's in November 2015, Higgins has developed the persona in videos uploaded to her YouTube channel, racking up hundreds of thousands more views.
Her path to comedy notoriety didn't begin in a club, though she's now a regular at comedy shows around St. Louis. A special education teacher, Higgins got her start in 2007 by video-blogging and trolling, creating characters and scenes simply to generate laughs online.
That's how Higgins became "Aunt Claudette," a church lady who wears a bedazzled neck brace and lusts after Donnie Wahlberg and the New Kids on the Block. Acting as an on-the-scene reporter, Aunt Claudette has also exposed Target's lack of plus-size clothing, claimed to be Justin Bieber's aunt and even waved a floppy purple "dilder" at Larry Flynt during the Hustler publisher's visit to St. Louis.
Higgins' devotion to her roles has taken her far beyond YouTube, and her love for New Kids on the Block hasn't gone unnoticed. She's been featured on the TV show Rock the Boat, which chronicles the band's performances on a cruise ship. At a recent NKOTB concert, she was invited to introduce the group — as Aunt Claudette — before thousands of screaming fans.
Already an accomplished viral hitmaker, Higgins seems to be barely scratching the surface of her comedy chops. For this funny lady, the sky is the McLimit.