Feminism — or women's lib, as it was more commonly known at the time — was still little more than material for late-night jokes in 1973, when the 29-year-old tennis player Billie Jean King accepted Bobby Riggs' challenge to a "Battle of the Sexes." Then the nation's highest paid female athlete, King was a strong advocate for equalizing the standing (and pay) across genders, even risking the disapproval of the tennis establishment by helping to create the first women's tour, the Virginia Slims (named after its sponsor, the then-new cigarette for women). Riggs, a champion in the late '40s, was semi-retired and hungry for publicity. Fueled by his deliberately provocative misogyny, his challenge that he could beat any woman player was seen as a blatant publicity stunt. When Australia's Margaret Court accepted Riggs' dare and was soundly defeated, King saw that it was also a serious threat to the future of women's tennis.
The 1973 Battle of the Sexes tennis match was one of those unique moments when a half-dozen or so cultural threads — generational conflicts, the intertwined worlds of professional sports and mass media, the narcissistic zeitgeist that Tom Wolfe would later define as "the 'Me' Decade" — intersected in one giant TV-friendly event. Was it just a corporate-sponsored serving of bread and circuses for the viewers at home, or did the match carry hidden traces of a wider social revolution?
PHOTO BY MELINDA SUE GORDON. ​© 2017​ TWENTIETH CENTURY FOX FILM CORPORATION
King (portrayed by Emma Stone) helped to create the first women's tour, the Virginia Slims.
Jonathan Dayton and Valerie Faris' Battle of the Sexes, a comic but accurate recreation of the match and (with a little more license) its participants, makes a strong case for the latter, supported by the benefit of 44 years of hindsight and, perhaps of greater necessity, a strong eye for the absurd.
Although the King-Riggs match dominates the final 30 minutes or so — exactly what you would expect from a sports movie — most of the film is devoted to the more emotionally complex story of King's activism and her conflicted sexual identity. While the real King was already involved in a relationship with her female secretary at the time (she wouldn't come out publicly until 1981), the film offers a more romanticized account of the married athlete falling for a hairdresser. Their first meeting turns a routine salon visit into a kind of playful seduction. This narrative may be purely fictional, but its intentions — showing the pressures of life as a closeted celebrity, especially one emblematic of women's issues — seem legitimate. As King, Emma Stone suggests a genuine internal struggle at odds with her character's cockier public image, while Andrea Riseborough, as the object of her troubled affections, is her free-spirited polar opposite.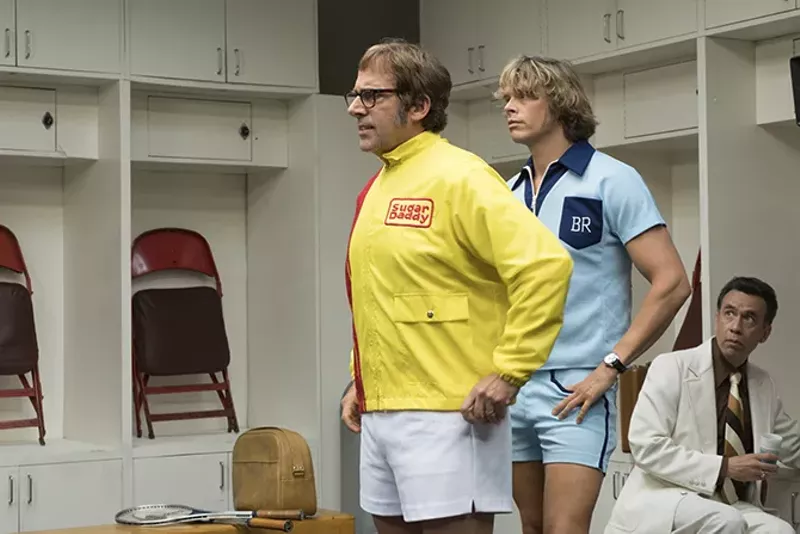 PHOTO BY MELINDA SUE GORDON. ​© 2017​ TWENTIETH CENTURY FOX FILM CORPORATION
Carell plays Riggs as a hustler so wrapped up in his game that there's no guilt, no hesitation and no shame.
As Riggs, whose marital problems and gambling addiction create a counterpoint to King's more sober concerns, Steve Carell again displays an uninhibited genius for playing neurotic, unstable figures. He plays Riggs as a hustler so wrapped up in his game that there's no guilt, no hesitation and no shame — just the drive for the next paycheck. (Curiously, he comes off as much more likable than the abrasive Riggs I recall from TV appearances.) His best moments find subtle humor in his subject's worst characteristics, as when he loudly disrupts a Gamblers Anonymous meeting.
Directors Dayton and Faris are probably best-known for their 2006 film Little Miss Sunshine, a pleasant but not particularly memorable outing that hit a lot of satirical subjects but maintained a level of wholesome optimism worthy of its title. Battle of the Sexes benefits from that same scatter-shot approach. While Simon Beaufoy's script takes a few liberties with the facts before it gets there, the Battle itself is recreated with an uncanny verisimilitude even as it finds ironic nuances in the historical material. (Howard Cosell, one of the most divisive figures in sports culture at the time, becomes a welcome Greek chorus in the finale, although there's something both familiar and creepy about watching his image interacting with actress Natalie Morales, like observing a slightly aggressive party guest who's had a few too many.)
While many filmmakers find it easy to sneer at the recent past with a kind of bitter nostalgia, Dayton and Faris treat the historical details with something close to fondness and leave the satiric thrusts in the hands of their cast (Alan Cumming, Sarah Silverman and Elizabeth Shue work wonders with supporting roles). While the film makes no compromises in laying bare casual sexism or endorsing King's commitment, there's nothing mean-spirited about it, no cheap shots taken. Even the designated chauvinist pigs (Bill Pullman is especially good as King's nemesis, the head of the Association of Tennis Professionals) are seen as the slightly helpless victims of their time, the last remnants of a slowly eroding cultural position. Battle of the Sexes tells the story of King vs. Riggs without bitterness or excess, but through its light, almost sweet tone, it reveals how a slightly ridiculous media event helped open the path for real cultural change.