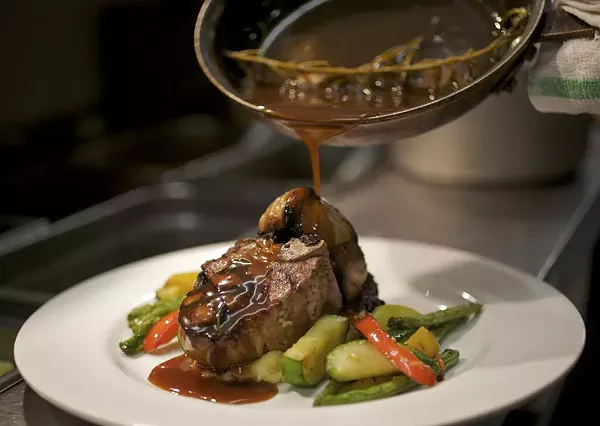 Executive Chef John Buchanan pouring the rosemary herb demi onto the lamb porterhouse as he plates the entrée.
Executive Chef John Buchanan. I was tempted to yell, "Opa!" But that would be inappropriate.
Beth S. Williams, owner of Table Three, meets with her staff in a side dining room before opening on a recent Saturday night.
Owner of Table Three, Beth S. Williams, takes a small break form the pre-opening chaos to enjoy a little vino.
Beth S. Williams, owner of Table Three in Wildwood, does all the design and décor in this, now her third restaurant in the area.
Executive Chef John Buchanan's lamb porterhouse on the grill. He tells me it's a very original cut of meat. He likes taking a classic dish and making it more contemporary.
Executive Chef John Buchanan checking on his soups and sauces before the evening crowd arrives.
The main dining room at Table Three in a newly constructed shopping district in Wildwood. Take note -- you might want to update your GPS before taking this jaunt out west! (ie… learn from my mistake…)
Crab Cake Three: three pan-seared crabmeat cakes, citrus slaw and roasted garlic aioli. Shown here with a complementary white.
T3 Tenderloin Salad is grilled tenderloin medallion (three of them, of course!), baked goat cheese croustade, grape tomatoes, shaved red onions, blue cheese field greens and bleu cheese vinaigrette.
The charming and warm décor of Williams' design. She opened Table Three six months ago and reports that they had a great summer.
Table Three, Williams' third endeavor, comes after Cuisine D'Art, previously of Eureka and still of Creve Coeur. Cuisine D'Art is open for lunch only, and is also the location where she runs her catering business.
Williams tells us she opened Table Three in Wildwood, where she is able "to create a restaurant and a community; to be an anchor in the neighborhood." She lives very close to the location and believes that her customers appreciate that she's an independent operator and is a part of the community. She even tries to be on-site at the restaurant everyday.
Table Three is open for lunch and dinner.
Another example of Beth's style that comes through in the restaurant's décor.
The restaurant's rich, warm, enveloping colors were a welcome reprieve from early January's bitter cold.
Busy in the kitchen are, on right, grill cook Darren Muse and, on left, sauté cook Lukas Lorance.
The final product -- the lamb porterhouse is two (not three) grilled, six-ounce lamb porterhouse steaks, rosemary herb demi, roasted garlic Yukon mashers.
It's all in the details….