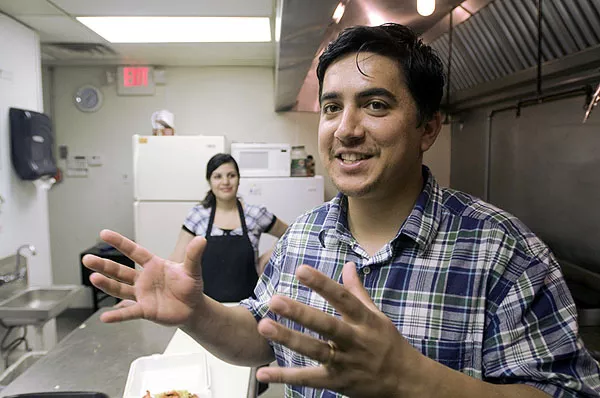 Owners Kahled (foreground) and Tamana Nagshbandi. Kahled is quite the storyteller -- during the shoot he regaled me with stories of his past and his extended family that still live in Kabul, Afghanistan. His father had been a police officer in Afghanistan for 25 years, however his family fled to Russia because of the Taliban, and then later cam e to the United States.
Along side the chicken are grilled tomatoes for the dish. The chicken kabob is then served with white basmati rice.
South Grand Gyro Express is located at 5622 South Grand Boulevard near Carondelet Park.
Kahled and Tamana put together three Special Gyro Sandwiches.
Once hot enough, Kahled slices the meat off the spit and brings it to the stove to sauté with onions in his secret sauce.
Tamana and Kahled in the kitchen at South Grand Gyro Express. They are open seven days a week. During the days it's just them, in the afternoon, after school, they have one employee (a high school student) who comes in to lend a hand. Being eight months pregnant doesn't seem to have slowed Tamana down too much.
After all that food and conversation, it was time for dessert. The homemade Baklava, drizzled with a chocolate sauce.
One of the appetizer favorites is the eggplant. It is cooked with fresh tomato and Afghani seasoning and served with pita bread.
Preparing some kabobs… This is the chicken for the chicken kabaob entrée. The chicken is prepared in an Afghani marinade with Spices.
Tamana warms the pitas on the stove. It is the final step before constructing the first entrée on the menu, the Special Gyro Sandwich. Tamana's story is not so different from Kahled's: Her father had been a journalist in Afghanistan and her mother was a teacher of literature. Like Kahled's family, he took his family to Russia via Pakistan and Tajikistan to flee the Taliban, before eventually coming to the United States.
The beef/lamb gyro meat on a spit in the electric broiler. In a few minutes, it will be hot and ready for the next step.
The gyro meat cooking in the electric broiler. It glows as the meat begins to heat.
The gyros are made with pita bread stuffed with mixed lamb and beef cooked with onion, special lamb sauce, fresh lettuce, cucumber and tomato.
Kahled wanted to show off one of the more "exotic" ingredients in his kitchen. This is a black lemon. It is a dried lemon, but the lemon, he reports, is unlike the lemon found in the United States. It is more commonly used in Middle Eastern foods.
Owners Kahled and Tamana Nagshbandi are both natives of Afghanistan. They met in St. Louis, got married in 2007 and are expecting their first child next month.
Kahled with his chicken kabobs.