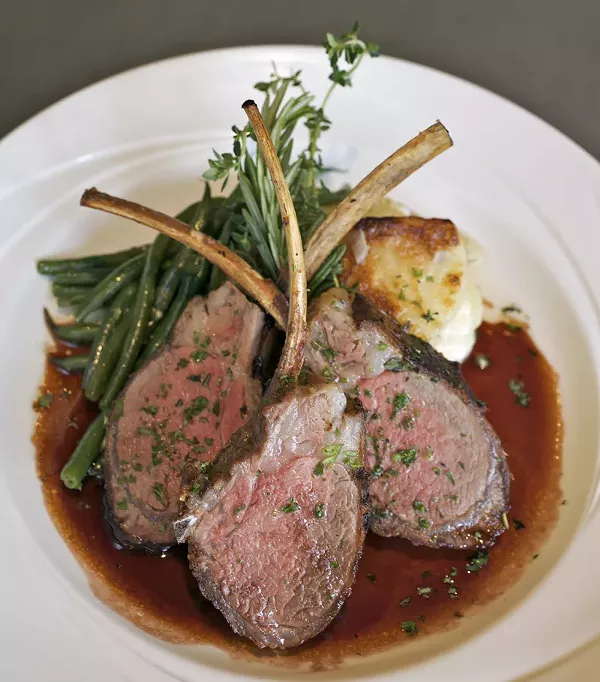 Carré d'agneau au thym, is an entrée at Chez Leon. It is rack of Colorado lamb, dauphinois potatoes and is served with a thyme port sauce.
Chef de Cuisine, Colby Erhart, doing his thing in the kitchen at Chez Leon.
Éclair chez Leon. Really, what more need be said?
In the kitchen hangs a sign to remind all who enter that "the chef is always right."
Another appetizer, les ris de veau âux capers, is veal sweetbreads with capers.
The Ricard Anisette is a vintage pastis that sits at the bar. A pastis is a water pitcher that is served alongside a bottle of Ricard.
The two placards on the wall that divides the bar from the main dining room. The top sign is a vintage piece from a Paris subway from the turn of the last century, and translates to "please give way to the severely invalid." While the placard below it states, simply, "no spitting."
A painting of the French Flag "flies" above the bar at Chez Leon, now in Clayton, Missouri.
The impressive looking crème brûlée served at Chez Leon.
Truite âux amandes is golden Idaho trout with haricots verts, braised red cabbage and rice pilaf.
Gâteau au chocolat français is a warm chocolate cake served with vanilla bean ice cream and fresh raspberries.
Upon entering Chez Leon, a large plume of orchids sitting on the host table greets each customer.
The lounge area in the front of the restaurant chaise lounge and all.
The main dining room at Chez Leon, once in the Central West End in the spot now occupied by Brasserie by Niche, now finds its home in downtown Clayton.
Another view of the main dining room at Chez Leon, which is owned by Leon Bierbaum.
Escargots bouguigonne, snails in garlic and fennel butter, an appetizer at Chez Leon.
Chez Leon owner, Leon Bierbaum, checking in with his guests, making sure their dining needs are being met.
Server David Stiffelman bringing a bottle of wine to a table in the main dining room of Chez Leon.