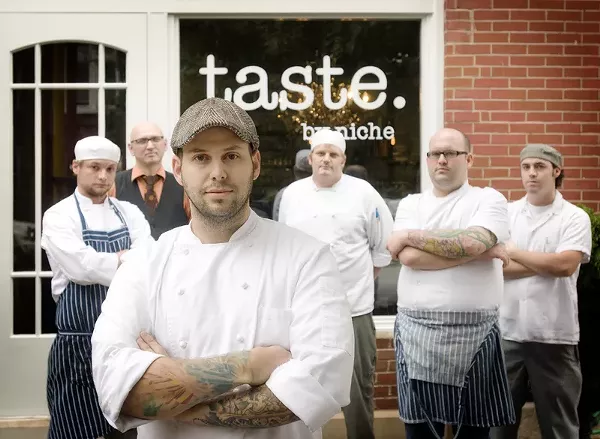 The Taste by Niche crew, starting in front, going clockwise, owner/chef Gerard Craft, chef de cuisine Adam Altnether, mixologist Ted Kilgore, cook Nick Blue, pastry chef Mathew Rice and sous chef James Peisker.
Taste is an intimate space with one long table and a bar, where they opted for school stools to match the pig-themed chalkboard. It is open until 12:30 am with offerings of small plates, sweets and cocktails.
The table settings at Taste are simple. Here, linen-striped napkins sit on on a rustic wood table.
The charcuterie small plate is heart salami, Hungarian salami, saddle ham and Saucisson Sec – all house-made with meat from supplied from Farrar Farms in Frohna, Missouri and served with mustard and pickle.
The ricotta and pickled beet small plate with ricotta made in-house from raw milk supplied by Greenwood Farms in Newburg, Missouri. The beets, arugula and thyme are sourced from St. Isidore Farms (pickling done in-house) in Moscow, Mills, Missouri.
The octopus and potato small plate is shown with a Blood & Samurai cocktail. The Blood & Samurai is made with Japanese whiskey, cherry Heering, sweet vermouth and orange juice.
Spicy pork meatballs are plated in cast iron dishes to complement the rustic/schoolhouse environs of Taste.
The mixologists's lab: The subway-tiled room and rustic décor are the backdrop for mixologist Ted Kilgore to work his magic. And here are his supplies.
Mixologist Ted Kilgore's handiwork: starting from front, going clockwise, is the Sidney Street Sabbatical (rye, cherry, benedictine, bitters, vermouth), Violet Bick (old tom gin, creme de violettte, lemon, egg whites) and Keep Your Cool (gin, aperol, lime, cucumber, maraschino.)
Tools of the trade: The mixologist's station, stirrers included.
Kilgore can add specific flavors to his cocktails with the array of Bob's Bitters, found on the bar at Taste.
Toothpicks add a splash of color to Kilgore's creations.
The menu is often changing and therefore reprinted a few times a week.
Simply-set tables greet diners when they arrive in the Benton Park restaurant.
The chalkboard wait list, located by the front door of Taste.
The immersion circulator got its start in science labs, but was later brought into the kitchen as a way to evenly cook and maintain exact temperatures by placing vacuum-sealed food in a water bath at an exact and desired temperature. This process is called "sous-vide," which means, "under vacuum." In addition to its precision, chef Gerard Craft also likes it for its space-saving dimensions.
Food is prepared in tight quarters at Taste. Here, Chef Gerard Craft (left) is working with sous chef James Peisker in Taste's "kitchen."
Mathew Rice, pastry chef for both Niche and Taste, created these peanut butter whoopie pies.
Whoopie pies are not a regular menu item, but were a specialty during this visit.
Menu regulars in the "sweets" section are these "pigwiches." Two cream filled pig-shaped treats, with pink icing-curls for tails.