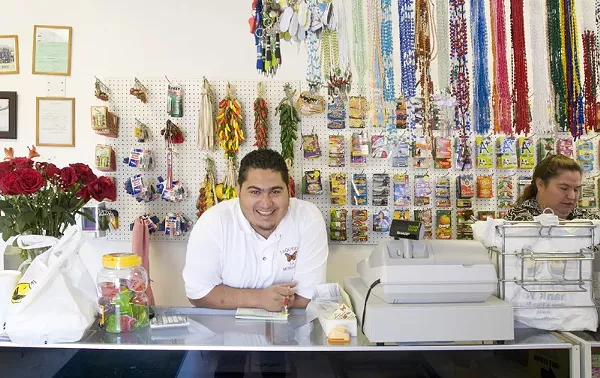 The friendly 24-year-old, Jose Coronel, seems to be the man-in-charge at this family owned taqueria.
Jose in the kitchen with Vivian Acatecas. Menudo is stewing on the stove-top.
Close-up of the menudo, which is a traditional Mexican soup made with tripe.
Deep-fried tortillas. These tortillas were being prepared for an order of sopes de carne.
Jose chopping piles of cilantro, preparing for the day's customers.
The sopes de carne, in this case, pollo, or chicken, was the meat of choice. The fried tortillas are topped with beans, lettuce, chicken, cilantro, onions, cheese and sour cream.
The fabulous Mexican rice drink, aguas de horchata.
Tamales. Three pork tamales, served with rice and cheese-topped beans.
The beloved Mexican favorite, plato de menudo. Which is served with tortillas, cilantro and onions.
Shrimp cocktail, or cóctel de camarón, as always, served with saltines.
Jose in the kitchen with his sister, Jessica, in the front of the house making sure everything is running smoothly.
The Coronel Coss family, Jessica, Jose, mother, Irma and father, Francisco. Irma and Francisco, along with their children, emigrated to the U.S. in 1998 from Ciudad Hidalgo, Michoacán, Mexico.
The adjoining market, or tienda, offers a fairly common (to a Mexican Market, that is) array of items. Piñatas, canned goods, brooms, etc…
Here is a row comprised mostly of canned beans and cowboy boots.
The essential pile of Stetsons and blankets. Any good charro, or cowboy, would be happy to see this.
Votive candles for every cause and concern.
Jose, out of the kitchen and manning the registers in the store.
Irma behind the counter in the tienda half of the building.