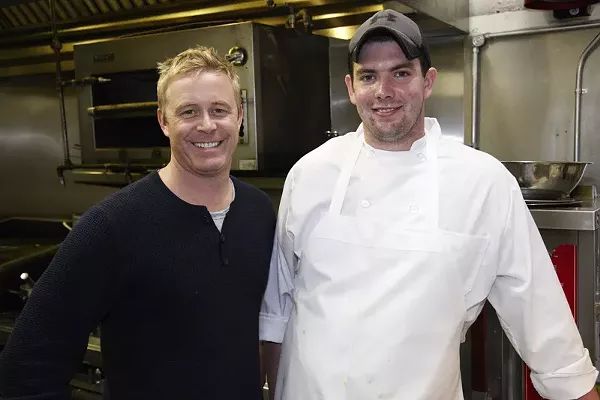 Owner Luke Reynolds and Molly's Head Chef Mike.
Beef Burgundy in raw form.
Head Chef Mike basting the meat for Beef Burgundy.
Missouri raised Berkeley Pork is seared before baking for the Newman pork chop.
Barley Risotto and roasted root veggies make the bed of Molly's Beef Burgundy.
Julio frying a chicken breast.
Chef Mike preparing a Berkeley pork chop with seasoning.
Searing the pork chop before baking.
Newman pork chop before baking in Molly's oven.
Mustard greens and butternut squash for the Newman pork chop.
Molly's Club Sandwich and fries.
Chefs Mike and Julio performing their art in Molly's kitchen.
Rich showing off one of Molly's sandwiches.
Mike cooking up the veggies for the Newman pork chop.
Julio putting the mustard on a chicken sandwich.
Mike and Julio plating the Beef Burgundy.
Molly's Newman pork chop with mustard greens and butternut squash
Mike places dishes in the window.
Chef Mike and the Beef Burgundy.
Molly's Beef Burgundy over barley risotto and roasted root veggie.
The beignets, light fluffy dough, of Molly's Banana Foster Beignets.
Cooking the bananas for the Foster Beignets.
What's a Banana Foster Beignet without the powdered sugar?
The Banana Foster Beignets of Molly's.