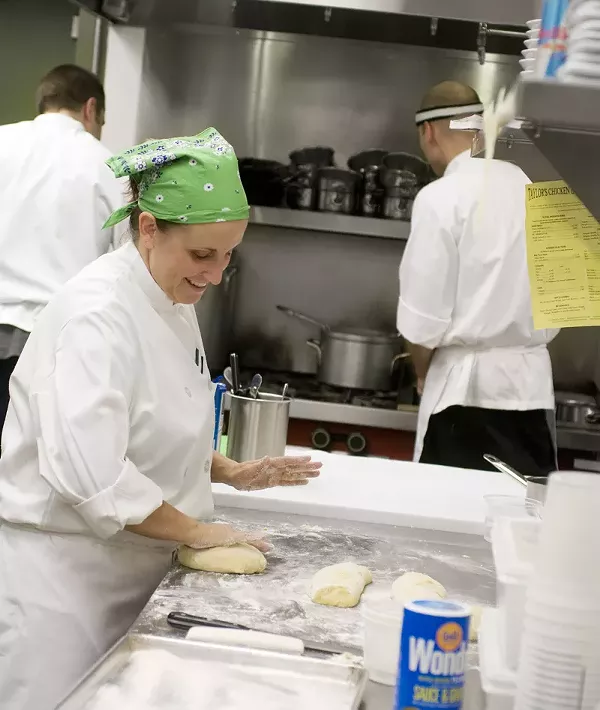 Owner/chef Amy Zupanci making gnocci. Zupanci tries to use not only the freshest of ingredients but also makes everything she can from scratch. From the gnocci seen here to the mustards she uses.
Fresh, made in-house foccacia bread.
Zupanci says that gnocci actually means pillow in Italian.
Sous/pastry chef Sean Harmon plating the wild striped bass.
Sous/pastry chef Sean Harmon takes a very quick break from his kitchen duties to pose for a pic.
Restaurant manager Stephen Cox joined the Fond crew six months ago. Behind him is server Bart Fanter. It seems to be a pretty tight-knit group here at Fond.
A lemongrass elixir, which is lemongrass simple syrup, muddled lemons, fresh squeezed oranges and club soda. Here it's offered by bartender Charles Butler, who has been with Fond for three months.
Fond opened in October 2008 in downtown Edwardsville, Illinois. The space was formerly a children's store, but has since been transformed, with as much reclaimed parts as possible, into what is now, Fond.
When remodeling, owner/chef Amy Zupanci says she attempted to be as low-impact as possible, from reclaimed wood she found in the basement to the bamboo flooring she chose for the restaurant floor.
Tabletop details appear to be seasonal decisions. There were also gourds, freshly picked flowers and other vegetables alongside the candles bringing light to the dimly lit environs.
Tables topped with fresh flowers in the bar area.
Fresh produce from local farmers is not limited to the kitchen. They also make for a lovely décor.
Farm fresh is the way to go at Fond. The eggs had just arrived that morning from a coop.
The radish amuse-bouche, a twist on the French classic, still in the pan.
The amuse-bouche, plated and ready to go. A simple, French inspired treat.
Cook Kyle Mareing preparing the wild striped bass.
The final touches to the bass are made before two lucky diners get the pleasure.
Things move pretty quickly in the kitchen A salad makes it way out to customers as the in-kitchen bustle continues.
Salt-crusted beef cooks in the steam from the butter.
The salt-crusted beef being plated. It is served with arugula, egg yolk, black pepper vinaigrette and cracker.
The plates being put together for the Pork Loin entrée.
Here it is, the pork loin. It is served with braised cabbage, sweet potato puree and bacon cream sauce.
The Wild Striped bass is served with spinach, ratatouille, romesco and crispy torpedo onion.
Butternut Squash risotto is served with red wine reduction, sunchokes, Chioggia beets and Parmesan tuile.