It's fitting that my first visit to the revamped version of the Libertine was the day after Trevor Noah's Daily Show debut. After all, the restaurant's former chef, Josh Galliano, was our culinary voice, our master of Southern cooking, and in many ways, our food dad. And now it feels like the family has a new stepfather.
His name is Matt Bessler.
It's debatable who has the least enviable position: Is it Noah, who took over an anchor chair so formed to Jon Stewart's derriere that it's nearly impossible to imagine the Daily Show without him? Or is it Bessler, the former Schlafly Bottleworks executive chef who was tapped to take over the "kitchen that Josh built" this past June? While not an owner, Galliano had become synonymous with the Libertine: the fried-chicken Sundays, the "Crispy Pig Tails," that housemade Cheez-Whiz. His departure sent shock waves through the city's dining community when the news broke that he would be leaving the restaurant to work for Companion Bakery. Then his sous chef Josh Poletti left, followed by front-of-house managers Nate and Victoria Weber. How could the Libertine stay the same amid so much change?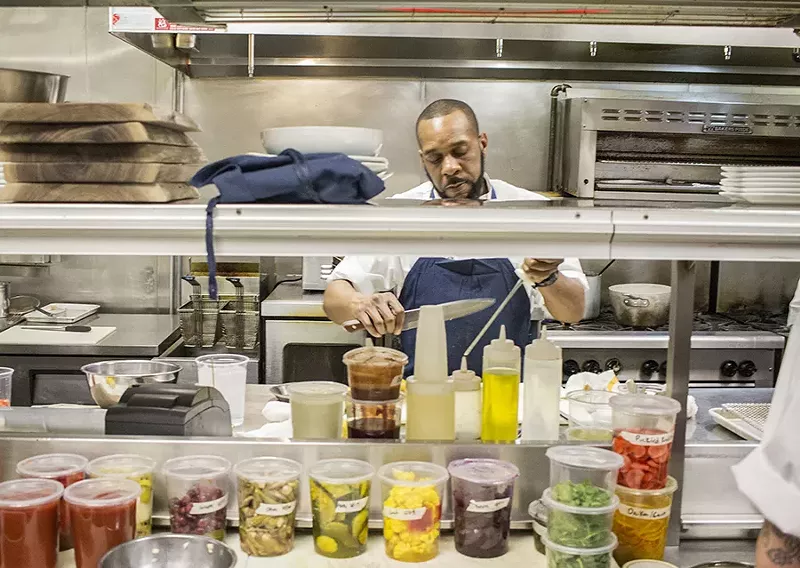 Mabel Suen
In the kitchen at the Libertine.
It couldn't, which is exactly how Bessler decided to approach his new gig. When owner Nick Luedde reached out to him about the position, the long-time friends sat down over (at least) a case of beer and brainstormed a new direction for the Libertine. No one could do Galliano better than Galliano, so they decided not to try. Instead, the pair scrapped the entire menu (except for the "Diner Burger," our pick for Best Burger in this year's Best Of St. Louis issue) and started over, as if they were opening a new restaurant.
Under Bessler, the Libertine has tilted away from the southern United States and toward the Mediterranean. It's not an Italian menu per se, but the number of Italian-inspired dishes sprinkled among seasonal American items hints at Bessler's influences. Roman arancini, for instance, are a well-executed interpretation of the classic rice dish. Two mammoth Arborio balls, filled with fresh mozzarella cheese, are coated in breadcrumbs and deep-fried to a crisp, golden brown. The accompanying tomato-basil sugo, or sauce, is so rich and tangy it would make nonna proud.
(I have interacted professionally with Nick and Audra Luedde on numerous occasions, and they were aware of my presence on my first visit. On a subsequent visit, I went unnoticed.)
Mabel Suen
"Short Rib & Bone Marrow" with Medjool-date jam, frisee and Doublestar apple salad.
For the "Tableside Polenta" our server arrived with a wooden board and two stainless-steel pots: one filled with steaming-hot mascarpone-laced polenta and the other with "Audra's Ragu." She placed the board on the table and spread it with polenta — as the velvety mixture cooled, it solidified to a pillow-soft consistency that was more like delicate pizza dough than grits. Then she smothered it with the ragu, an old family recipe that Audra Luedde keeps as closely guarded as the Coca-Cola formula.
Calling it a "sauce" does not quite do it justice; the ragu is about a one-to-one meat-to-tomato ratio. Bison meatballs, fork-tender short ribs and salsiccia simmer in a pool of crushed plum tomatoes for what must be an eternity, resulting in a sweet, meaty nectar as rich as pot-roast gravy. This is the best addition to the Libertine's menu.
Mabel Suen
"Duck & Pie": Such & Such Farms' barrel-aged maple syrup glazed duck confit legs, pulled duck confit and savory apple pie.
It's not the only great one, however. As if roasted bone marrow weren't decadent enough, here Bessler tops it with braised short ribs and Medjool date jam. The effect is as rich as slathering a rib eye with butter and preserves, but the accompanying frisée and red-apple salad provides necessary brightness. To add to the debauchery, diners are encouraged to order shots (Cognac seems to be the most popular) and repurpose the halved beef bones as a liquor luge. The Libertine certainly did not lose its sense of humor.
I had assumed the "Libertine Poutine" would be equally decadent, but I found myself wanting more. Rich foie gras gravy, peas and garlic cheese curds covered a generous portion of housemade fries. Perhaps spoiled by the gluttony induced by the previous dishes, I expected the potatoes to be drenched; instead, the toppings covered only about a third of the plate. I thought I'd need a fork, but I ended up eating the fries with my hands.
Like the first courses, entreés at the Libertine run the gamut between rustic American and Italian fare. The "Duck and Pie," a recent fall-inspired menu addition, is like a deconstructed pot pie-meets-chicken wings. Crispy maple-glazed duck legs are served alongside a warm apple and cheddar cheese pie sprinkled with duck confit. I'm not sure how a dish could more perfectly represent a season than this.
The "Aqua Pazza," meanwhile, was more evocative of summer on the Bay of Naples. An olive-oil-poached red snapper filet sits in a bowl of delicate tomato broth. Tart blistered tomatoes, shaved garlic and a few chile threads are gloriously mouth-puckering. A small fennel frond subtly infused the dish with anise. It was simple and perfect.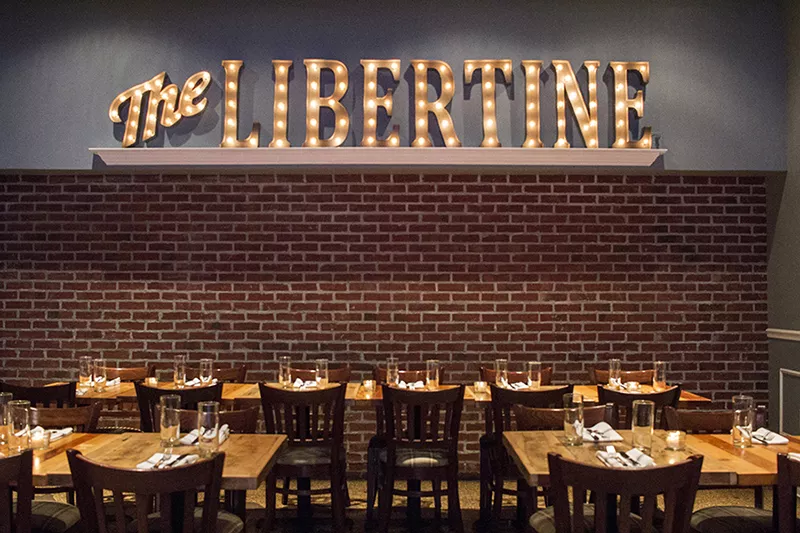 Mabel Suen
Inside the Libertine.
Trout is presented saltimbocca style. The filleted, skin-on fish is wrapped in prosciutto and sage leaves, dressed with olive oil, lemon and herbs, and then cooked "al cartoccio" (more commonly seen in French as "en papillote," the term means "cooked in paper"). The fish arrives at the table wrapped up like a package — the server pierces the paper tableside releasing an aromatic plume of steam and revealing the remarkably moist fish.
And the Libertine's riff on carbonara may be the best in town. Instead of the usual hunks of pancetta, a delicious cacio e pepe linguini is topped with four large pieces of sumptuous pork belly.
Desserts are no less decadent. Bessler uses bacon challah bread and waffles drenched in maple custard for his maple-bacon bread pudding. Apple-butter ice cream melts over the top and mingles with the custard to form a rich sauce. He garnishes the plate with two pieces of praline bacon — they're basically pork lollipops, meant to be used as dipping sticks for the gooey pudding.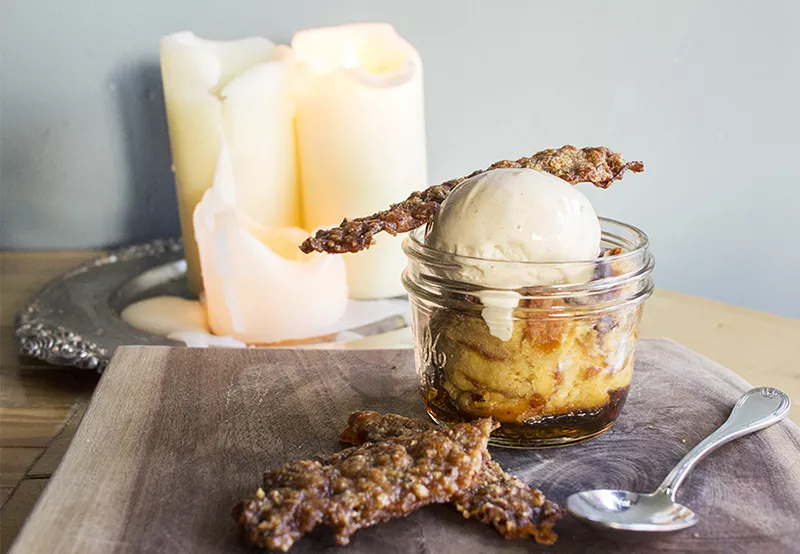 Mabel Suen
Maple-bacon bread pudding with a sugar waffle, bacon challah, maple custard and housemade apple-butter ice cream.
Then there are the "Peaches & Cream" beignets — basically the richest doughnuts known to man. They're huge — the size of baseballs — and filled with cream cheese and blackberries. But of course a cream-cheese-filled beignet isn't enough. Bessler serves them swimming in a bowl of peaches and bourbon, crowning them with crème fraîche ice cream and basil sorbet. The sorbet was overkill, though I was too focused on the beignets to pay anything else much attention. Perhaps that is Bessler's plan: to throw folks into such a stupor of decadence they're too dizzy to focus on Galliano.
But we can't forget him. Much like when Stewart announced his departure, many in the St. Louis food and beverage community began writing the Libertine's obituary when Galliano left. And much like Noah, many (though they would never admit it publicly) were assured that his virtually unknown replacement was destined for failure before his first plate left the kitchen. Bessler isn't Galliano — after all, Galliano is a James Beard nominated, Food & Wine award winning chef. He's a veteran of Commander's Palace, for God's sake. There's no one in town who can top that résumé.
And under Bessler's direction, the Libertine is no longer an envelope-pushing Galliano theme park. But that's OK. The food coming out of his kitchen is still good enough to give us our moments of Zen.