For a glimpse of St. Louis' future, pay a visit to the Cortex district, located in a once-quiet neighborhood between Washington and Saint Louis universities.
You will find it in a low, red-brick building at the corner of Sarah Street and Forest Park Avenue. Inside, on the first floor, is an open floor area filled with tables and expensive office chairs, young people huddled in conversation or staring raptly at laptops.
Welcome to the Cambridge Innovation Center co-working space, or, as its founders like to call it, the region's "largest innovation hub."
Here is where aspiring entrepreneurs can find room to work in temporary offices and labs. It's also where ideas and ambitions collide. Where smart people meet, hang out, trade ideas, network. And where maybe — just maybe — they will launch that next billion-dollar business.
And that is what Derek Mays, 48, wants for his fledgling company. But unlike the other entrepreneurs toiling away at CIC, Mays envisions his company's future flourishing not via pixels, algorithms and fiber-optic lines, but through plants. Well, one family of plants, really.
Mays sees the pathway to riches — as well as the creation of much-needed jobs in St. Louis' neglected neighborhoods — following along the buds, nodes and leaves of a family of plants that humans have cultivated, harvested, smoked, cooked with, outlawed at various points and in various places either demonized and exalted, not to mention used in a myriad of therapeutic and enjoyable ways, for at least 10,000 years.
Mays, an intellectual property lawyer and compliance attorney, is founder and CEO of REAL Cannabis Co., which is set to apply for licenses for at least one medical cannabis processing center and several dispensaries, with plans to locate facilities in Midtown St. Louis and north St. Louis County.
Setting up shop in Cortex makes a lot of sense, says Mays, because Missouri's medical cannabis industry is a startup just like its high-tech counterparts.
"With this environment, it just encourages creativity and a thought process that is conducive to our team," Mays says. "We just feed off that energy."
The opportunity to make money on marijuana legally in Missouri finally became a reality last November. That's when more than two-thirds of voters in the state approved Amendment 2, one of the three medical cannabis measures on the ballot and the only one to pass.
August 3 is the earliest that Missouri applicants can submit applications to obtain licenses for the state's voter-authorized 60 grow centers, 86 manufacturing facilities and 192 dispensaries — that's 24 retail outlets for each of the state's eight congressional districts.
The applications cover everything from cultivation to manufacturing, product infusions, testing labs, dispensaries and transportation facilities. Interest is high. As of early June, a total of 526 applicants had paid the fee to start the application process, including 155 seeking to open grow facilities, 82 for manufacturing centers and 289 for dispensaries. Along the way, the state has raked in about $3.8 million in fees, according to the Missouri Department of Health and Senior Services, or DHSS, which oversees the medical cannabis program.
State officials have 150 days from the application deadline to decide who gets a license. That means the first facilities could open as early as January. Meanwhile, Missourians who wish to grow their own medical cannabis — up to six plants apiece — may begin applying for licenses on July 4.
For Missouri cannabis entrepreneurs like Mays, the "green rush" is on for a slice of an industry that is soaring, both globally and nationally, with no end in sight.
In 2018, the value of the legal North American weed industry was about $10.1 billion. By 2025, the U.S. market alone is projected to climb to $24 billion and create 255,000 jobs, according to New Frontier Data, a cannabis market research firm. It could reach $80 billion by 2030, according to a January 2019 report by market analyst Vivien Azer.
Internationally, it will be even bigger, with Canada and Mexico both legalizing its use. Consumer product heavy-hitters Coca-Cola, Altria (the parent company of cigarette giant Philip Morris) and Coors have already started investing heavily in Canadian cannabis companies.
And in Missouri, the economic impact could be significant from the get-go. The Missouri Cannabis Industry Association estimates that Missouri's medical cannabis market could exceed Colorado's, which in 2017 was worth $440 million.
Industry experts such as James Yagielo, CEO of Florida-based HempStaff Inc. projects that Missouri's industry could be serving as many as 200,000 patients by 2021.
"Everybody likes cannabis," Yagielo says.
Mays walks into the foyer of the CIC building late on a Friday afternoon in May. Accompanying him are the other members of REAL Cannabis' partnership team: Dr. Cheryl Watkins-Moore, the chief strategy and marketing officer; and Justin Gage, the chief relationships officer.
Watkins-Moore, a physician and former pharmaceutical company executive, has spent the past decade as a major player in the St. Louis startup scene. She cites the building's "synergistic energies," noting that some companies based there have already engaged them about providing technology to REAL Cannabis.
"This is great that you get those type of collisions and connections," says Watkins-Moore, who serves as director of bioscience and entrepreneurial inclusion at BioSTL, a group that promotes collaboration and builds regional infrastructure to achieve St. Louis' potential in biosciences.
Gage, a stand-out wide receiver for the Mizzou football team in the early 2000s, played for the Chicago Bears and Tennessee Titans. Since leaving the NFL, Gage says he's been interested in doing something with cannabis.
A native of Jefferson City, Gage could have headed to California or Colorado, two states where the medical and recreational cannabis industries are flourishing. "But I didn't want to do that," he says. "So when Missouri legalized, I knew that this was definitely something that I wanted to be a part of and be an advocate for medical marijuana."
Gage notes that he, like other NFL players, had felt pressure to take opiate-based painkillers during his playing days to treat the pain from injuries.
"That was a week-by-week thing," Gage says. "You beat yourself up on one Sunday and you got to figure how you can be 100 percent the following week."
Opiates are highly addictive, and Gage says many of his former teammates struggle with dependency as a result of treatments for football injuries.
Cannabis is different. Gage says it allows him to wake up "and feel good about myself and not worrying about certain aches and pains that I'd have to take heavier medication for," he says. "Just being down that path. Ultimately, it was seeing how destructive a lot of medications could be. I got to stand up for what I believe in. And for me it was marijuana."
But there is another aspect to the REAL Cannabis founders' advocacy. It is the recognition that America's expensive war on drugs was born of racism and xenophobia, a legacy that has sent millions of Americans to prison, shattered countless families and wrecked inner-city neighborhoods.
Harry Anslinger, a notorious racist who in the 1930s was the first commissioner of the Federal Bureau of Narcotics, promoted the idea that cannabis — or as Anslinger dubbed it, "marihuana" — "is a violence-inducing drug, connected it to black and Hispanic people, and created a perfect package of terror to sell to the American media and public," according to Steven W. Bender's "The Colors of Cannabis: Race and Marijuana," a history of cannabis prohibition published in 2016 in the University of California-Davis Law Review.
For Gage, the results of those policies have hit home, with close family members jailed for cannabis possession.
"And you wonder, how can you fix this whole trend?" Gage says. "I knew hands-down that's where I got to go. I got to be in a position to help empower people that look like me and help change the economic status of what we have. That's our goal, one person at a time, one business at a time. I see it as a big step forward in revitalizing [north St. Louis], but ultimately I think this is a big step forward in the right direction."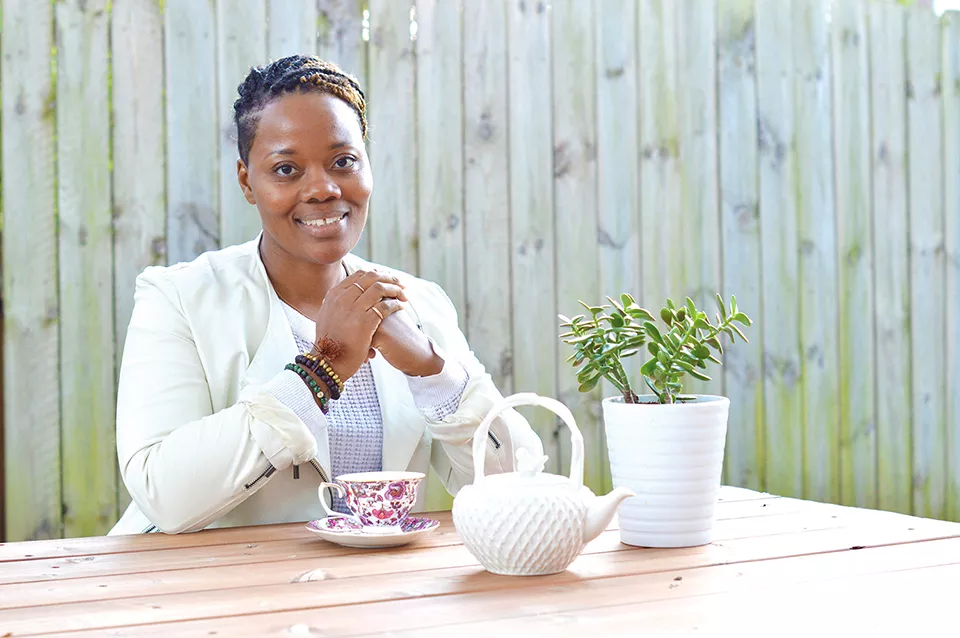 COURTESY OF JAMILA OWENS-TODD
Jamila Owens-Todd's Green Care Inc. is applying for a dispensary license.
Nearly 50 years ago, cannabis was a reliable battlefront in America's steadily intensifying culture wars between liberals and conservatives, along with gun rights, abortion, gay marriage and immigration. Then, about twenty years ago, to paraphrase Hemingway, the public's acceptance of cannabis occurred gradually, then suddenly.
Missouri is the 33rd state in the U.S. to legalize medical cannabis, and if other states are any guide, it won't be many years before Missouri legalizes "adult use" or recreational cannabis.
It has already been effectively decriminalized in both St. Louis city and St. Louis County. In the city, in 2013, aldermen voted 22-3 to allow police to cite individuals instead of arresting them for small amounts of cannabis. Cited persons would be processed in municipal court, not state court, and ordered to pay a fine between $100 and $500. The aldermen further reduced penalties in February 2018, voting unanimously to set a $25 fine for possession of 35 grams — which is a tad more than an ounce — or less.
And last January, St. Louis County effectively ended criminal prosecution of cannabis possession of amounts less than 100 grams, or about 3.5 ounces, unless "evidence suggests the sale/distribution of marijuana," according to a memo drafted by St. Louis Prosecutor Wesley Bell.
Many legal and political experts predict it won't be long before Congress strikes down the federal law prohibiting cannabis use and possession, turning the matter over to individual states — which would be a virtual replay of how Congress ended alcohol prohibition in 1933.
Mays, the CEO of REAL Cannabis, said he believes the legalization of recreational cannabis is almost a foregone conclusion.
"Absolutely. I don't know if federal laws will evolve and change before our state laws do," Mays says, "but it's clear that this is an evolution towards the overall legalization of cannabis in this country."
The economic pressure on Missouri to legalize recreational cannabis certainly will be intense.
Illinois Governor J.B. Pritzker signed into law last month a measure legalizing recreational cannabis. The law is set to take effect January 1, 2020, and would make it legal for people who are 21 or older to possess an ounce of flower weed. At that point, Illinois will become the eleventh state to legalize recreational marijuana use and sales.
Even if Missouri only participates in the medical marijuana market for now, that still means plenty of money-making opportunity — with more to come if the state goes all the way.
Consider the case of Oregon. Sure, it's a politically liberal state on the West Coast, but in many ways it is similar to Missouri. Oregon's population is smaller than Missouri's (4.26 million versus 6.14 million), but otherwise the two states are strikingly similar, in that they both feature a few major metro areas in what are otherwise rural states heavily dependent on agriculture.
By the end of 2019, Oregon's legal cannabis industry expects direct sales to approach $438 million, with $270 million in medical marijuana and $168 million in recreational weed, according to New Frontier.
Overall, Oregon's cannabis industry has made an economic impact of more than $1.2 billion, creating more than 12,500 jobs with an average wage of $12.13 an hour, according to a 2017 report by economist Beau Whitney. (Those job numbers apply to plant-touching companies, such as dispensaries and grow centers, and do not include tangential services, such as attorneys or security services.)
Because medical marijuana in Missouri will be heavily regulated, it's the state DHSS that will determine the winners and losers. It will use a points system to determine which applicants win the first coveted licenses to grow, process and sell medical cannabis.
In evaluating applicants, DHSS has focused on two priorities: avoiding the perception of preferential treatment for applicants, and making sure the facilities are spread around geographically to ensure fair competition and patient access.
Applications will be judged anonymously, in a redacted format by a third-party company. "So no one will know who the applicants are, and the judges are out of state and don't know any of us anyway," notes local cannabis entrepreneur Mitch Meyers.
After an initial scoring, applicants who propose a facility in a ZIP code with an employment rate of 85 to 89.9 percent will receive bonus points. If the ZIP code's employment rate is below 85 percent, the bonus is bigger.
DHSS may award another bonus to a dispensary that is at least 25 miles (in a straight line) from any other proposed or existing dispensary.
The contractor performing the judging will rank all the applicants in order from highest to lowest score, then submit them to DHSS, which will unseal their names and make sure the top scorers have everything they need to be awarded the licenses.
"There was a big effort by DHSS to influence where these operations will be placed, as they gave bonus points for locating in areas where unemployment is highest," Meyers writes in an email. "They are looking to rebuild communities and provide work in distressed areas. That had people rethinking their real estate choices."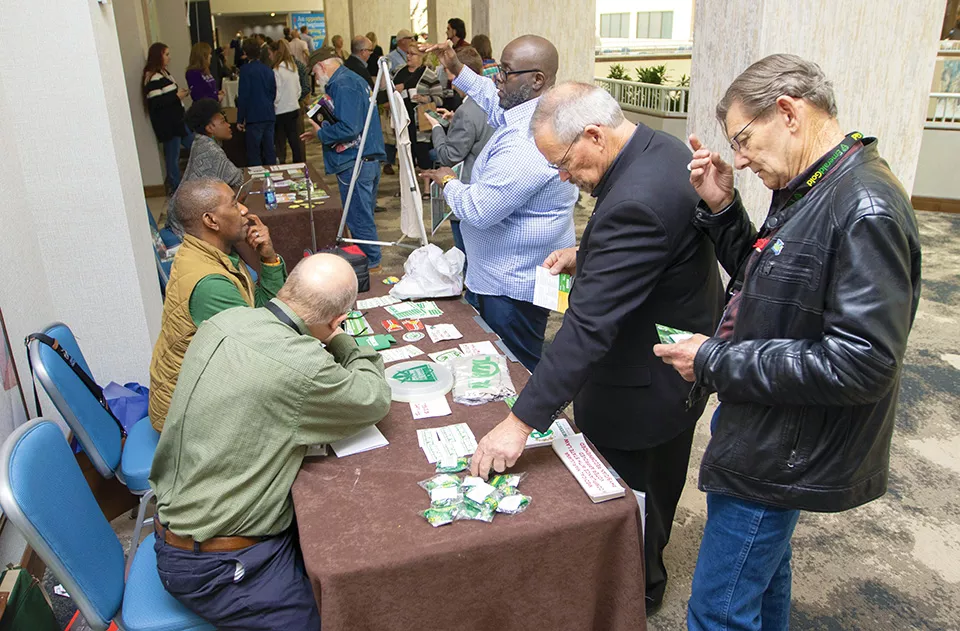 ZIA NIZAMI
Would-be marijuana entrepreneurs flocked to CannaConStL in St. Louis this April.
Mitch Meyers made her name in St. Louis as a trail-blazing marketing guru for beer titan Anheuser-Busch. Spuds MacKenzie, the adorable fictional dog used to sell Bud Light in the 1980s, was her brainchild, among other feats.
Meyers later scored other successes after striking out to start a marketing company of her own, but sold it to a bigger firm to take a break from the business world. She moved to Colorado, where she saw for herself how effective medical cannabis can be for certain medical conditions, such as childhood epilepsy. She became not just a believer, but an evangelist.
A few years ago Meyers took a chance by investing in cannabis operations in both Illinois and Missouri. Her company, Earth City-based BeLeaf, won one of the first Missouri licenses to make and sell CDB oil to treat seizure disorders. (CBD, which won't get you high, is also derived from the hemp plant. Its production won limited approval in 2014 from the Missouri legislature.) Today, after toughing out lean times in Missouri, Meyers now helms a partnership team seeking to apply for medical cannabis licenses covering cultivation, production and dispensaries in St. Louis and St. Louis County.
Meyers has seen firsthand the difficulties of growing cannabis, and growing a business. She downplays reports that Missouri could have an oversupply of medical cannabis when the first production centers and dispensaries open next year.
"If everybody got up and open, and they were a very capable grower and they were maxing out the amount we could grow under the law, I would tell you we would have way too much product," Meyers says. "But I know from experience that won't happen. Some people will get a license, but they won't get their funding to open quickly. I know a lot of people will start much smaller than the total amount you're allowed to grow. Because none of us wants to spend $15 million and find out the demand isn't there yet."
Meyers believes a major factor in the public demand for medical cannabis is the human toll caused by America's opiate epidemic, which was responsible for the bulk of the 70,000 drug overdose deaths last year in America.
Cannabis has been shown to be an effective alternative as a painkiller. A 2014 study in the Journal of the American Medical Association showed that states that legalized medical cannabis showed a 25 percent drop in opiate-related deaths compared to states that had not.
"How many of us know someone who was touched by this issue?" Meyers says. "They're trying to get off these opiates, and cannabis is one of the tools that should be in the tool box."
It's not just marijuana plants that will be blossoming in increased numbers in Missouri. Last year's federal farm bill made it legal to grow agricultural grade hemp, a form of the cannabis plant that contains little to no THC, the psychoactive component that gives marijuana its buzz.
This means hemp can be grown nationwide and on an industrial scale. That's good news for Missouri farmers, who 150 years ago reigned as world leaders in hemp production. They can grow a plant that today around the world is being used to make plastic, textiles, fuel and other basic commodities. They can also start seriously competing against China, which dominates the global hemp market.
Jamila Owens-Todd came to cannabis in an indirect way. She started out as a research chemist who worked for pharmaceutical companies testing, among other things, synthetic opiates.
But Owens-Todd always pursued an intense side interest in plant-based medicine, which led her to quit the pharmaceutical industry to become a naturopathic physician practicing in Webster Groves.
"Naturopathic medicine is all about plant medicine," she says. "For me, it is about understanding that health care is all-encompassing and not just relying upon pharmaceuticals.¨
Owens-Todd is one of the partners in Green Care Inc., an investment team seeking to open four dispensaries: one in south city, one in St. Louis County, one in the Kansas City area and one around the Lake of the Ozarks.
As a chemist, Owens-Todd knew that synthetic medicines can do a lot of good and even save lives. But there is a lot they can't do, and often their side effects hurt patients.
For Owens-Todd, this realization hit home when she began treating children suffering from epilepsy and other seizure disorders. Conventional drugs were not working and caused harmful side effects. As a result, desperate parents were risking going to prison by going to Colorado to bring back medical cannabis, which actually worked to stop the seizures, Owens-Todd recalls.
After conducting her own independent research, Owens-Todd became convinced that cannabis is effective not only for treating seizures, but for many other medical problems.
"Once I saw that, it kind of flipped the switch on for me, that this is viable medicine," she says. "So I really have to consider that in my practice and how I can support families on this and see that it is viable medicine."
Every day, Owens-Todd says she sees people who receive conventional medical diagnoses that provide only few options, such as taking a pill.
"When you use plants as an option, you see there are hundreds of options in many cases," she says. "Opening up options with plants opens up options physically with healing. It does create this bigger stage for health wellness and longevity.
What's more, this information is available to everyone, she says.
"A patient goes to a dispensary to find ways of healing themselves with cannabis. So now they have to find which strains are best for me," she says. "That takes ownership. Which method of delivery do you want? This information is available to everyone. It's not going to be limited by your ZIP code or socio-economic status. It's going to be available to everyone.
Green Care vows to price its cannabis low enough to make it affordable to everyone living in the neighborhoods it's serving, Owens-Todd says.
"We will not eliminate anyone from our dispensary," she says. "That's a key component of why we do this. Is that there is going to be something for everyone. And we're going to make sure we get it in your hands the best way possible."
ZIA NIZAMI
Kim Engelhoff, left, looks at products at the American Shaman booth at CannaConStL.
Talk to anyone applying for a cannabis license in Missouri, and chances are, they'll tell you they're doing so because they have already witnessed how cannabis has helped someone close to them — a parent, a son or daughter, a spouse.
A.J "Joe" Ingrande, runs a not-for-profit group in Troy, about an hour's drive northwest of St. Louis. Grande's group, Mission 22, helps troubled military veterans. It's named for the estimated 22 military veterans who kill themselves on average each day.
Ingrande, who speaks in an earnest tone and calls himself "a big Second Amendment guy," is all in on cannabis. He says he knows first-hand how much it's helped him and many people he knows.
An Army infantry veteran of Operation Desert Storm, and the survivor of a friendly fire incident that left him with PTSD, Ingrande uses medical cannabis to treat a sleep disorder. It also helps his wife, who suffers from seizures, he says.
"And I saw that my friends were getting help from it," Ingrande tells a reporter while attending CannaConStl, a two-day cannabis trade show that occurred in April at a hotel near St. Louis Lambert International Airport.
The event drew dozens of vendors and hundreds of aspiring entrepreneurs, included a long list of featured speakers, including keynote speaker Keith Stroup, the founder of the National Organization for the Reform of Marijuana Laws.
The vibe throughout the two-day conference was a sort of energized chill. After years, even decades of fighting the system — often risking lengthy prison sentences — these activists, entrepreneurs and medical professionals knew they had won. Society had finally caught up with them.
Kathy Baldwin wants to open a dispensary in St. Charles County with three of her sisters. A retired dental hygienist in her early 60s, Baldwin said she's learned how medical cannabis could have helped her late father, who passed away from lung cancer and Alzheimer's.
"People seem to be educated," she says of conference participants. "I think if you're educated, it could really change your mind."
For his part, Ingrande has already ponied up $10,000 in a license application fee for a dispensary, and he's paid a consultant another $15,000. None of that money is refundable if his group doesn't get a license. But the financial risk is worth it, he says.
"It's like racing," he says. "You don't go into it to finish second. I see a huge market for this in terms of who is actually going to be considered patients."
One month later, the same spirit motivating Ingrande propels Steven Burroughs to rise early on a Saturday morning, drive about an hour from his home in Ste. Genevieve and spend $250 of his own money to attend a four-hour "budtender" training seminar put on by Florida-based HempStaff. Held at the Embassy Suites St. Louis, the seminar draws three dozen aspirants to learn about a career field that, on average, pays more than $32,000 a year, as well as laws governing Missouri cannabis and the intricacies of providing patients with the strains of weed most helpful to them.
"There is a lot to benefit from, from a young age to death-bed type of thing," says Burroughs, 25, a food service worker. "There is a lot more to extract from it that everyone can benefit, not even psycho-actively. It's wild.¨
Burroughs acknowledges that his family is against cannabis. But when they learn more, "They will change their minds," he says. They will. I guarantee my family will benefit from it."
Lauren Deroffett, 27, of St. Louis, says she has long used cannabis for recreational and medical reasons. Budtending seems a natural extension of that interest, she says.
"I'd love to be involved with it," she says. "The medicine of everything. It's a miracle. A lot of young people prefer to smoke cannabis instead of drinking. Drinking, you are not yourself. It completely changes you. But smoking doesn't have that effect."
Mike Fitzgerald is an RFT contributing writer. He can be reached at msfitzgerald2006@gmail.com