Page 4 of 5
PHOTO BY STEVE TRUESDELL
La Ke Buena DJs Tiburon (left) and Rubén Pérez (center) meet Fredbird on September 30 on the infield at Busch Stadium.
Business will always be business, and every culture adapts its rhythms and rituals to harness its power.
Garcia tried for three years to persuade the Cardinals to broadcast games in Spanish before the organization agreed. In her day-to-day business, she was seeing the rising economic power of her community and the potential for so much more.
After decades of residents of other racial and ethnic groups draining out of the city by the thousands, Hispanics and Latinos have begun moving in, a trend expected to continue.
"We wouldn't be doing all that we're doing if we didn't think that it was growing," she says one afternoon, a few weeks before the broadcasts.
There are now about 2,000 businesses across the metro that are owned by Hispanics and Latinos, says Karlos Ramirez, the president and CEO of the Hispanic Chamber of Commerce. He is only the second paid leader of the chamber in the organization's 34-year history. Raised in Chicago, he moved to St. Louis a little more than five years ago from San Antonio.
The Cardinals, unsurprisingly, were on his radar from the day he arrived, but he wanted to build and strengthen the chamber before pitching the team on any partnerships. Even with the recent growth of the Hispanic community, it sometimes gets overlooked because residents are scattered across the city and county instead of concentrated in identifiable neighborhoods, like they often are in other cities.
Finally, this year, he had the numbers he wanted to make the case that it would be a good business decision for the Cardinals to become more involved with his chamber and the larger Hispanic and Latino community.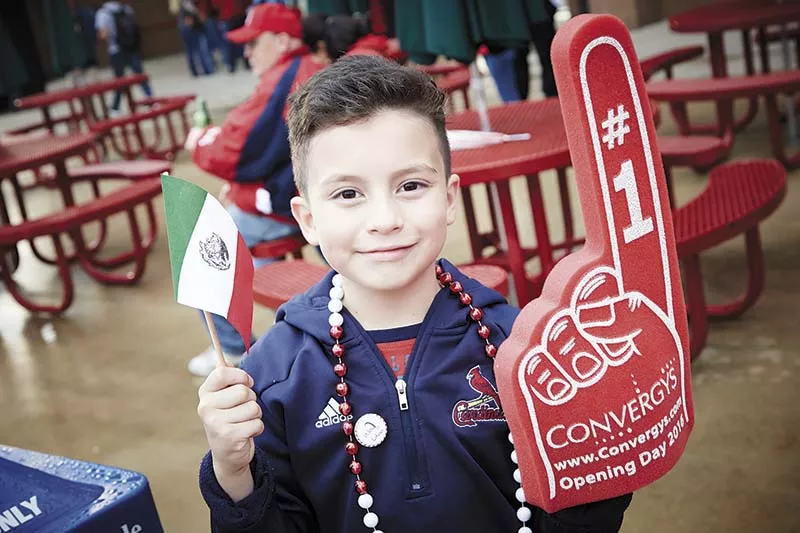 PHOTO BY STEVE TRUESDELL
Fans braved the rain to watch Fiesta Cardinales.
It's clearly to the chamber's benefit to bond with St. Louis' most popular organization, but Ramirez believes it's good business for the team, too.
"To be honest, I think it's a two-way street," he says. "I think the Hispanic population in the St. Louis metro is such an untapped market, they would actually be missing something by not catering to us. It's a population that hasn't been necessarily prevalent in their stadium, so for them to tap into that ensures they're going to continue to have sellouts."
It's business, and even a lifelong Cubs fan like Ramirez can appreciate what it means to have the hometown team on your side. He remembers the day he had to straighten out his Cubs-loving brothers during a game at Busch.
"They started booing the Cardinals," Ramirez recalls. "I said, 'Hey, if you're going to come here for a game with me, you're not going to boo the Cardinals, because if it's good for the Cardinals, it's good for the region. If it's good for the region, it's good for me, and if it's good for me, it's good for you, so shut up.'"
The Cardinals have been receptive, taking baby steps toward courting more Hispanic fans. The team has begun posting videos in Spanish on its website, and it launched @cardenales, a Spanish-language Twitter account, in August.
In a news release announcing @cardenales, the team pointed to a nine-state regional market with more than a million Spanish speakers as one of the reasons for the move.
"The Cardinals also hope to reach fans in the Commonwealth of Puerto Rico, the largest insular territory of the United States, and internationally in Mexico, Cuba, the Dominican Republic, Venezuela and other Spanish-speaking nations in Latin America," the team said in the release.
Fiesta Cardenales, coupled with the Spanish-language broadcasts in September, were to be part of the campaign. Ke Buena began to spread the word weeks ahead of the games through on-air promotions and advertisements on its website.
By the time of the annual Mexican Independence Day celebration on Cherokee Street, held on September 18, excitement has begun to build among Spanish-speaking Cards fans. The event draws thousands to the neighborhood, one of the city's only recognizable Hispanic business districts.
Ke Buena's DJ Tiburon has picked up a side gig as emcee for one of the evening's prime events: the smashing of a Donald Trump piñata. He moved to St. Louis eleven years ago after a couple of years in San Diego. Back then, he worked at a Wendy's in south city, picking up English from his Bosnian coworkers. Because the Cardinals were unavoidable, he eventually became a baseball fan, too.
"I would say I'm a 70 percent fan," says Tiburon, whose real name is Heriberto Amezcua. "But I love the Cardinals. They're a great organization."
Around the corner from the "El Trumpo Takes a Thumpo" festivities, 47-year-old Gernaro Gomez eats a plateful of tacos as he takes in the crowd. He wears a Cardinals cap in addition to his cowboy boots, jeans and Western-style shirt. He's lived in St. Louis about three years and speaks little English, but he goes to as many games at Busch as he can. He's looking forward to the upcoming broadcasts as his first opportunity to really hear his favorite team.
"I'm happy to see them," he says in Spanish. "Now to understand is going to be a whole new experience."