Page 2 of 3
COURTESY THE LAWRENCE GROUP
Steve Smith, owner and developer of City Foundry.
Plans for the Foundry started in May 2015, so by the time phase one opens later this year, it will be the culmination of five years of work.
"In many regards it's fast for a project of this size and this complexity, but it's also five years — it's a big part of your life," Smith says. "And then we've got future phases for the next five years. City Foundry the broader development is going to have things happening for some time now."
Smith and The Lawrence Group have overseen a variety of marquee projects throughout the city, including the Angad Arts Hotel, the Park Pacific Building and Hotel Ignacio. But the Foundry may turn out to be one of its biggest undertakings yet.
The redevelopment bridges the Grove, Grand Center and the Central West End, and plans for a walking and biking trail run right through it, connecting it to the Arch grounds on one side and Forest Park on the other. Although the project will have ample free parking (both surface and garage), visitors can use the dedicated ride-sharing drop or either of the two nearby MetroLink stations.
Smith estimates that the entire Foundry project will cost between $500 and $600 million when all is said and done; phase one is estimated to cost more than $220 million and is projected to bring some 1,500 jobs to St. Louis.
Phase one was approved for $19.4 million in tax increment financing, or TIF, according to reporting by the St. Louis Post-Dispatch. (TIF allows projects like the Foundry to use increased tax revenue to help finance redevelopment costs, infrastructure and similar community-improvement projects.) A portion of those costs will be covered by two special on-site taxing districts. For the Foundry's second stage of development, which is estimated to cost around $97 million, the project was awarded about $17 million in TIF subsidies.
Initial lists of Foundry food-hall vendors began emerging as early as January 2018. A year later, the Foundry generated another round of fanfare when it released an updated roster.
"What we want to do is create a single location where we can celebrate and put on display St. Louis' culinary talent," Smith says. "The people that we've signed up and others that we're looking to sign up are a cross-section of that culinary talent. You come to City Foundry and you can have a cross-section of food types — tacos, pizza, baked goods, drinks and others that we're working on right now."
The list of restaurants initially recruited for the food hall reflected a range of concepts and operators, from food-truck owners seeking their first brick-and-mortar spaces to established restaurateurs wanting to break into fast-casual dining.
Samantha Mitchell (who, in addition to running her food truck Farmtruk, operates a Farmtruk stall at Enterprise Center) was eager to debut a new brand, CropCircle, at the Foundry. Serving what Mitchell has described as "hyper-local country fair food" or "Midwest soul food," CropCircle would give her the opportunity to experiment with more of a true brick-and-mortar concept.
"I was really excited about the new project," Mitchell says. "The selling point from them was that it's something that's affordable for a small business, that there's a lot less risk than opening your own brick-and-mortar, there's less cost associated and we're a team."
Cracks slowly started to emerge in the relationship between food-hall vendors and the Foundry, former vendors say, including troubling employee turnover.
"Everything was really great — I'd done some events for them and kind of used my platform to help get the word out a little bit, and I was more than willing to do that; we were all in repping the brand," Mitchell says. "By the end of summer, I started not getting communication back from them. We constantly felt like we didn't know what the next step was, so that started to be a little weird.
"Then my main points of contact started to not answer their email or phones. Every person I had been in contact with, every person I had a meeting with, was completely unavailable, didn't work there anymore, and no one was returning my emails or calls."
Smith says that two of the three key Foundry food-hall employees who were points of contact for vendors stepped away from the project for personal reasons.
"We had to adapt," Smith says. "We did have a change of personnel, which I know had to be frustrating for the people we were interfacing with, because all of the sudden it was a whole new group of people. That's part of the evolution of a project that goes on for so doggone long, when it's a big project like this, and it's unfortunate not having the continuity — I feel badly about that."
At first, vendors mostly chalked these issues up to growing pains for a project of the Foundry's size. Many had also already invested a year or more in the project and were reluctant to make waves.
That started to change last October, when according to multiple former vendors, Foundry employees outlined increased costs amounting to almost four times those originally proposed for their stalls.
According to multiple vendors, monthly rent at the food hall was initially determined by the square footage of each stall. Most of the vendors interviewed for this story said that security deposits were required for their stalls; one vendor says they did not have to put any money down initially. As the food hall's landlord, the Foundry planned to retain 10 percent of each concept's sales. Before signing on, vendors were quoted up-front costs for their stalls, with additional costs varying depending on buildout specifications and equipment needs — one chef was quoted $30,000 for their stall buildout while one another was quoted at $50,000, and so on.
Multiple vendors say that these costs were not specifically outlined in their leases but were agreed upon verbally and in good faith with the Foundry. Vendors expected that the base of their stalls — including the walls, plumbing and ductwork — would be paid for by the Foundry. Once the Foundry completed construction on these bases, or "white boxes," for the stalls, vendors would then design their spaces and purchase wall finishes, countertops, lighting, signage and equipment with the $30,000 or $50,000 as estimated for their buildout.
More than a year after entering into these handshake agreements and signing leases, vendors say they met with Foundry staff to discuss the design of their stalls — by then, those initial buildout numbers had increased almost four-fold.
Mitchell recalls being excited ahead of the design meeting, as it felt as though work on CropCircle could finally begin to move forward.
"They did this huge presentation about my options for design, and at the very end of this hour-long meeting, they pushed a piece of paper over to me that had the estimated cost," Mitchell says. "And this doesn't have any of the design changes we've just discussed, obviously, and it's more than $200,000 for my 'white box,' which they were supposed to provide for me at no cost. I felt very uncomfortable with the situation. That's not what I was sold."
Multiple vendors say the Foundry was now asking vendors to cover costs for their white boxes, including footing the bill for walls, plumbing, electrical and ductwork. Vendors say the news was even harder to swallow as it was delivered by new Foundry representatives who weren't involved in initial agreements.
After the meeting, Mitchell ran the revised numbers. To make a profit, she says she would need to net close to $1 million annually at the food hall, an increase of more than 40 percent from her initial projections of $700,000.
Mitchell emailed Foundry employees to share her concerns and discuss next steps. She requested to exit her lease due to the cost increase but privately worried that it would result in a legal battle with the Foundry, as there wasn't an easy exit outlined in her lease.
A Foundry representative responded to Mitchell that same evening, she says, acknowledging her concerns and asking her to give their team some time to address them.
About two weeks later, Mitchell says, she received a new offer. The revised deal would lower her buildout costs but raise her rent by several hundred dollars a month and commit a larger percentage of her overall sales to the Foundry.
"They basically restructured the same thing, saying that I wouldn't pay for it up front, but I'd pay it on the backend, is the way I felt like it was," Mitchell says. "In my mind, that isn't the Foundry paying for construction, that's [them] spreading out the construction costs in a different way."
Mitchell and other vendors also worried about shouldering the financial responsibility for building out base stalls that they didn't really own. Any money they spent on electrical, plumbing, ductwork, etc., would be lost if they later moved out.
In the end, Mitchell declined the revised offer. She was able to get out of her lease with the Foundry without issue, she says, and her security deposit was returned. "They were very nice to me the whole time," Mitchell says. "We sent in paperwork and it was pretty much done. I'm not mad, I'm just bummed — we wanted to do this so badly."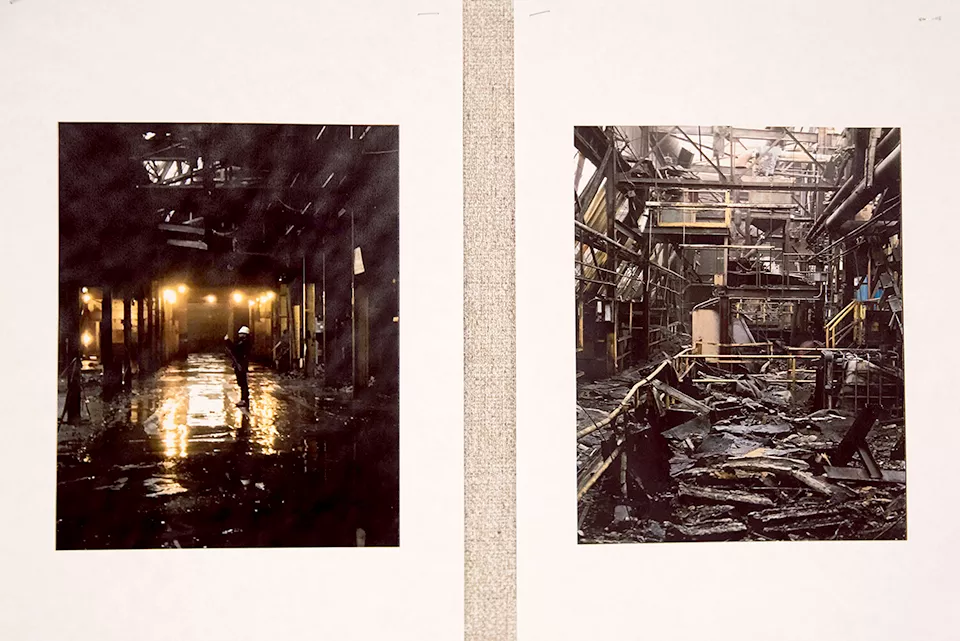 COURTESY CITY FOUNDRY STL
A look at the property before the redevelopment.
Several former food-hall vendors described similar experiences. Like Mitchell, brothers Matt and Mike Ratz were excited to expand their food truck, Ukraft, into a brick-and-mortar format at the Foundry. "For a good year and a half, we had every intention to do a spot in the Foundry," Matt says.
In Ukraft's design meeting with the Foundry, Matt says he was also presented with numbers almost four times those originally quoted to him. Unable to make the new figures work for their business, the brothers requested Ukraft be released from its lease. Matt says the Foundry complied and refunded his security deposit, "which I was very appreciative of," he adds.
Since agreeing to open a stall at the food hall, Ukraft has debuted a cafe and catering spot in Clayton and recently announced it will participate in 9 Mile Garden, a massive food-truck park opening in Affton this spring. (Mitchell is also participating in 9 Mile with Farmtruk.) In the interim, though, Matt says that he made a lot of business decisions, including hiring staff, based on plans with the Foundry, but his biggest regret is that it didn't pan out. "I was just disappointed," Matt says.
Chef Michael Friedman of Lost & Found: A Burger and Pizza Joint and Juice Box Central related a similar experience working with the Foundry on his stalls.
Another concept, Mokyu Mokyu, was to be opened by Laura Leister, James Lettau and Ameet Rawal, owners of Pieces Board Game Bar & Cafe and Protagonist Cafe. In a phone call, Leister confirmed that she and her partners voluntarily pulled out of the project.
The partners offer employees at their two brick-and-mortar concepts health benefits and 401K plans, something they also intended to do at Mokyu Mokyu. After reviewing revised costs to open a stall at the Foundry, however, the partners realized those employee benefits would be prohibitively expensive for Mokyu Mokyu.
All the former vendors reached for this story said that they hope the Foundry succeeds and that they wish events had transpired differently. Just as most of the vendors interviewed by the RFT echoed similar experiences, both good and bad, working with the Foundry, they also variously shared how much investment and progress the project stands to bring to St. Louis.
Smith says that when it became apparent that the stalls would cost more than projected, the Foundry "explored" revising the structure of the food-stall agreements. These shifts were due to not having an industry standard or model for cost structures for the food hall, Smith says.
For his part, Smith understands why former vendors feel the way they do about their experiences and describes the issues as lessons for the Foundry team — ones that have changed how vendor deals are structured and costs are distributed today.
"I think not having been involved in food-hall construction before, none of us had a good sense of what it was going to cost to build these food stalls," Smith says. "We thought when we started this two years ago that we as the landlord were providing adequate funds for our food partners to make it easy to do it, and then as we started getting some of the early pricing, it was like, 'Oops, maybe not.' And that created on our side and on partners' side a lot of soul searching of, 'What does this mean?' I can totally understand where that was an unsettling time."