Page 6 of 6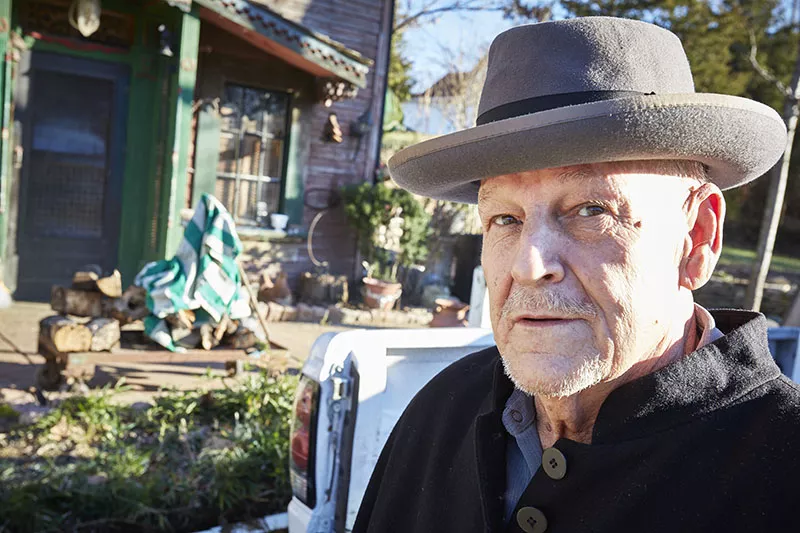 Steve Truesdell
Burkhardt, at home in Crescent — for now.
One fall day the weather is just turning, and Art Dwyer is celebrating a belated birthday at the Broadway Oyster Bar, the onetime Burkhardt's Oyster Bar. At a table in the back, a real mishmash of people are gathered around a series of tables, strung together into something like an elongated pair of figure eights. Here sit bar owners and poets, photographers and illustrators, radio hosts and college administrators, plus those whose jobs aren't known; they simply buzz over to the table and stay. Even with the late-autumn chill and the lack of Mardi Gras, breasts are bared and praises sung.
With his back mildly turned away from the stage, Bob Burkhardt sits. And smokes. And smokes some more. And he takes compliments and greetings from a variety of old friends and, true, a few others meeting him for the first time.
Once, this was his patio, a corner lot that came into being due to an explosion. That kind of thing influences how a bar gets built, and Burkhardt's got plenty of stories of how the Broadway Oyster came to be: It would be offshoot of BB's down the block, born of the time when he was splitting away from that project and, lo! Another building on the same street came open.
From the stage that evening, the band offers more than one invocation of Burkhardt's name. Vocalist Marty Abdullah calls him out more than once, as does Dwyer, while the impeccably dressed Burkhardt takes a couple of spins on the Oyster Bar's infamously uneven, cobblestoned dance floor. Wearing a jacket, two-toned dress shoes, a gold chain and hat, Burkhardt looks splendid, if somewhat uncomfortable with outpouring of goodwill that's coming his way.
He's not been out on the town very often since re-entering the world on July 12, but there have been a few. Like this one. Evenings where old friends show up and curious things happen.
"It's a small world," he figures. "You run into people all over. It's not the first time I've walked into a place and known people. I walked into Terre Haute and knew some people there, too."
For a man who doesn't care about money, there's something that rankles a bit, though. In time, it comes out like this.
"I'd like to stop by Oyster Bar. But I don't wanna pay $10. Do you know what I mean?" he asks. "You know how many times I've walked through the doors of that place? Four thousand times? I'm not the kind of guy to say, 'You know who I am?' I don't play that stuff. I just don't want to...it's not the $10. It's the principle."
Ideally, every club in St. Louis would waive the cover for Burkhardt, no questions asked. There'd be a barstool for him and a Jameson on the rocks and an ashtray, smoking laws be damned. There'd be someone else to coax the stories and a few more someones to listen. There'd be an understanding that his fingers and mind helped shape so much of what's hip here.
Someday, maybe there'll be another Burkhardt bar, built out of a brick skeleton and aided by just enough dollars to open the door.
He'd argue that none of that matters. That even his name and legacy don't matter.
"I'm just an ordinary guy," he says.
But he'd really prefer not to pay that cover.
See also: 27 Incredible Photos of Artists in St. Louis' Gaslight Square