Page 4 of 6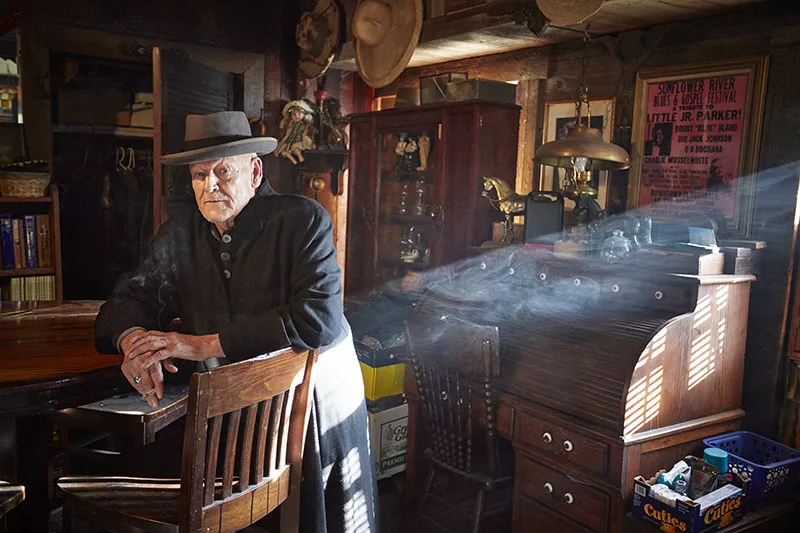 Steve Truesdell
Bob Burkhardt: "I remember things from when I was a kid. But I don't remember what I did last week."
People remember all kinds of different things about Bob Burkhardt.
Wm. Stage, a former long-time Riverfront Times columnist, remembers plenty. For Stage, specific to Burkhardt (and Rio) is the phrase "ain't nothin' but a house party," a catchall that Burkhardt and Rio used to throw back-and-forth with abandon. Burkhardt still uses it today, almost as a punctuation mark.
The poet Lenny Smith, a member of the freewheeling Soulard Culture Squad, remembers a cat (a literal cat, not a hepcat) that used to patrol BB's, keeping its rat population in check. He also remembers that Burkhardt was able to keep tabs on certain things, while others would be left for completion on another day. There was always a good reason, though, why something wasn't finished.
"I asked him once why this one board on the Molly's deck wasn't hammered down," Smith recalls. "And he knew why, and he knew exactly which board."
Tom Burnham remembers certain kindnesses extended as well. As a historian of Soulard's culture, Burnham emailed his recollections of Burkhardt.
The man, Burkhardt, and his then-neighborhood, Soulard, blend effortlessly in Burnham's retelling:
In 1986, Soulard was still a dirt-poor part of town. You could still find livable houses for under $10,000. There were a lot of abandoned properties. Some were occupied by squatters, completely furnished, but heated and lit with kerosene. There were people scraping by in shells just a half-step above being homeless. It was a routine part of life in the neighborhood. If you lived there, you were, by simple proximity, acquainted with some marginally housed people. Some of those folks would come to the shelter at Sts. Peter & Paul when winter was at its harshest.
The shelter at Sts. Peter & Paul was still a seasonal program. It only operated the 151 days between Halloween and April Fool's. It had been subject of an RFT cover story that winter, 'Brother, Can You Spare a Neighborhood.' Some of the early gentrifiers wanted to shut it down. Toward the end of the season, late March, Peter Rosenberg, Ollie Matheus and I had an idea for a little public-relations event. We asked Bob Burkhardt if we could throw a barbecue in his back yard. Invite the shelter residents and folks from the neighborhood for an early spring Sunday afternoon get-together. We thought a little familiarity might alleviate some tension. Bob, familiar with many of the homeless neighbors and always up for a party, was all in.
The day before, the St. Louis Blues Club — only later did it become a 'Society' — threw its first event, a day-long concert at Mississippi Nights, including the very best blues St. Louis could offer at the time: Henry Townsend, James Crutchfield, Tommy Bankhead, Doc Terry, Oliver Sain, the Soulard Blues Band, Tom Hall, Leroy Pierson and many others. Peter, Ollie and I were all present and spreading the word about the barbecue party at Burkhardt's the next day. By noon the next day, most of the musicians, all long-time friends of Bob, began to show up with their instruments. It was a spectacular day.
Those kinds of stories abound. Dwyer, for example, remembers a time when Burkhardt and a few other Soulard wags decided to help him out, carrying 35 sheets of drywall up several flights to Dwyer's third-floor apartment. Along for the ride was Molly, Burkhardt's dog. (The bar in Soulard? No matter what stories circulate today, it's named after Molly the Dog.)
Of Soulard in the 1970s, Dwyer recalls, "Back then, you wondered where everyone came from. I thought I could really be stepping further down into the abyss — it's getting pretty funky down here. All of a sudden, it started filling up and really flowered through the late '70s and '80s. There were weekend-long parties, like down at Ninth and Geyer. People would be there all weekend long — you'd have Johnny Rio on the corner, cooking a whole pig."
And Burkhardt was central to it all — a father to four, a friend to hundreds. He bartended and managed the long-running blues bar the 1860 Saloon and Hardshell Cafe for nine years, even while owning a place across the street. There were always people around, and many, if not all, had his best interests in heart.