Page 2 of 3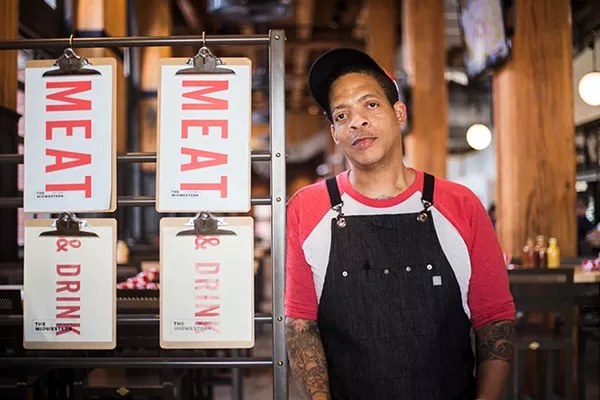 MABEL SUEN
Chef Ben Welch.
Breaking Tradition
It has been a long year. Even those who are taking COVID-19 seriously have in recent weeks found themselves searching for a holiday-party-sized opening in coronavirus protocols.
For eight months, pandemic-induced anxiety has piled up, rising with every fraught trip to the grocery store, every decision about whether to send kids to school and every question about the future of a job. More than 3,700 people in Missouri and more than 258,000 in the United States have died as a result of COVID-19, and those numbers could nearly double by spring, according to projections.
If ever there was a year that people could use a break to relax and be with people they care about, we're in it. But Thanksgiving will be different for hundreds of thousands of people in St. Louis. All across the metro, people are altering generations-old traditions. They're planning meals for two instead of twenty, re-imagining turkey trots and trying to find some way to preserve even the slightest sense of the holiday while staying safe. Some are just trying to find a way to hold on.
"People love tradition," says chef Ben Welch of the Midwestern Meat & Drink. "Family loves tradition. Your older relatives love tradition. They want to see you. They want to pinch on your face and squeeze on you, you know? And this is just a weird year for that."
That so many of those traditions are rooted in food is not lost on Welch, one of the city's culinary stars. The pandemic's effect on even the day-to-day act of dining together has ravaged his industry, making it less of an experience and more utilitarian as we snag takeout from masked workers and speed away. Even the restaurant dining rooms that are open are mostly empty by design and health department order.
"As a chef, I love dining out," Welch says. "I miss dining out and just getting away from my own food. I've been eating so much of my own food I'm over it."
Now, combine pandemic fatigue with the prospect of skipping not just the occasional night out but the idea of doing without the family celebrations with their once-a-year dishes — the pull of the holidays becomes powerful.
"For me, Thanksgiving isn't the big day," Welch says. "What happens at Christmas? I'm not a religious guy — I'm a spiritual guy — but I love the season of Christmas. I love the holidays. Everyone seems happier for those couple of days, regardless of how cold it is or how dreary the weather is. Everybody just wants to celebrate just for a few hours."
And if we can't do that together this year, Welch suggests there is still comfort in food.
At the Midwestern, he makes a fried turkey leg, and well, maybe that would work for a smaller Thanksgiving. It's the kind of showpiece dish that satisfies the main-event quality usually reserved for a roast turkey, without tasking a family of four to eat a 25-pound bird by themselves.
"It's definitely something you can do at home," he says.
He smokes his at 250 degrees for three hours and then confits them for seven hours in duck fat (but you could use bacon fat or lard) and then lets them chill overnight in the refrigerator. Finally, he heats oil in a fryer to 350 degrees and fries them for five minutes. If you do cook a whole turkey, you can skip the smoking step and fry up the leftover legs.
But it might also be the year to reach for something familiar, according to Welch.
"I think it would be a good time to work on those hidden family recipes," he says. "If you can't be with your family, then maybe work on those recipes that connect you — Mom's famous dressing. Nobody makes dressing as good as your mom, so you hold onto those things."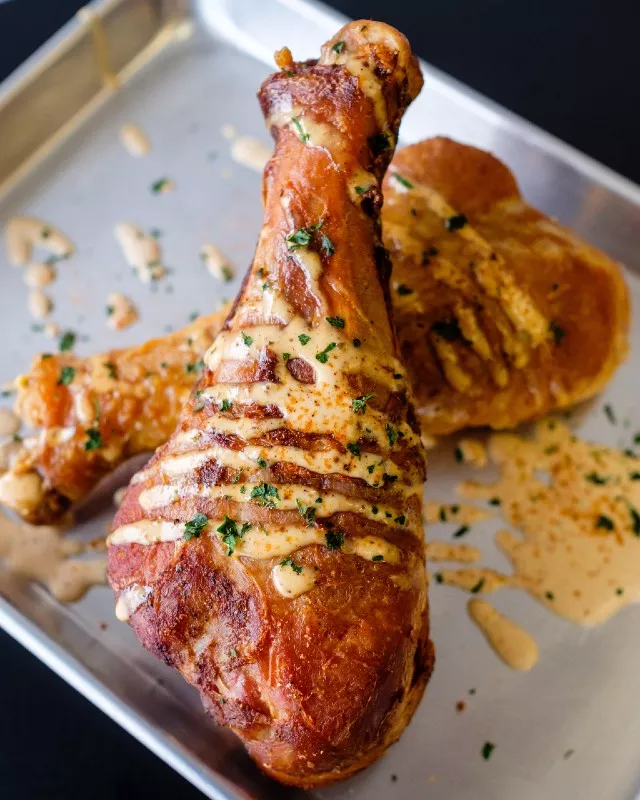 CHRIS DEL GAISO
Welch's turkey leg at the Midwestern.
Charitable Distancing
The St. Louis metro's biggest holiday dinners have always gone beyond family homes to the massive neighborhood gatherings, food pantries and church halls, where volunteers work shoulder-to-shoulder cooking and serving meals to dozens and often hundreds of people.
The pandemic has upended those traditions as well. The annual Cherokee Street Thanksgiving Potluck, one of the district's most beloved events, has transitioned into a food drive this year, with donations going toward turkeys and sides for families.
Loaves and Fishes, one of only a few St. Louis food pantries that have not shut down because of the coronavirus, plans to hand out meals to 250 families through curbside pickups this week at its location at 2750 McKelvey Road in Maryland Heights. But the supply of volunteers it counts on has dried up during the pandemic, forcing the nonprofit to hire more staff, according to Executive Director Jacki MacIntosh.
"When a pandemic or a crisis comes to town, we should be expanding and opening up and making sure we are on the front lines serving the people who are in the most need and not shutting our doors," MacIntosh says.
COURTESY OF CONGREGATION TEMPLE ISRAEL
In years past, hundreds of volunteers cook and serve a feast at Congregation Temple Israel.
Even Congregation Temple Israel has had to reinvent its storied Thanksgiving dinner, usually a packed affair rooted in a remarkable tale of decency.
The Creve Coeur synagogue started the dinner in 1986 after receiving a donation from Ernest Wolf, a non-Jewish German national who was helped by a rabbi during World War II to avoid going back to Germany to serve the Nazi regime.
Then-Rabbi Ferdinand M. Isserman gave Wolf $300 to seek asylum in Mexico. Wolf repaid the favor with a $50,000 check to the synagogue more than four decades later. Some of that money was used to start an annual Thanksgiving dinner for those in need.
In normal years, a few hundred volunteers at the synagogue would work together to prepare and serve meals to hundreds at Congregation Temple Israel. Because of COVID-19, operations have been pared down this year to the kitchen staff and seven volunteer drivers. Instead of hosting the feast, they'll deliver turkey dinners with cranberry sauce and all the side dishes to social service organizations that will distribute them to families.
Congregation Temple Israel Communications Director Erin May says the organization planned over the past month to ensure the dinner still impacted the community in the way it has since 1986.
"This is our tradition, and we just knew we wanted to find a way to make this work to make sure we can get people these meals," May says.