A week before Thanksgiving, Dr. Alex Garza sounds grim but resigned on the phone.
"I guess I view Thanksgiving as just one more thing in the pandemic," Garza says. "I think it will most likely contribute to more cases of COVID if people are out traveling around and visiting and things like that — we're sort of counting on that. So are we dreading it? I think we're just kind of expecting it."
This spring, in the early days of coronavirus' entry in Missouri, the largest health-care systems in greater St. Louis began working together to coordinate their strategies. Garza was the obvious choice for a point person. The 53-year-old chief medical officer of SSM Health had cut a winding, impressive path through the medical world, from driving ambulances as a young man in Kansas City to medical school and into the military. A colonel in the Army Reserves and a Bronze Star winner, Garza helped rebuild the medical system in Iraq during Operation Iraqi Freedom and was later appointed as the chief medical officer of the Department of Homeland Security. In that role, he helped game out how the country would react to multiple threats, such as bioterrorism. Perhaps most notable in light of the crisis unfolding in St. Louis, he led the United States' response in 2009 to the swine flu pandemic.
All that was preparation for his work now as the incident commander of the St. Louis Metropolitan Pandemic Task Force, and yet he hadn't foreseen the full challenge ahead of him.
"I don't think we really appreciated the depth of the politicization, the way this would be politicized," he says.
Across the United States, health-care workers have struggled against skepticism and defiance as they have warned of the virus' deadly reach. The resistance to even basic health measures, such as wearing a mask, ranges along a continuum from conspiracy theorists insisting COVID-19 is a grand hoax to those falsely claiming that the pandemic has been no more deadly than the flu to those who acknowledge the virus is real and dangerous, but insist that a population that includes people who berate checkout clerks at Target over masking policies will take "personal responsibility" and voluntarily follow the steps that experts say are needed to slow transmission.
Health experts have watched in baffled horror as the United States' response to the pandemic has become intertwined with one of the most politically divided moments in the nation's history. In a country where a significant swath of the population believes against all evidence that the presidential election was stolen through mass voter fraud, scientists and doctors are just one more pillar of the establishment not to be trusted.
The cynicism and skepticism has only hardened as the country heads into Thanksgiving. The timing is dangerous for fighting COVID-19. At a November 13 public briefing, Garza and others from the task force all but begged Missouri Gov. Mike Parson to issue a statewide masking order before the holidays. At the same briefing, they pleaded with the public at large to forgo their big family gatherings in hopes of heading off a post-Thanksgiving surge in cases. Garza pointed to record-breaking numbers of hospitalizations that are on pace to overwhelm hospital intensive care units.
"Our health-care workers have fought valiantly day after day, but we have no reserves," Garza said at the briefing, holding back tears. "We have no backup that we can suddenly muster to come in and save the day. If we stay on the path that we're on even just two more weeks, we will not have the staff we need to care for patients."
Later on the phone, Garza says their projections didn't account for what will almost surely be an influx of Thanksgiving cases. If anything, the doom scenarios he laid out were probably conservative, and he sees little help on the horizon. In a news conference last week, Parson flatly rejected calls from the Missouri Hospital Association and others, including Garza, for a statewide masking mandate. The doctors, Parson said in his explanation for dismissing their advice, were looking at the pandemic from a "medical perspective." He encouraged Missourians to wear masks and alter their Thanksgiving plans to be safe but ultimately said the choice was best left to individuals.
"For people that say it's government's responsibility, it's not," Parson said.
Interviewed prior to Parson's news conference, Garza had anticipated the governor's response. He will spend Thanksgiving at home with his wife and three boys, skipping the usual trip across the state to gather with his in-laws in Kansas City. It will technically be a day off, but he'll be looking at his laptop, checking the numbers and wondering what is happening in all those other households across St. Louis and beyond.
He knows some will follow experts' advice to wear masks, stay home and practice social distancing. But others will not. They will head to the airport or open their homes to huge gatherings. And in two weeks, he and the beleaguered ranks of nurses, technicians and doctors will be asked to deal with the consequences.
"Sometimes I think about this in terms of a war," Garza says. "And when you see what's coming down the road and you look at your workforce, I feel like I'm sending my troops into battle knowing they're not going to win, they're going to get overrun by the enemy. They just are, and I have no way to prevent this."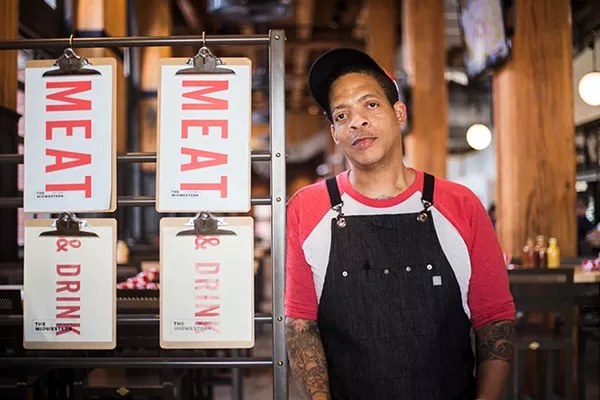 MABEL SUEN
Chef Ben Welch.
Breaking Tradition
It has been a long year. Even those who are taking COVID-19 seriously have in recent weeks found themselves searching for a holiday-party-sized opening in coronavirus protocols.
For eight months, pandemic-induced anxiety has piled up, rising with every fraught trip to the grocery store, every decision about whether to send kids to school and every question about the future of a job. More than 3,700 people in Missouri and more than 258,000 in the United States have died as a result of COVID-19, and those numbers could nearly double by spring, according to projections.
If ever there was a year that people could use a break to relax and be with people they care about, we're in it. But Thanksgiving will be different for hundreds of thousands of people in St. Louis. All across the metro, people are altering generations-old traditions. They're planning meals for two instead of twenty, re-imagining turkey trots and trying to find some way to preserve even the slightest sense of the holiday while staying safe. Some are just trying to find a way to hold on.
"People love tradition," says chef Ben Welch of the Midwestern Meat & Drink. "Family loves tradition. Your older relatives love tradition. They want to see you. They want to pinch on your face and squeeze on you, you know? And this is just a weird year for that."
That so many of those traditions are rooted in food is not lost on Welch, one of the city's culinary stars. The pandemic's effect on even the day-to-day act of dining together has ravaged his industry, making it less of an experience and more utilitarian as we snag takeout from masked workers and speed away. Even the restaurant dining rooms that are open are mostly empty by design and health department order.
"As a chef, I love dining out," Welch says. "I miss dining out and just getting away from my own food. I've been eating so much of my own food I'm over it."
Now, combine pandemic fatigue with the prospect of skipping not just the occasional night out but the idea of doing without the family celebrations with their once-a-year dishes — the pull of the holidays becomes powerful.
"For me, Thanksgiving isn't the big day," Welch says. "What happens at Christmas? I'm not a religious guy — I'm a spiritual guy — but I love the season of Christmas. I love the holidays. Everyone seems happier for those couple of days, regardless of how cold it is or how dreary the weather is. Everybody just wants to celebrate just for a few hours."
And if we can't do that together this year, Welch suggests there is still comfort in food.
At the Midwestern, he makes a fried turkey leg, and well, maybe that would work for a smaller Thanksgiving. It's the kind of showpiece dish that satisfies the main-event quality usually reserved for a roast turkey, without tasking a family of four to eat a 25-pound bird by themselves.
"It's definitely something you can do at home," he says.
He smokes his at 250 degrees for three hours and then confits them for seven hours in duck fat (but you could use bacon fat or lard) and then lets them chill overnight in the refrigerator. Finally, he heats oil in a fryer to 350 degrees and fries them for five minutes. If you do cook a whole turkey, you can skip the smoking step and fry up the leftover legs.
But it might also be the year to reach for something familiar, according to Welch.
"I think it would be a good time to work on those hidden family recipes," he says. "If you can't be with your family, then maybe work on those recipes that connect you — Mom's famous dressing. Nobody makes dressing as good as your mom, so you hold onto those things."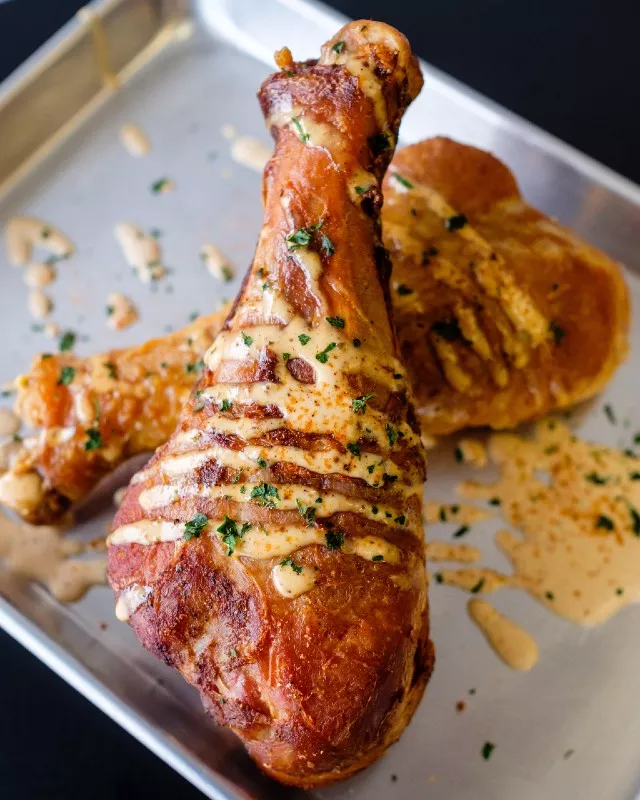 CHRIS DEL GAISO
Welch's turkey leg at the Midwestern.
Charitable Distancing
The St. Louis metro's biggest holiday dinners have always gone beyond family homes to the massive neighborhood gatherings, food pantries and church halls, where volunteers work shoulder-to-shoulder cooking and serving meals to dozens and often hundreds of people.
The pandemic has upended those traditions as well. The annual Cherokee Street Thanksgiving Potluck, one of the district's most beloved events, has transitioned into a food drive this year, with donations going toward turkeys and sides for families.
Loaves and Fishes, one of only a few St. Louis food pantries that have not shut down because of the coronavirus, plans to hand out meals to 250 families through curbside pickups this week at its location at 2750 McKelvey Road in Maryland Heights. But the supply of volunteers it counts on has dried up during the pandemic, forcing the nonprofit to hire more staff, according to Executive Director Jacki MacIntosh.
"When a pandemic or a crisis comes to town, we should be expanding and opening up and making sure we are on the front lines serving the people who are in the most need and not shutting our doors," MacIntosh says.
COURTESY OF CONGREGATION TEMPLE ISRAEL
In years past, hundreds of volunteers cook and serve a feast at Congregation Temple Israel.
Even Congregation Temple Israel has had to reinvent its storied Thanksgiving dinner, usually a packed affair rooted in a remarkable tale of decency.
The Creve Coeur synagogue started the dinner in 1986 after receiving a donation from Ernest Wolf, a non-Jewish German national who was helped by a rabbi during World War II to avoid going back to Germany to serve the Nazi regime.
Then-Rabbi Ferdinand M. Isserman gave Wolf $300 to seek asylum in Mexico. Wolf repaid the favor with a $50,000 check to the synagogue more than four decades later. Some of that money was used to start an annual Thanksgiving dinner for those in need.
In normal years, a few hundred volunteers at the synagogue would work together to prepare and serve meals to hundreds at Congregation Temple Israel. Because of COVID-19, operations have been pared down this year to the kitchen staff and seven volunteer drivers. Instead of hosting the feast, they'll deliver turkey dinners with cranberry sauce and all the side dishes to social service organizations that will distribute them to families.
Congregation Temple Israel Communications Director Erin May says the organization planned over the past month to ensure the dinner still impacted the community in the way it has since 1986.
"This is our tradition, and we just knew we wanted to find a way to make this work to make sure we can get people these meals," May says.
COURTESY OF CONGREGATION TEMPLE ISRAEL
Disaster Relief
The holidays can be a salve for our overburdened lives. They can also be stressful, isolating and depressing.
That's especially true now with the pandemic cutting off the normal support networks, hitting everyone in countless ways. Places for People, a St. Louis-based mental health provider, started the Show-Me Hope Crisis Counseling Program over the summer, funding it through a grant typically reserved for natural disaster relief. In a lot of ways, the disaster relief aspect is apt. COVID-19 has hit like a tornado or a flood, only the fallout extends even further.
"COVID looks very different than other disasters, too, because it's not just somebody's home that got destroyed," says Places for People's Desirae Rowan, who is the team leader for Show Me Hope. "People's finances are really impacted. People's jobs are impacted. Their social interactions are impacted. So, our team is working to address a variety of those concerns that folks are going through."
Show Me Hope offers three main services: crisis counseling over the phone, mental health presentations and virtual support groups. All of their services are free.
Their most popular service is their crisis counseling. Anybody can call 314-615-9105, ext. 397 to be connected with a crisis consultant in less than 24-hours for free and confidential services.
Counselors, split across three teams headquartered at Places for People as well as two other organizations, are available to work with callers through multiple sessions if they want and can refer them for additional services if necessary.
For some, they just need one phone call to an understanding stranger to get them through.
"When people are so stressed out, and I know I've experienced this myself, it's impossible for me to focus on anything," Rowan says, adding, "With all of these extra challenges, folks are really struggling to just figure out where to start."
Show Me Hope has also been providing presentations about mental health topics, including stress management, burnout and mindfulness. So far, this service has been used mostly at schools for overwhelmed teachers, but they've also started to reach out to universities, churches and anywhere else that they feel people will benefit.
They similarly offer virtual support groups. Groups have been aimed at a specific community, such as teachers, but there have been more general ones, filled with people who currently feel the need for connection. Counselors facilitate these sessions over Zoom.
Through the grant funding, Show-Me Hope has made it a priority to reach populations that have been hit particularly hard by the stresses of the pandemic, including children and their caregivers, the elderly who have become even more isolated, overtaxed health-care workers and the unhoused, who have found themselves without a lot of the already meager support services as shelters have had to reduce capacity and other operations have closed.
But the thing about the pandemic is that no one is immune to its relentlessness, and that's why the services are open to everyone.
Rowan says, "We all need that little bit of support and connection right now."